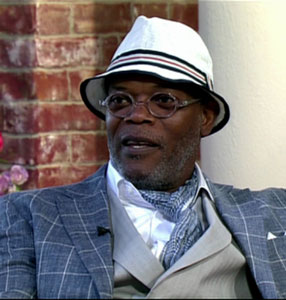 Many people do not know that Samuel L. Jackson had significant substance abuse problems that derailed his acting career for many years before his 1990s breakthrough.  In fact, if you look at pretty much any role Jackson had before the early 1990s you'll notice that they all amounted to very little screen time — mainly because his addictions made him unreliable for more significant roles.  It wasn't until he went to rehab in 1991 that his career really took off.  While on the UK television show This Morning, Jackson spoke about how his addictions affected his early career.
Jackson confesses, "I was doing a lot of drugs and doing a lot of drinking because I had a theatre teacher at university who said, 'If you want to be one of the great ones, you have to learn how to handle your alcohol and do all these other things while you're performing' … and we took that to heart and we did it.  So maybe when I went to auditions I smelt of alcohol and my eyes were a little red and I didn't get specific jobs, but I continued to do what I was doing." Read more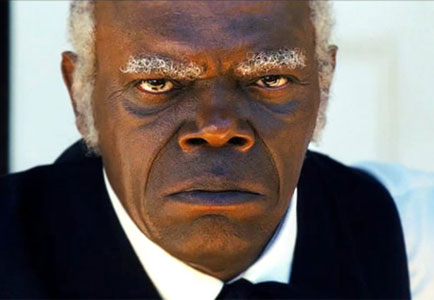 Samuel L. Jackson continues his long association with director Quentin Tarantino with a major role in Django Unchained.  Jackson plays Stephen, the head slave on the plantation known as Candieland.  A Tarantino film on its own is often a source of controversy, but the controversy surrounding Django Unchained is heightened because it deals with slavery.  Naturally, since Stephen is a slave, one would expect to feel compassion for him.  However, instead Tarantino and Jackson have created a paradox not seen in film for decades — a villainous slave. Jackson spoke to The Los Angeles Times about the issues surrounding the role.
Though Jackson generally doesn't really look his age — he just turned 64 in December — Stephen looks all of those years plus more.  When asked if this is the type of appearance one can expect in future Jackson roles, he replies with a laugh, "No, it's not. At least, I hope it's not. Quentin and I wanted to give Stephen a certain look — we wanted him to appear like the most ancient slave in the place. Which he is. But we also wanted him to seem strong and smart. He looks feeble, but there's also something else there." Read more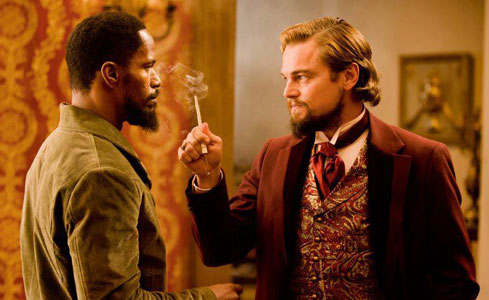 Django Unchained: Set in the South two years before the Civil War, DJANGO UNCHAINED stars Academy Award-winner Jamie Foxx as Django, a slave whose brutal history with his former owners lands him face-to-face with German-born bounty hunter Dr. King Schultz (Academy Award-winner Christoph Waltz). Schultz is on the trail of the murderous Brittle brothers, and only Django can lead him to his bounty. The unorthodox Schultz acquires Django with a promise to free him upon the capture of the Brittles — dead or alive. Success leads Schultz to free Django, though the two men choose not to go their separate ways. Instead, Schultz seeks out the South's most wanted criminals with Django by his side. Honing vital hunting skills, Django remains focused on one goal: finding and rescuing Broomhilda (Kerry Washington), the wife he lost to the slave trade long ago. Django and Schultz's search ultimately leads them to Calvin Candie (Academy Award-nominee Leonardo DiCaprio), the proprietor of "Candyland," an infamous plantation. Exploring the compound under false pretenses, Django and Schultz arouse the suspicion of Stephen (Academy Award-nominee Samuel L. Jackson), Candie's trusted house slave. Their moves are marked, and a treacherous organization closes in on them. If Django and Schultz are to escape with Broomhilda, they must choose between independence and solidarity, between sacrifice and survival… '
Written and Directed by: Quentin Tarantino
Cast: Jamie Foxx, Leonard DiCaprio, Christopher Waltz, Samuel L. Jackson and Kerry Washington
In Theaters: December 25th  Read more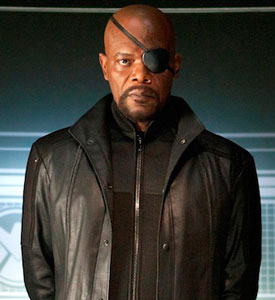 Are you ready for The Avengers?  It seems like everyone who has caught it early has given it nothing but rave reviews. As thrilled as audiences might be for the long-awaited superhero team-up movie, for Samuel L. Jackson, who has previously appeared as S.H.I.E.L.D. leader Nick Fury four times in small roles in other Marvel films, The Avengers is his chance to have a more prominent role in a Marvel film for the first time.  
While Jackson has worked with most of the other Avengers actors separately before, now that they're in one film he realizes that it's finally happening and that it's possible to live up to the ultra-high expectations.  Read more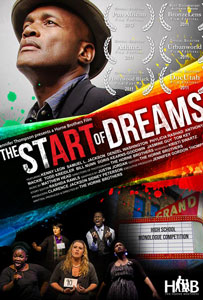 The Start of Dreams is the story of award-winning director Kenny Leon bringing aspiring teenage actors to a Broadway stage in an intense monologue competition. In a new age where Arts Education is considered expendable in such a declining economy, Leon is determined to use his celebrity and influence to expose kids across the country to the wonderful world of theater. 'The Start of Dreams' is packed with Hollywood's elite weighing in on this important art form and what it means to humanity.
Director: The Horne Brothers
Cast: Kenny Leon, Samuel L. Jackson, Denzel Washington, Viola Davis, Anthony Mackie, Phylicia Rashad, Jasmine Guy, Doris Kearns Goodwin
In Theaters Now Read more
At first it's surprising that the highest grossing box office actor of all time isn't someone like John Wayne or Arnold Schwarzenegger, but Samuel L. Jackson. 
After all, Jackson himself has never really carried many movies all on his own in the same way the Duke and the Terminator have.  But once you start to think about it, with the sheer amount of movies that Jackson has appeared in over his nearly forty-year career it's almost a given that Jackson has been declared the highest-grossing actor of all time by the Guinness Book of World Records with his collective films grossing an astronomical $7.42 billion!
After all, some of the films Jackson has appeared in include the three Star Wars prequels, his recurring role as Nick Fury in the Marvel Universe films, cameos in Quentin Tarantino's films, and lending his voice to Pixar's The Incredibles.  While many of those roles are cameos and would be difficult to attribute to Jackson alone — he's actually hasn't had two dozen lead roles — Jackson seems to be the magic ingredient to making a film a hit (except, of course, if that film is Snakes on a Plane).   Read more
When you think of Samuel L. Jackson, you probably think of the iconic actor's many blockbuster films, like his roles in Quentin Tarantino's movies, his appearances in the Star Wars films, or his ongoing role of Nick Fury in the Marvel Comics superhero movies.  In fact, films that the prolific Jackson has appeared in (over 100!) have grossed nearly $10 billion at the domestic box office! 
But like many successful actors, Jackson is thankful that his salary from his blockbuster films allows him to explore smaller, more challenging work like The Mountaintop, a Broadway play in which Jackson appears as Martin Luther King, Jr. 
Jackson points to the play as an example of a project he wouldn't have been able to take on if he hadn't been in so many blockbuster films, saying, "I've been fortunate.  There's a handful of movies that have made enormous amounts of money, and that just means that the other movies that I'd done have made the kind of money that allows me to continue to work, that people see me as viable as a box office draw to people. People come and see my movies."
What separates The Mountaintop from other portrayals of King is that the play attempts to show King outside of the iconic civil rights leader that he has been celebrated as since his death.  Jackson reveals, "He's not a perfect man in this play," adding, "This is one of those kind of informative plays that allows [audiences] to see an icon as a human being; that, you know, talks to his wife same way they talk to their wives, and talks to their kids and cares about their kids; that actually, you know, goes to the bathroom. We look at people, you know. 'Wow, I didn't know he peed!' Yeah, of course he does, you know?"   Read more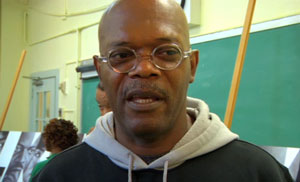 Samuel L. Jackson and Angela Bassett are starring in The Mountaintop, which is currently in previews at the Bernard B. Jacobs Theatre.
The show takes place on April 3, 1968 and its a re-imagining of events the night before the assassination of civil rights leader Dr. Martin Luther King, Jr. "After delivering one of his most memorable speeches, an exhausted Dr. King (Jackson) retires to his room at the Lorraine Motel while a storm rages outside. When a mysterious stranger (Bassett) arrives with some surprising news, King is forced to confront his destiny and his legacy to his people."
The shows stars talked with Broadway.com about the show, working together and how it feels to be back on the Great White Way.   Read more
Samuel L.  Jackson stars in the new HBO film "The Sunset Limited" based on the play written by Cormac McCarthy, and co-starring Tommy Lee Jones.
The premise is simple: Two characters, one named White (played by Tommy Lee Jones) and one named Black (Jackson) meet after Black has saved White from killing himself. Black is an evangelical Christian who believes he can save the cynical, atheist White — and a one-and-a-half hour debate about the meaning of life, existence of God, and use of the N-word ensues. Entirely set in Black's dilapidated New York apartment, "The Sunset Limited" premieres on HBO Feb. 12.
When asked why he would agree to co-star in a film so vastly different than the high octane, action packed movies that have made him a star, Jackson's answer is a simple one:
"TL [Tommy Lee Jones] called me and said he had this play he was going to shoot for HBO and he wanted to send it to me and see if I was interested and I said 'Sure I'll do it man, it's you."
To read a full interview with Samuel L. Jackson about his experience making this film, go to: WSJ.com
Variety has a great article on the state of the film industry. They are reporting that even though studios had another banner year in 2008, they are all saying that they need to reign in their budgets. And who is this affecting most?
Actors.
Is this because of the economy? Movies are still pulling in tons of money every weekend… so most likely not. Is it because they want to stop giving stars tons of money and are blaming it on the economy? Probably yes.
Unless you're Will Smith, Johnny Depp or a handful of others, nobody is earning their quote right now, said dealmakers. Stories of tough negotiations are widespread: Disney asked Nicolas Cage to cut his price on the next "National Treasure" sequel, and that same studio cut loose a third "Chronicles of Narnia" film.

Then there is comeback kid Mickey Rourke, who is poised to follow his Golden Globe-winning performance in "The Wrestler" with an offer to play the main villain in "Iron Man 2" — but at a lowball opening offer of $250,000 from Marvel; Marvel's tactics have already prompted Samuel L. Jackson to swear off playing Nick Fury because of a similarly low offer.

And the stars of "Twilight," Robert Pattinson and Kristen Stewart, who are still in talks, will likely cash low-seven-figure upfront paychecks for sequel "New Moon." They likely won't, however, be allowed to sink their fangs into first-dollar gross as they hoped. That film's financier, Summit, hasn't yet paid first-dollar gross and sells off its foreign territories. One possible compromise is bonuses pegged to box office performance.

Dealmakers said studios that once bought projects that could be bait for movie stars now prefer high concepts that don't require big stars and directors with their big paychecks. The perfect example is "Twilight," which became a big hit despite the lack of bankable stars.