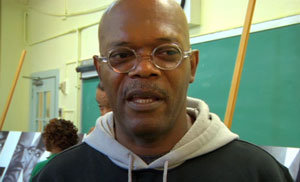 Samuel L. Jackson and Angela Bassett are starring in The Mountaintop, which is currently in previews at the Bernard B. Jacobs Theatre.
The show takes place on April 3, 1968 and its a re-imagining of events the night before the assassination of civil rights leader Dr. Martin Luther King, Jr. "After delivering one of his most memorable speeches, an exhausted Dr. King (Jackson) retires to his room at the Lorraine Motel while a storm rages outside. When a mysterious stranger (Bassett) arrives with some surprising news, King is forced to confront his destiny and his legacy to his people."
The shows stars talked with Broadway.com about the show, working together and how it feels to be back on the Great White Way.   By the way, check out the guy who is reporting the story. He's seriously awful… How did he get this job? Is he friend's with someone high up at Broadway.com? He's like a thinner version of Chris Farley when he did the interview segments on SNL.
For more information and tickets, click here.