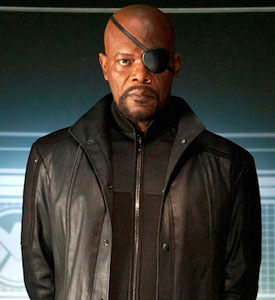 Are you ready for The Avengers?  It seems like everyone who has caught it early has given it nothing but rave reviews. As thrilled as audiences might be for the long-awaited superhero team-up movie, for Samuel L. Jackson, who has previously appeared as S.H.I.E.L.D. leader Nick Fury four times in small roles in other Marvel films, The Avengers is his chance to have a more prominent role in a Marvel film for the first time.  
While Jackson has worked with most of the other Avengers actors separately before, now that they're in one film he realizes that it's finally happening and that it's possible to live up to the ultra-high expectations. 
He says, "It's great to stand there and look around and go OK, these guys are actually here so we do have the Avengers.  (Director and writer) Joss (Whedon) is so savvy about the genre and how to flesh characters out so it's not just a set piece fest of stuff blowing up and people chasing each other… There's sadness, there's joy, there's fear, there's all this stuff that goes into making this film that makes it sort of special, way more special than it could have been."
Jackson famously signed a nine-film deal with Marvel to portray Nick Fury.  The sequel to Captain America will be his sixth time donning the eyepatch, but will one of those films amount to a Fury solo movie?  Jackson says, "I have no idea.  I had a nine picture deal, I've only done five of them, so I guess so. It's possible."
As usual, Jackson is incredibly busy.  He is in the middle of shooting Django Unchained with frequent collaborator Quentin Tarantino.  Although Jackson's typical film persona has been imitated before, he claims that he does bring something different to many of his roles.  He explains, "It's like this: When I go to work in the morning, I'm this guy. And when I come out of the makeup trailer and I have a big scar on my face and a patch on my eye and I've got a whole goatee, I'm a whole new person. I don't even have to think about it.  And when I go to work for Quentin, the same thing happens: I go in the makeup trailer and I come out another guy. It's a whole other mind state … If I'm not sitting there looking in the mirror at my character, I don't have to worry about it."
Considering how many roles Jackson has had in the last three decades — he is scheduled to appear in five movies in 2012 alone — he obviously spends a lot of time in makeup chairs!
via the Associated Press