It might be hard to believe, but when Neil Patrick Harris takes the stage in Hedwig and the Angry Inch in the spring it will be the first time in nearly a decade that Harris has been in a Broadway musical. Sure, in the meantime we've seen Harris sing, dance, host the Tonys (four times) and direct the Off-Broadway play Nothing to Hide, but Harris hasn't been in a Broadway musical since Assassins had a brief run in 2004.
Yet as he tells The New York Times, performing as the titular transgender woman from East Berlin in the Broadway debut of the 1998 Off-Broadway hit is the exact opposite of taking it easy. Read more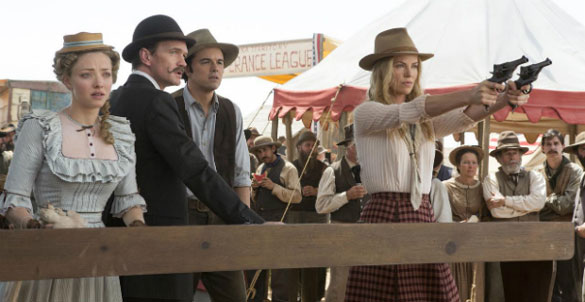 A Million Ways To Die: A cowardly farmer seeks the help of a gunslinger's wife to help him win back the woman who left him.
Director: Seth MacFarlane
Writers: Seth MacFarlane, Alec Sulkin
Starring: Seth MacFarlane, Charlize Theron, Amanda Seyfried, Liam Neeson, Sarah Silverman, Neil Patrick Harris Read more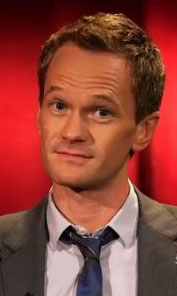 Neil Patrick Harris is one busy guy. He's simultaneously working on the final season of How I Met Your Mother, gearing up for his upcoming Broadway show, Hedwig and the Angry Inch and just directed a new magic show called Nothing to Hide.
He recently talked with Speakeasy about all of those projects, including the research and physical transformation he's doing for Hedwig and what he's going to miss most about How I Miss Your Mother. He also talks about hosting an upcoming evening with the fantastic NYC show, Sleep No More.
Check it out below! Read more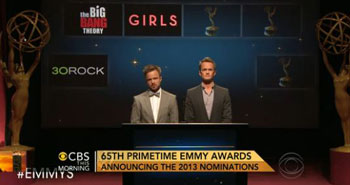 The Emmy nominations were announced this morning and it looks like Netflix is shaking up the industry a bit.
Aaron Paul and Neil Patrick Harris woke up early and gave out the good news that House of Cards, Arrested Development and even Hemlock Grove had a total of 14 nominations, with Kevin Spacey, Robin Wright and Jason Bateman getting the acting noms.
The acting nominations are really great this year with some of my favorite people (Bill Hader!) in the running; Jon Hamm, Amy Poehler, Louis C.K., Alec Baldwin, Tina Fey and more. This will make watching the Emmy's a whole lot of fun this year.
Check out the video of the announcements below, followed by the full list. Read more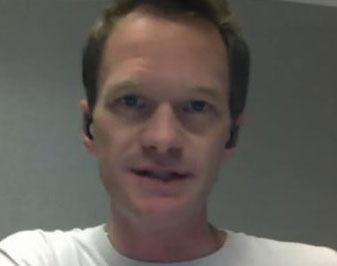 The hardest working man in show business, Neil Patrick Harris, talked with Gold Derby recently about his newest gig, hosting the Emmy Awards. They talk about what he plans to do on the show and how he views his hosting duties differently than he does for the Tony Awards. 
They also get into How I Met Your Mother, how he tries to make his character Barney a loveable a-hole and more about the Tonys.
Check it out below! Read more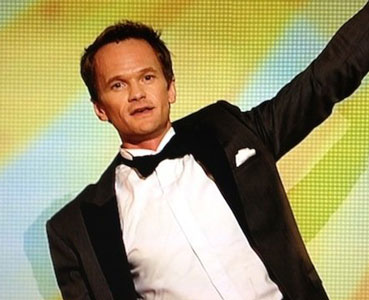 After hosting the Tony Awards, Neil Patrick Harris won't be away from Broadway too long. It looks like as soon as he's done with the last season of How I Met Your Mother, he's headed back to New York to start in the Broadway premiere of Hedwig and the Angry Inch.
The musical, by John Cameron Mitchell and Stephen Trask, will open in the spring of 2014.

The remaining creative team members, additional casting, and the theatre will be confirmed at a later date.
Neil Patrick Harris said, "I am simultaneously ecstatic and terrified to be stepping into Hedwig's heels. It is truly a once-in-a-lifetime role and I can't wait to begin the journey." Read more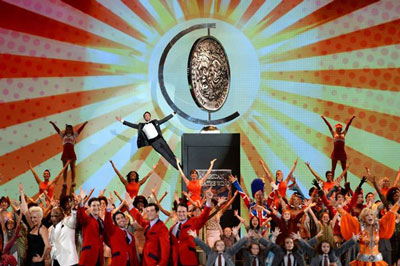 For the fourth time, Neil Patrick Harris hosted the Tony Awards and for the fourth time, he killed it. I can't think of anyone better suited to host the Tonys, can you?
His numbers were the highlights of the show. Besides Kinky Boots, what was better? Nothing that I can remember.
Check them out below. My favorite was the middle number about the cancelled TV shows. Megan Hilty was awesome! Read more
The Tony Awards, the best of all the awards shows in my opinion, crowned their winners last night and Kinky Boots was the clear winner with 6 total awards. The new show by Cyndi Lauper and Harvey Fierstein won Best Musical, Best Original Score and Best Performance by an Actor in a Leading Role in a Musical for Billy Porter, among others.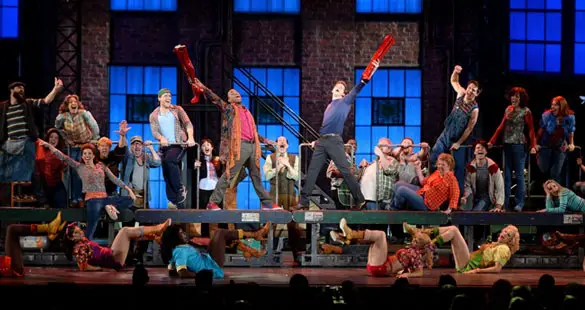 The big shocker of the night was Tom Hanks not winning Best Actor in a Leading Role in a Play. That went to Tracy Letts. I saw Who's Afraid of Virginia Woolf last December and while I'm not a fan of Edward Albee, I have to say, the actors in the show were outstanding and I didn't think Letts winning was a long-shot at all.
The actual show started off with a bang. Neil Patrick Harris' opening number was freakin' gold as was two other numbers he did during the show. Aside from Annie with Jane Lynch, the numbers with the kids (Matilda, Christmas Story) I could have done without. And how bad was Bring It On? No wonder it closed early.
The musical number I thought killed was Kinky Boots. How great did that look? I haven't seen the show yet, but one thing I loved was that the chorus look like normal people. They weren't your typical showgirls, guys… all buffed-up dancers. They looked like me and you (I suppose). Stark Sands and Billy Porter rocked the number.
Below is the list of winner. Check it out! Read more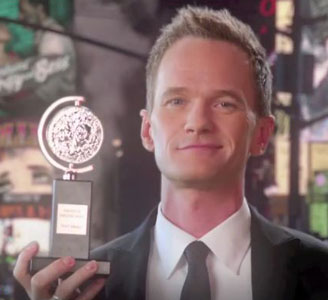 While the Oscars can't seem to find someone who wants to host more than once (except for Billy Crystal, who probably clears his calendar every year just in case), the Tonys will be going with a regular: Neil Patrick Harris.
The 2013 ceremony will be Harris' fourth time hosting in five years (Sean Hayes hosted in 2010).  He's gotten great reviews each time out, so why not?  According to the New York Daily News, which broke the news yesterday (everyone else confirmed it today), Harris has "quietly" been going to all the nominated shows over the past few days.  Therefore we can probably expect the usual song and dance greatness Harris can bring to the stage riffing on the nominees and nominated shows. Read more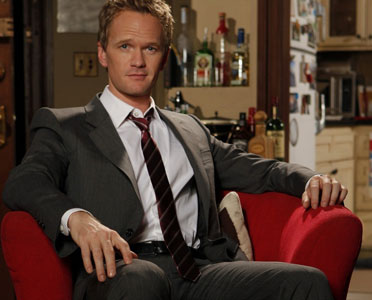 How I Met Your Mother star Neil Patrick Harris has revealed that the upcoming new season might be the show's last.
"Our contracts end at [season] eight, so it's one of those , you know, if they wanna do nine, they're welcome to, but we have a lot of other things [going on]," Patrick said, as reported by Yahoo! News.  "Cobie [Smulders] has got The Avengers that just made a billion dollars, Jason [Segel] makes a ton of movies, I'm anxious to move East and Josh [Radnor] is directing and acting in movies as well.  So, we all are anxious to move forward."
Most TV insiders believed the show would go through season nine, but Harris said, "I think the only way I think a season nine or any longer would happen would be [if it were] financially right—that's the reality of it.  We love the show, we love doing it—eight years is a long time and we're as happy a family as we've ever been."
The new season of HIMYM starts Monday, September 24.