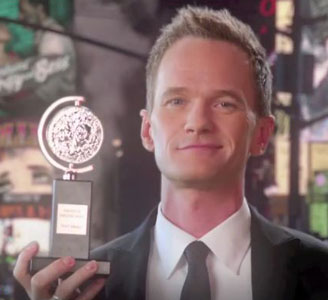 While the Oscars can't seem to find someone who wants to host more than once (except for Billy Crystal, who probably clears his calendar every year just in case), the Tonys will be going with a regular: Neil Patrick Harris.
The 2013 ceremony will be Harris' fourth time hosting in five years (Sean Hayes hosted in 2010).  He's gotten great reviews each time out, so why not?  According to the New York Daily News, which broke the news yesterday (everyone else confirmed it today), Harris has "quietly" been going to all the nominated shows over the past few days.  Therefore we can probably expect the usual song and dance greatness Harris can bring to the stage riffing on the nominees and nominated shows. Read more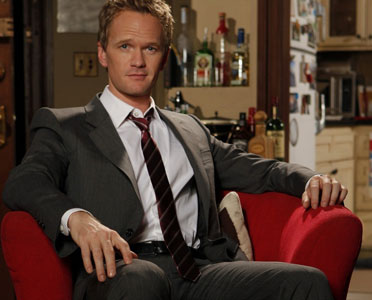 How I Met Your Mother star Neil Patrick Harris has revealed that the upcoming new season might be the show's last.
"Our contracts end at [season] eight, so it's one of those , you know, if they wanna do nine, they're welcome to, but we have a lot of other things [going on]," Patrick said, as reported by Yahoo! News.  "Cobie [Smulders] has got The Avengers that just made a billion dollars, Jason [Segel] makes a ton of movies, I'm anxious to move East and Josh [Radnor] is directing and acting in movies as well.  So, we all are anxious to move forward."
Most TV insiders believed the show would go through season nine, but Harris said, "I think the only way I think a season nine or any longer would happen would be [if it were] financially right—that's the reality of it.  We love the show, we love doing it—eight years is a long time and we're as happy a family as we've ever been."
The new season of HIMYM starts Monday, September 24.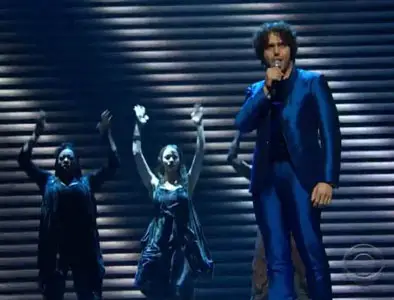 You want the musical numbers from last night's Tony Awards? Well, here they are!
From the opening numbers, Once, Porgy & Bess, Jesus Christ Superstar and Godspell. Yup, watch Godspell just to see the Corbin Bleu and the cast destroy their number. And I don't mean destroy in a good way.
Check 'em all out below! Read more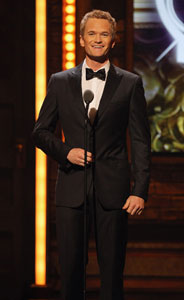 Neil Patrick Harris will return as host of the 2012 Tony Awards® on Sunday, June 10th, live from the Beacon Theatre in New York City.
This will be the third time that he's hosted the show, previously serving as host for both the 63rd Annual Tony Awards in 2009, and the 65th Annual Tony Awards in 2011. Like he did in 2011, Harris will also act as a producer, along with executive producers Ricky Kirshner and Glenn Weiss of White Cherry Entertainment on the 66th Annual Tony Awards.
"I'm thrilled to be a part of this year's Tony Awards," he said. "Not only will I be shining a spotlight on the best that Broadway has to offer, but hopefully I'll score some free house seats to a show or 5."
The Tony Awards will air live on CBS from 8:00-11:00PM (ET/PT time delay). The American Theatre Wing's Tony Awards are presented by The Broadway League and the American Theatre Wing. Read more
General Hospital actress turned How I Met Your Mother star, Nazanin Boniadi, says that appearing alongside Neil Patrick Harris in the long running hit comedy series puts her at "ease". 
Talking to Vulture, Boniadi, who plays Barney's could be mystery bride, Nora, says that Harris "really brings out every actor's A-game. He's a consummate professional. You'd expect someone who's that great to be very serious, but he's so light about it that he puts me at ease. He's really made me a better actor, and the rest of the gang has, too."
Before landing a role in HIMYM, Nazanin Boniadi appeared in the soap opera drama General Hospital.  Portraying Leyla Mir, Boniadi says she didn't realize at the time that she was making history. "I didn't at the time. But then I started getting fan mail from the Middle Eastern community. That's when I realized what a very Caucasian genre it is. Soaps are very, very Caucasian. People started telling me I was the first to play a Middle Eastern on the soaps, so we did a little digging and found it to be true. It was kind of an honor. Those little things — not that they make a huge difference — but it's nice for the Middle Eastern community to see themselves on something that has generally been very Caucasian."   Read more
Neil Patrick Harris, who recently got his star on the Hollywood Walk of Fame, talked recently about his love of comedy, theater and how he's trying to be as "broad" as he can without "oversaturating the market." 
He began is life-long obsession with theater when he was "a kid living in a tiny New Mexico town when cassette tapes were turning into CDs. With cast albums came these booklets that showed pictures of the productions and the librettos of the musicals. They gave me a window into what that world must be like. I memorized the songs and imagined seeing the shows. They sparked a creative escapism that I wasn't afforded back in football-centric New Mexico."
The How I Met Your Mother star also revealed that he finds comedy a more challenging genre.  "Comedy. What people find funny is so subjective. You have to — at least on our show — hit as many different types of funny at the same time as you can. If you're just goofball funny, that will turn off intellectual types. If you're just highbrow, wordplay funny, then you'll shut out the workers who come home to sit and guffaw at the fat guy and the hot wife."  Read more
A Very Harold & Kumar 3D Christmas: After years of growing apart, Harold Lee and Kumar Patel have replaced each other with new friends and are preparing for their respective Yuletide celebrations. But when a mysterious package mistakenly arrives at Kumar's door on Christmas Eve, his attempt to redirect it to Harold's house ends with the "high grade" contents — and Harold's father-in-law's prize Christmas tree — going up in smoke. With his in-laws out of the house for the day, Harold decides to cover his tracks, rather than come clean. Reluctantly embarking on another ill-advised journey with Kumar through New York City, their search for the perfect replacement tree takes them through party heaven — and almost blows Christmas Eve sky high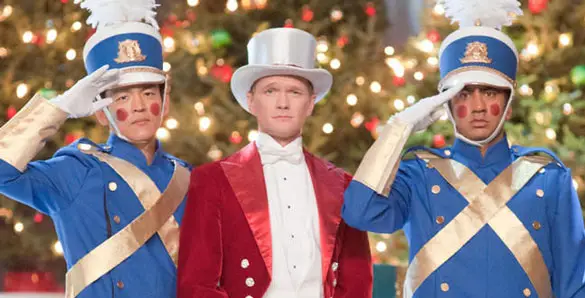 Starring: John Cho, Kal Penn, Neil Patrick Harris, Paula Garces, Eddie Kaye Thomas, David Krumholtz
Director: Todd Strauss-Schulson
In Theaters: November 4th, 2011
How I Met Your Mother star Neil Patrick Harris is perfectly happy where he is. That includes staying on the hit CBS show.
"I always find it kind of douchey when an actor is ready to get off of a nice role in a popular show, so I would never go anywhere near the I'm ready to be done with it' sentiment. And frankly, I think (Harris' character) Barney is just one of those once-in-a-lifetime opportunities," Harris said when asked whether he was content on sticking with Mother or if he was ready for a new challenge.
The former Doogie Howser child star also touched on how he feels out potential projects. "I meet with the people that are involved creatively to see what kinds of people they are, and I'm a decent judge of that. I've done all right like when I met (writers Hayden Schlossberg and Jon Hurwitz) for the Harold and Kumar movies; I wasn't sure what their agenda was, but they seemed pretty pure in what they wanted to have happen and they followed through. So you have to trust a little blindly sometimes, but that's kind of the business that we're in." Read more
He really is everywhere — ever since his reemergence some semi-obscurity several years ago, Neil Patrick Harris has been just about everywhere — movies, television, musicals, and even hosting the Tony Awards.  Not only that, but Harris and his partner David Burtka have become new parents late last year, so he does all this while keeping track of a pair of infant twins!
Harris tells the L.A. Times that although he sometimes feel like "a vaudevillian plate spinner," he admits he just goes about accepting whatever project he might just feel like doing at the moment.  "I like to make decisions based on things I'm interested in doing, not what seems like the next move in my quote-unquote career.  I'm not trying to climb a ladder — I'm casting a bit of a net."
That includes Harris' 2006 revelation of his sexuality, which certainly flies in the face of his skirt-chasing character Barney Stinson on TV's How I Met Your Mother.  There are so many examples of talented actors working today, no matter how they live their private lives.  I'm lucky that people believe me when I'm in character."  However, according to Harris he isn't what the producers of the show had in mind when casting Barney.  The producers were in fact looking for a heavyset individual like John Belushi or Chris Farley (hey, what's Artie Lange doing these days?) but Harris won them over during his audition with some physical comedy gags.  "He went into this shoulder roll that was really acrobatic," executive producer Carter Bays says. "It's hard not to give the part to the guy doing somersaults."
Read more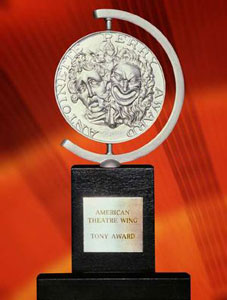 The American Theatre Wing's Tony Awards® announced the line up of performances for this year's show and they look good!
I've seen a bunch of the shows already and there are some you won't want to miss, The Book of Mormon being the main one.
I hope they'll include live scenes of some of the nominated plays. I know they've done it in the past but I'd really like to see something from The Normal Heart. If you haven't seen that yet, go. Now. It was one of the best things I've even seen on stage. I still think about it.
The show will also feature a performance from the cast of the New York Philharmonic's Company, which will include host Neil Patrick Harris.
Can't wait!
Read more