Being somewhat of a real-life cartoon character himself and having a distinctive voice, John C. Reilly seems like he is a perfect fit for an animated film.  That's why it's so surprising that Disney's Wreck-It Ralph is Reilly's first lead role in an animated film, but also that Reilly tells Moviefone that he generally would prefer not to work in animation.  So what type of films does Reilly want to do?  He talks about how he ended up agreeing to do Wreck-It Ralph and what genre he'd like to do in the future.
Curiously, Reilly ended up taking the lead role in Wreck-It Ralph after telling director Rich Moore why he'd rather not do an animated movie.  He reveals, "I told him all the reasons that I didn't want to do it: That animation was boring for actors, that you just stand in a room by yourself and they don't even give you the whole script, you have to just kind of be a trained chimp or a marionette. Rich was like, 'You know what, you're right. That is the way most animated movies are made. But we can make this movie however we want to make it and if you want to improvise, it's fine with me. If you want the other actors in the room with you so you have someone to react off of and riff with, that's fine. We'll do it that way. If you want to come to story meetings, or you want to meet with the animators…' So he really included me in the whole process, which I think is fairly rare for actors in animation, and as a result, it ended up being something I'm really proud of. They put a lot of heart in the character and he ended up resembling me in a lot of ways… it became written just for me in the process of all of us working this way. I tailor-made myself into Ralph and Ralph was tailor-made for me." Read more
Though John C. Reilly is probably best known for his comedy movies alongside Will Ferrell, he has received much of his acclaim (and an Oscar nomination) for his hard-hitting dramas like We Need to Talk about Kevin and Carnage. He takes a break from his recent dramatic films to return to comedy with Disney's latest animated movie Wreck-It Ralph, for which he voices the title character. 
He spoke to NPR about his different approach to comedy and drama and while he wanted to record his voice parts alongside his co-stars.
Reilly explains that his approach to each genre depends on being as honest with the material as he can.  He says, "If you take a piece of material like We Need to Talk About Kevin and you play it really honestly, then it's heartbreaking and disturbing. … I just try to be as truthful as I can, and if the circumstances are ridiculous, then you're in a comedy, and if they're more serious, then you're in a drama."  Read more
If, like me, you missed the live stream of the one-night only performance of Dustin Lance Black's "8″ at the Wilshire Ebell Theatre in LA, we're in luck because we can watch it below.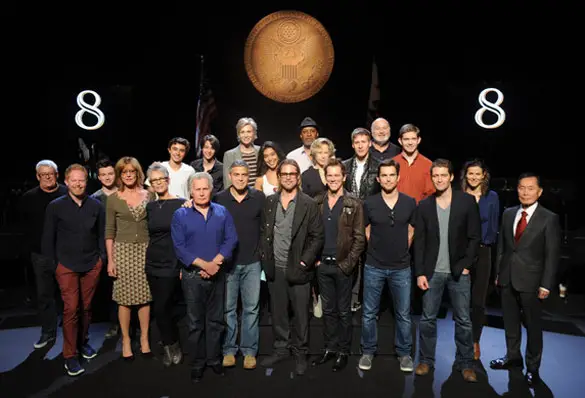 The play featured an all-star cast including George Clooney, Brad Pitt, Martin Sheen, Jamie Lee Curtis, Jane Lynch, Kevin Bacon, Matt Bomer, Campbell Brown, Chris Colfer, Jesse Tyler Ferguson, Vanessa Garcia, Cleve Jones, Christine Lahti, Matthew Morrison, Rory O'Malley, James Pickens, Jr., John C. Reilly, Rob Reiner, Yeardley Smith and George Takei.
Read more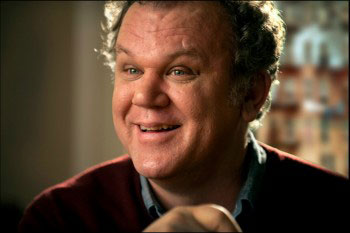 "Academy Award Nominee John C. Reilly." 
Don't forget that accolade next time you watch Reilly goofing off with Will Ferrell in a Funny or Die video.  Since Reilly is better known these days for his hysterical roles in comedies it's often easy easy to forget that he's earned critical success as a dramatic actor — in fact, of the four films Reilly appeared in that were released in 2011, three of them are dramas. 
One of them is Carnage, the Roman Polanski-directed adaptation of the play God of Carnage.  Reilly tells Interview magazine that even though it's a little uncomfortable to get acclimated with a dramatic director and cast, his commitment to his roles never wavers.
Reilly didn't need much convincing to work with Polanski, though Reilly recalls that he didn't hear directly from the fugitive director, saying, "I got a call, 'Roman Polanski wants you to come to Paris for eight weeks and make a movie.' [laughs] It was pretty shocking. I didn't even know it was in the works—I was the last one called. I felt like the kid in Willy Wonka—"I have the last golden ticket!"—I got the shot."  Read more
John C. Reilly is one of those rare comedians that can pull off drama very well — in fact, before Reilly became known as one of Will Ferrell's favorite co-stars, he was nominated for an Oscar for Chicago and won acclaim for his supporting roles in Boogie Nights, Magnolia, and Gangs of New York. Reilly has certainly proven that he can hold his own.
But that doesn't mean Reilly doesn't get intimidated when he's cast in a film with an all-star cast. As one of the leads in Roman Polanski's latest film, Carnage (an adaptation of the award-winning 2006 Yasmina Reza play God of Carnage), Reilly spoke to Moviefone about being in such an acclaimed production.  "That's one of the difficult things of being an actor that I'm still not used to. You have to go, you have to show up at these places where you know nobody, and sometimes with really impressive, high stakes people like Roman Polanski. You just have to be confident enough in yourself, 'I belong here! I belong in this room, little John Reilly from the southside of Chicago belongs in a room with Jodi Foster and Kate Winslet and Roman Polanski.' A friend of mine in acting school said, 'Fake it 'til you make it.'"  He adds a summary of that good advice: "Just pretend like you belong there and maybe you'll rise to the occasion."   Read more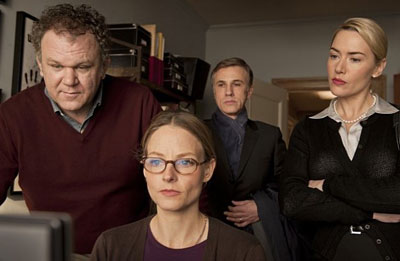 Carnage: After two boys duke it out on a playground, the parents of the "victim" invite the parents of the "bully" over to work out their issues. A polite discussion of child rearing soon escalates into verbal warfare, with all four parents revealing their true colors. None of them will escape the carnage.
Starring: Jodie Foster, Kate Winslet, Christoph Waltz, John C. Reilly
Directed by: Roman Polanski
This film is based on the play God of Carnage that ran on Broadway (and LA) in 2009 and starred Jeff Daniels, Hope Davis, James Gandolfini and Marcia Gay Harden. I love John C. Reilly, Jodie Foster and the rest of the cast but I just wish that they used the original Broadway cast. Everyone was nominated for a Tony and Harden brought home a trophy.
In Theaters: December 16, 2011
Read more
It's difficult to find many acting stars with a resume as varied as John C. Reilly.
Though most recognizable by the average moviegoer for his comedic appearances in the Will Ferrell comedies Talladega Nights: The Ballad of Ricky Bobby. Step Brothers, and numerous Funny Or Die clips, Reilly has received most of his praise for his more serious roles in films like Boogie Nights, Hard Eight, Cyrus, and Terri, the latter of which recently opened on July 1.
With such a broad range of films Reilly has to have a unique selection process, which he spoke about in a recent interview about Terri with Gothamist.
"You pretty much go by instinct when you're reading a script, whether it grabs you or not," Reilly explains about choosing his next role. "If it seems like the dialogue is written in such a way that it sounds like people actually talking as opposed to screenwriters doing exposition about what's supposed to happen in the story. It's a knack not everyone has, but it's the first thing you look for. That the dialogue seems believable, if it seems like something that will be a challenge, if it's something different than what I've done before. Just trying to keep mixing it up so that people don't see it coming, you know?"
Read more
Terri: A moving and often funny film about the relationship between Terri (Jacob Wysocki), an oversized teen misfit, and the garrulous but well-meaning vice principal (John C. Reilly) who takes an interest in him.

Director: Azazel Jacobs
Cast: Jacob Wysocki, John C. Reilly, Creed Bratton, Olivia Crocicchia, Bridger Zadina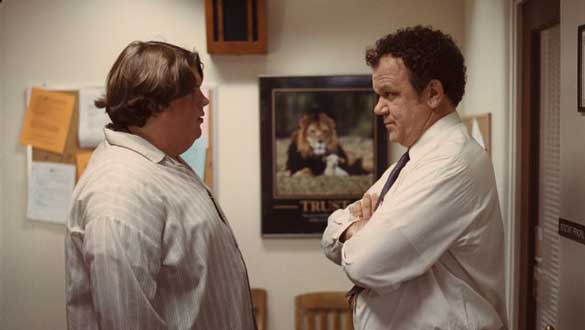 Read more
Podcast: Play in new window | Download (Duration: 13:22 — 9.3MB)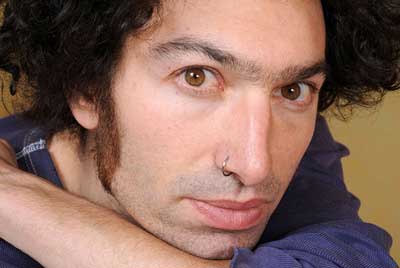 I've become one of Azazel Jacobs biggest fans.
First of all, he's got a great movie called Terri, about an overweight teen (Jacob Wysocki) who lives with his uncle (Creed Bratton). Having pretty much given up on anything involving a social life, Terri soon forms a surprising friendship with his high school vice-principal (John C. Reilly).
And second, when I talked to him at SXSW, each question he answered was extremely honest and heartfelt. I could have talked with him for hours.
This is Azazel's 4th film – his 3rd, Momma's Man, was a Sundance hit – and it's a touching, extremely funny piece of work.
Azazel talked to me the casting process, what he thinks kills actors when auditioning and if he ever met a kid like Terri growing up.
For the full interview, click the audio link above or download from iTunes
What's it like watching the movie with an audience?
Azazel Jacobs: Completely different, we finished a few days before Sundance, and so by that point nothing is funny anymore, nothing is interesting, and everything seems like a disaster.
Does it really?
Azazel Jacobs: Oh absolutely. You can't feel anything, I mean, so you're just, you're hoping, you're showing it to people that you trust, and they're telling you that something's resonating but you've just got no idea. During the actual premiere, the screening at Sundance, I'm sitting there, telling my wife, "This is going horrible, I'm gonna go outside and throw up right now." And she's like, "You're crazy, you're crazy, people are loving it, you're crazy." And luckily I was wrong. People really responded well.
Read more
Here's four clips from the upcoming film, Cedar Rapids. Starring Ed Helms as Tim, a naïve insurance salesman who is sent to an insurance convention in wonderful, Cedar Rapids, Iowa. He's quickly distracted by three convention veterans (John C. Reilly, Anne Heche and Isiah Whitlock Jr.) who show him the ropes of convention life.
Director: Miguel Arteta
Cast: Ed Helms, John C. Reilly, Sigourney Weaver, Anne Heche, Stephen Root, Kurtwood Smith, Alia Shawkat, Mike O'Malley, Rob Corddry, Seth Morris, Isiah Whitlock Jr.