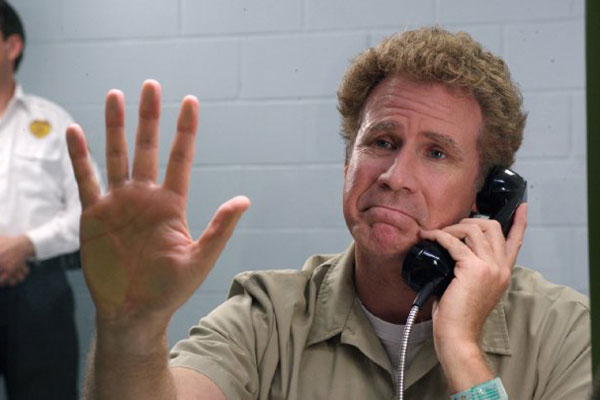 Actor Will Ferrell is, it has to be said, a really gifted comedy performer. While some of his career choices might seem a little dubious, he has also made some really great, fun films including Anchorman and the Christmas staple (at least in my house), Elf.
Ferrell was at SXSW last week to promote his latest venture, Get Hard, in which he plays entitled tycoon James King who gets sentenced to ten years in jail for insider trading. Kevin Hart stars opposite as Darnell, who works for King washing his cars. On the basis that a third of black American men will be imprisoned in their lifetime, King enlists Darnell to help him prepare for prison. Darnell is, it turns out, a law abiding citizen who decides to go along with King's presumptions because of the money he will pay.
Ferrell was on hand to take part in a Q&A with the NY Times, and spoke more about how working with Hart came about. When asked if he chooses his projects based on who he wants to work with, or the script itself, Ferrell explained that each project was different.
"It's a combination of both. I remember John C. Reilly did our first Anchorman read-through and he couldn't do the movie. But he was so good that we had to find something to do with John. That's what led to Talladega Nights. He wasn't originally interested in that, but we kind of forced him to do it.
"Then there are other times when we've started with a premise and once we fleshed it out, it directed us to who would be perfect for it. And that's what happened with Get Hard. Adam McKay had this idea of, what would it be like if you got the news you were going to prison. What would you possibly try to do? And it was Kevin's name that came up as the perfect guy to put me through my paces."
Ferrell's big break came on Saturday Night Live, where the public quickly realized he had a talent for physical comedy and he honed his craft, but Ferrell had started long before that, performing standup routines.
"After college, I just started trying a little bit of standup, acting class, anything I could get my hands on," he explains. "That's when I found the Groundlings theater in Los Angeles. I went through their school and made it into their performing company and was seen by Saturday Night Live there, and cast onto the show.
"Once I was on S.N.L., I started doing one part here, one part there, cutting my teeth on some of those S.N.L. movies, enough to where I knew how to handle myself on a movie set. And then I just lucked out in that my first three movies leaving S.N.L. were Old School, Anchorman and Elf."
Ferrell says his favorite role to date remains Ron Burgundy in Anchorman, because "The film was such a struggle to get made and the character such a fun one to play. To have Anchorman go from this movie that no one wanted to make for three years, to have it go on to achieve comedy cult status, that's the most satisfying thing."
He also speaks fondly of other characters he has brought to the big screen, including Buddy from Elf.
"I [also]loved doing our characters in Step Brothers. Buddy the elf was also surreal because at the time, it felt like it could go either way. It could have been a career-ender, running around the streets of New York in elf tights. But it totally hit the bulls-eye with people."