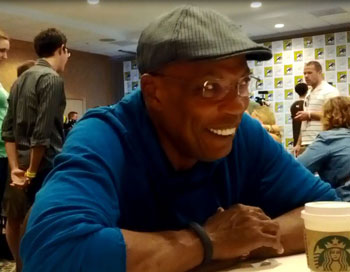 Director Paris Barclay is one of the most popular directors working in Television today. If he's not directing some of the best episodes of Sons of Anarchy, he's behind the lens on Glee, or shows like Smash, In Treatment and the pilot of Last Resort.
Having met Sons creator/showrunner Kurt Sutter while they were both working on The Shield, he's now the go-to-director for all of Sons important episodes. Seriously, check it out on IMDB. Every huge pivotal episode was directed Barclay.
I talked to him at Comic-Con and he was one of the coolest interviews I did that day. I'd love a chance to work with him. In the roundtable, he talks about his working relationship with Sutter, directing emotional scenes and why Glee is harder to direct than Sons of Anarchy.
For the full interview, check out the video below.
Sons of Anarchy premieres on Tuesday, September 10th at 10pm Read more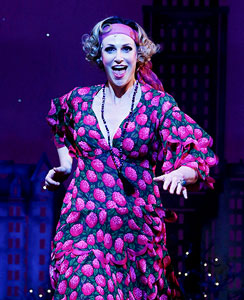 Five years ago Jane Lynch was best known for her hilarious appearances in Christopher Guest's ensemble mockumentaries and doing abbreviated runs on soon-to-be-canceled television series.  Though she was a familiar face, she never seemed to reach her potential.  Then came Glee and her career-changing starring role as Sue Sylvester… and Lynch's world has never been the same since. 
Now she is fulfilling one of her longtime dreams starring in Broadway's Annie as Miss Hannigan.  She gave a lengthy interview with The Star about how she got here and how she doesn't really care where she ends up going.
Despite Miss Hannigan being a nasty character, Lynch admits that she's really enjoying her Broadway turn.  She says, "I'm having a blast.  She's an amazing character. She hates what she is, but she's got enough energy to try and get past that. But don't get the wrong idea. Once I'm doing a part, I just show up every day, put on the clothes and do my thing." Read more
With all the success Jane Lynch has been having, it's a little shocking to hear her describe how she once thought of hanging it up.
On a hiking trip with a friend, Lynch confessed, "I think I'm done.  I don't know where I'll go or what I'll do.  Maybe I'll just go somewhere and teach theater."
The friend said, "Don't you dare.  You just keep doing this," Lynch recalled.  "So by the time we got to the bottom of Fryman Canyon, I was back in the game.  And I'd gotten a good workout too."
In an interview with Huffington Post, Lynch remembered, "I must have been 37 or 38 at the time.  Don't get me wrong.  I had a pretty nice career going.  I was making a good living doing a lot of voiceover work for radio.  A guest spot here and there on television.  But I just wasn't able to break through to the next level." Read more
Not many actors turn to writing fiction.  But Glee's Chris Colfer is anything but ordinary.
The actor recently released his first book, The Land of Stories: The Wishing Spell, and he's already eager to dispense tips on what he's learned.  He told Theater Mania, "The biggest advice I could give anyone is to vomit everything up on the page and then fix it as you go along.  Don't worry if you're describing something wrong or choosing the wrong word; you can always correct it later."
But Colfer does admit he still faced some challenges while writing.  "Coming from a theatrical background, I always knew how to start and end every chapter; there had to be a cliffhanger," he said.  "Writing the in-between part was difficult."
Despite his foray into writing, Colfer isn't ready to leave acting behind.  He'd even love to return to the stage at some point.  "I got a little fix of it while we were on the Glee tour," he said.  "I sang live at every performance and I really miss having that connection with the audience.  I hope to be on Broadway in the next few years." Read more
Every year, GLAAD releases its "Where We Are on TV" list, as a check-up of how networks are doing with regards to the amount of LBGT characters they have on scripted shows. Though the percentages may seem minor, there has been a drop in gay and bisexual characters, down 3.9% for the 2011-2012 season, in comparison to 2 seasons ago.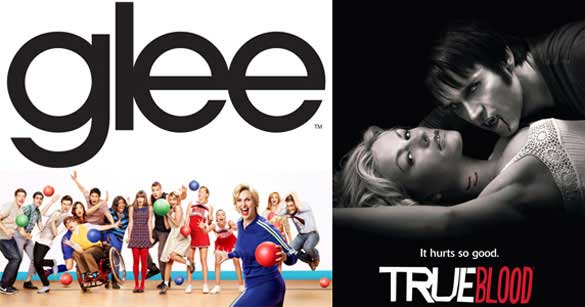 As of now, out of 650 characters, only 19 fit this particular category, which is approximately 2.9%. GLAAD Acting President, Mike Thompson says,"While the number of LGBT characters is down, some of the most popular shows with critics and viewers, such as Glee, True Blood and The Good Wife, weave storylines about gay and lesbian characters into the fabric of the show."
At this time, FOX leads in gay representation with 8/117 characters while True Blood and Shameless are tied with 6 characters each.   Read more
The only problem with doing a television show about high school kids is that most only take four years to finish the curriculum. Already pushing it with a 29-year-old and a 25-year-old playing high school seniors, Glee creator Ryan Murphy announced that stars Cory Monteith, Lea Michele and recent Emmy Nominee Chris Colfer will leave the cast after graduating from twelfth grade at the end of the Fox hit's third season.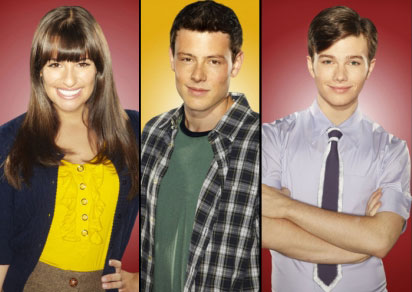 "You can keep them on the show for six years and people will criticize you for not being realistic, or you can be really true to life and say when they started the show they were very clearly sophomores and they should graduate at the end of their senior year," said Murphy.
The 29-year-old Monteith will portray Finn Hudson for one more season, while 25-year-old Lea Michele will finish up Rachel Berry's story line over the next 20 or so episodes. Colfer is one of the few Glee stars who's approximately the same age as his character — he'll be 21 when his Kurt Hummel graduates next year.
Matthew Morrison will soon add "director" to his list of accomplishments, as he will assume that role during Season Three of his hit series "Glee".
An actor on both television and Broadway, as well as a songwriter, the very busy Morrison says recording and preparing for his album's May release, "is the hardest I'm ever going to work in terms of trying to be noticed and seen, so I want to push it until I'm 40. Then, I'd love to get behind the camera, produce films and be more involved in the storytelling process."
"Glee" returns April 13 at 8 p.m on Fox.
She may not be recognized as one of the powerhouse voices of Glee, or the one who took home the Golden Globe,  but the lovely Dianna Agron has captured the attention of Hollywood executives. Her supporting role in last year's underrated The Romantics, plus a blip on the radar part in Burlesque, Agron has now stepped into the female lead role, opposite her real-life boyfriend Alex Pettyfer, in  I Am Number Four.
In many ways, this film is a departure for Agron. Produced by Michael Bay, I Am Number Four is full of the requisite aliens and blow-'em-up action expected to be found in a Bay film. Agron plays Sarah, a girl who falls in love with John, who just happens to be an alien. Her real-life romance with co-star Pettyfer is a subject she prefers remain private, but when it comes to Glee, Agron is happy to talk freely.
When asked if she has a favorite Glee episode, she smiles, "Say A Little Prayer" will always have that sentiment for me as an individual, because it was the first one that I did.  Also, "Somebody to Love," that was something that we had fun filming. "
Agron admits she enjoys the tribute episodes, as well. " I think it varies. One of my favorite episodes to shoot was the Rocky Horror episode. Usually I like the more extreme characters that require more hair and makeup, and cemeteries and skulls are more interesting than bubblegum and lollipops to me. With the Britney Spears one, I wasn't really involved too much, so it was fun to watch it come together. The Madonna episode, especially that girls' number, so fun. But sometimes when you have too many of those…I miss the real intimate moments and the drama. I'm fortunate that our show deals with both, so you kind of get a taste of everything."
Rosie O'Donnell is expressing her displeasure over the casting of the plus size character Lauren, played by Ashley Fink, on "Glee".
"I have to believe that ['Glee' co-creators] Ryan [Murphy] and Brad [Falchuk] have something up their sleeve and that [Lauren] can really sing because 'I Know What Boys Like' was not what I was expecting," O'Donnell said about Tuesday night's episode. "I was expecting a whole Shrek-like reveal where [Puck ] becomes Fiona-ish."
O'Donnell goes on to say she has heard numerous women express their displeasure with the story line, finding it unrealistic that a character such as Puck would fall for the over-weight character. "'[Her] character is so unlikable. Why didn't they get a pretty heavy girl? They should've gotten someone beautiful like [actress] Brooke Elliot."
"I just was like, 'Where's the Susan Boyle moment? She's gonna belt it out of the park!' and then she did, 'I know what boys like, I know what guys want'? I was like, 'I want more than this."  But O'Donnell hasn't lost faith in the show. "I trust Ryan and Brad. I know that [Lauren] is going to have a voice and I know maybe Puck's going to break her heart, or she's going to break Puck's heart," she said. "Something's going to happen and she's going to come out and sing something like, 'I Am What I Am.'"
Next week, Gwyneth Paltrow is set to appear on Glee as a substitute teacher taking over Mr. Shuester's class when he falls ill.
Don't wait till Wednesday and watch her sing Cee Lo's 'F*** You.' Uh… 'Forget You'.
What do you think? I think it's great! Though, I've had an immense crush on her for years so I'm biased.