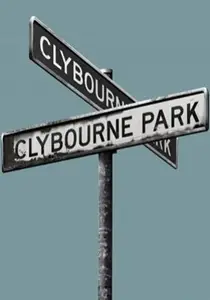 Though popular plays are produced all over the world, quality control is a major issue that can come up when a production wants to put their own stamp on the play.  Even if the production feels that those changes might be relatively minor, the authors of such works or their estates may not see it the same way to such a degree that they can prevent the production from going forward.  While nobody will go after you for changing Shakespeare — except for critics and audiences perhaps — to modern playwrights it is important that productions of their plays do not alter their work in a way they deem undesirable. 
Bruce Norris, who won a Pulitzer Prize for Drama for his play Clybourne Park, has put a stop to a German production of the play after learning that one of the lead black characters would be played by a white actor in makeup.  Since the play is chiefly about race relations, Norris was not happy about the Berlin theater's insistence that the casting decision shouldn't matter.  Read more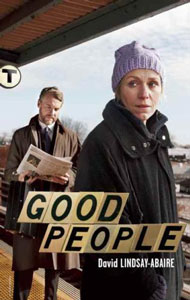 Good news for Good People, the 2011 play by David Lindsay-Abaire that Frances McDormand won a Tony Award for: it will be the most-produced play in America in the 2012-2013 season.  Of the 415 member theaters of The Theatre Communications Group, the largest trade group in the theater industry, 17 theaters will produce the play, which is about a recently-fired single mother trying to find a way to provide for herself and her handicapped daughter by seeking help from her former boyfriend.
There are numerous other plays that will have several productions across the country in several months.  Rounded out the top ten are Bruce Norris' Clybourne Park (15), Matthew Lopez's The Whipping Man (14), the Brian Yorkey-Tom Kitt musical Next to Normal (13), Katori Hall's The Mountaintop (12), last year's list topper John Logan's Red (11), Donald Margulies' Time Stands Still (10), Jon Robin Baitz's Other Desert Cities (10), Stephen Adly Guirgis' The Motherf**ker with the Hat (9), and Lorraine Hansberry's A Raisin in the Sun (8), tied with the Alex Timbers-Michael Friedman musical Bloody Bloody Andrew Jackson (8).  Though originally produced in 1959, A Raisin in the Sun is frequently produced in conjunction with Clybourne Park, which is set before and after A Raisin in the Sun. Read more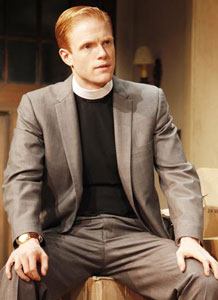 Despite being eligible for the Tony Awards this year (and winning the Tony for best play), Clybourne Park originally debuted at New York's Playwrights Horizons in February 2010. It then bounced across the Atlantic for its London premiere in August 2010, and ended up in several American cities before finally returning to New York, this time on Broadway, earlier this year. 
Originally set for a 16-week run, the play has recently been extended by three weeks because of strong sales.  One of the actors enjoying that success is Brendan Griffin, who appeared in the original Playwrights Horizons production.
But Griffin didn't always intend to be an actor.  As he tells his hometown newspaper the Pittsburgh Post-Gazette, he was involved in sports in his youth.  Griffin explains that he switched to theater as a senior when he stopped enjoying playing football, saying, "I realized I wasn't having fun anymore. You know how competitive it is, how serious football is in Western Pennsylvania." 
After graduating Kenyon College with a degree in drama, he moved to New York City and soon found himself intimidated by other musical actors in the city.  He recalls, "they were Mandy Patinkin-caliber singers.  I'm a good singer but I didn't have the money to cultivate that, to hire a voice coach, long range. I didn't have any dance training so I couldn't go to a dance call." Read more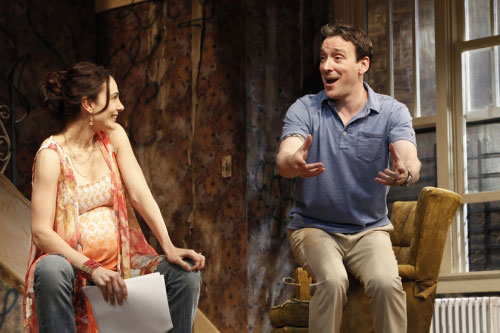 Producer Jordan Roth, just announced that Clybourne Park, the showing starring our man Jeremy Shamos, has extended its run a second time.  The limited engagement has now been extended by three additional weeks to Sunday, September 2nd.
Winner of the 2012 Tony Award for "Best Play," the 2011 Pulitzer Prize and Olivier Award, Clybourne Park is the a new play about race, real estate and the volatile values of each.  The show has 2 acts that is set 50 years apart.  Act One takes place in 1959, as nervous community leaders anxiously try to stop the sale of a home to a black family. Act Two is set in the same house in the present day, as the now predominantly African-American neighborhood battles to hold its ground in the face of gentrification.  Read more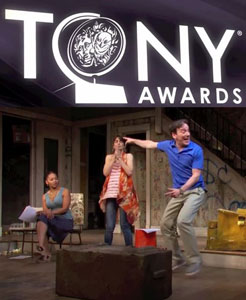 The Tony Award's are almost here and with that, The Broadway League has given us a highlights from some of the nominated plays for the 2011/2012 Broadway season.
Check out bits and pieces from Peter and the Starcatcher (9 nominations), Clybourne Park (4 nominations), One Man, Two Guvnors (7 nominations) and Man and Boy (1 nomination).
There were other more videos available but they were just shots from the nominated plays with music added to it. What good is a highlight of a play and not having any of the dialogue? Doesn't make sense.
For more Tony Award goodness, here are our interviews with these Tony Nominees: Clybourne Park's Jeremy Shamos, Jesus Christ Superstar's Josh Young and Joe Dipietro, book writer for Nice Work If You Can Get It!
Podcast: Play in new window | Download (Duration: 30:40 — 21.1MB)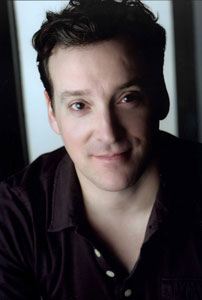 Jeremy Shamos, has been getting rave reviews for his performance in the new Broadway play, Clybourne Park. So good, in fact, that he was just nominated for a Tony Award for Best Performance by an Actor in a Featured Role in a Play.
The show, written by Bruce Norris, was handed a total of 4 nominations (Best Play, Best Scenic Design of a Play, Best Direction of a Play and as previously mentioned Best Performance by an Actor in a Featured Role in a Play) and borrows some of the plot of Lorraine Hansberry's Raisin in the Sun. The first Act takes place in 1959 Clybourne Park; a white couple has just sold their house to a black family as their nervous neighbors come over and try to convince the couple to stop the sale. ACT II begins 50 years later, with a young white couple about to buy that same house, raze it and start fresh. That idea is met with complete disapproval from the now African-American residents of the community.
Shamos, like each actor in the show, has dual roles. In ACT I, he plays Karl, the neighbor who disapproves of the sale of the house. In ACT II, he portrays Steve, part of the couple wanting to buy the original house. When I asked if either role was easier to get a handle on, he said that Norris' writing was so specific that "both characters kind of came weirdly natural to me."
Jeremy is a two-time Drama Desk nominee and Obie Award Winner whose prior Broadway credits include Elling, Reckless and The Rivals.  After talking to Jeremy, I can honestly say that he's an incredibly nice, funny and talented guy and I sincerely hope he wins the Tony Award. 
In this interview, I talk to him about Clybourne Park and his dual roles, how he prepares for a part and his advice to actors.
Clybourne Park is currently play at the Walter Kerr theater. For tickets and more information, click here
For the full interview, click the audio link above or download it from iTunes