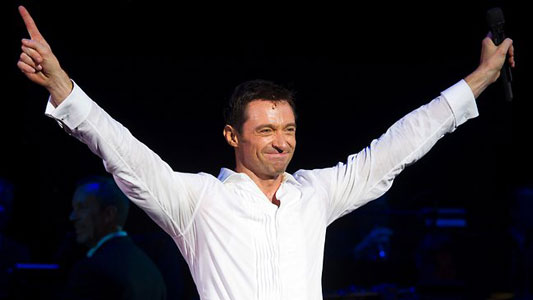 Tony Award winner, Academy Award® nominated and Golden Globe-winning actor Hugh Jackman is returning to host The 68TH Annual Tony Awards!
The show will be at Radio City Music Hall and airs on Sunday, June 8 (8:00-11:00 PM, live ET/delayed PT) on CBS. Read more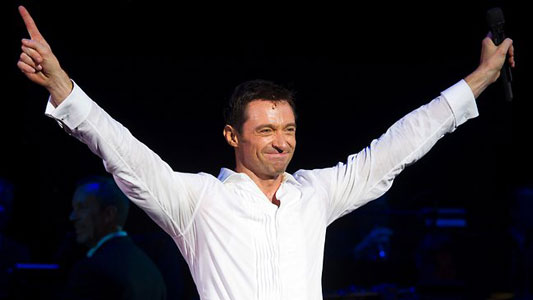 Hugh Jackman might be a blockbuster movie star, but he's also one of the major Broadway stars of the last decade.  His past two returns to Broadway — first in the play A Steady Rain and second in a solo musical revue Hugh Jackman, Back on Broadway — sold out 101% and 99% of all available seats, respectively. That doesn't even account his first Broadway success, which was the lead role in The Boy From Oz, for which he won the 2004 Tony and Drama Desk awards.  Heck, he was even given a special Tony Award in 2012 pretty much for just being Hugh Jackman.  The Great White Way loves this man. Read more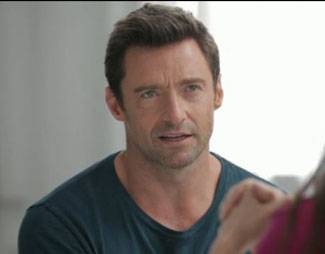 Time Magazine recently got together with Hugh Jackman for their '10 Questions with…' segment. In the interview, he talks about Prisoners, overcoming his childhood fears, Broadway, learning to act in Australia ("You have to be versatile," he says) and more.
Best quote: "I'm a typical actor. Someone picks me up in the morning, they give me something to wear, they tell me what to say, they feed me and they send me home."
Check it out below! Read more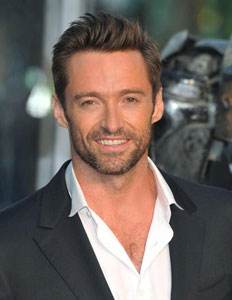 Some actors get so associated with iconic roles that it's hard to accept them in any other movie.  Christopher Reeve, for example, had problems getting people to see him as anything other than Superman despite starring in a myriad of other films.  However, despite the fact that Hugh Jackman will be appearing as Wolverine for the seventh time in next year's X-Men: Days of Future Past, moviegoers have easily accepted Jackman as vastly different characters in films like Les Miserables, The Prestige and Prisoners. 
In an interview with The Huffington Post, Jackman speaks about his relationship to his most famous character and how it set him apart from other actors who share similar origins. Read more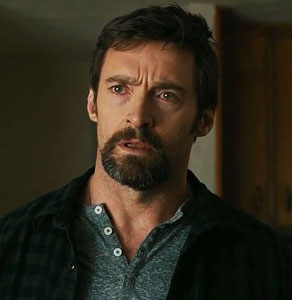 In the last year, Hugh Jackman's career has soared to new heights with his first Academy Award nomination for Les Misérables. With a busy awards show schedule, he still found the time to work on the thriller Prisoners. That film with director Denis Villeneuve taught him a few lessons.
The 44-year-old talked about one particularly punishing scene with actor Paul Dano.
Jackman shared, "Maybe this is my arrogance, but I thought he was going to come up and say, 'Thank you,' And he says, 'I need you to go there, man.' I was like, 'That wasn't there?'"
For any actor, it's important to push the limits on emotional scenes. To take himself even further into character, Jackman decided to grab a hammer and destroy the set while acting out the part. Read more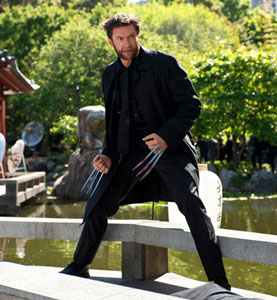 At this point, Hugh Jackman has proved he'll undergo any kind of physical torture for a role.  For his role as Jean Valjean in last year's Les Miserables, he basically starved himself.  His next part is the sixth film appearance of his X-Men character in The Wolverine.
In order to get into character, Jackman subjected himself to the dehydration diet.  "Trust me, that really pisses you off," he said in an interview with The New York Post.  "I wouldn't recommend that for everyone."
Then he followed up with a cold shower every morning, because it was a good "physical trigger" for anger.  "That kind of zone you need to be into with that intense training is similar to the state that Wolverine lives in all the time," Jackman said. Read more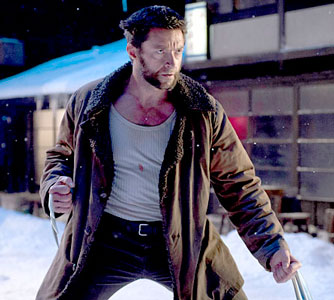 Hugh Jackman might be the only actor who will ever be able to impress both comic book fans and musical theater lovers.  Though he began his career singing on a stage — and still sings from time to time, as I'm sure you've noticed — Jackman really broke through in film by portraying Marvel Comics superhero Wolverine in X-Men.  In an interview with The Associated Press, Jackman spoke about starring as Logan in the upcoming sequel The Wolverine and next year's X-Men: Days of Future Past.
When asked if he was concerned about fans' reaction to the first Wolverine solo movie, which wasn't well received, Jackman responds, "I'm never afraid of that. I think the fans know I'm so grateful and very blessed to play the part. I love them. We try our hardest to get everything right, and I'm happy to hear from them. I learn from them. One of the main things I hear from fans all the time is we don't see enough of the berserker rage, and I really took that to heart because, to me, that is one of the key things I love about Logan." Read more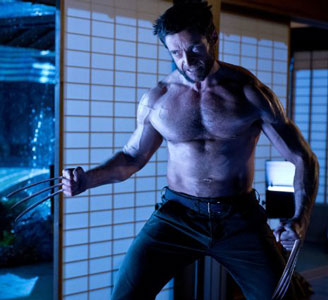 We all know that Hugh Jackman gets in incredible shape every time he appears as Wolverine in a movie — the upcoming The Wolverine is Jackman's sixth time as the Marvel superhero — but anyone who has seen the promotional material for The Wolverine can tell you that Jackman is looking extra ripped this time around, something that probably wasn't easy after playing the emaciated Jean Valjean in last year's Les Miserables.  So how did Jackman pull off his action hero physique?  Well, he turned to an action hero: Dwayne "The Rock" Johnson.
Jackman tells Access Hollywood, "I called him actually before I did Les Mis because I was like, 'Man, I have a feeling this is going on. I have to cut down and really lean down in size,' and he told me a number of things.  First of all, he said, 'When you're lean-ing down, still keep your strength. You can still go in and push weights, so that as soon as you start eating again you'll go back quickly'. But, he said, 'You gotta eat 6,000 calories a day, you've gotta train three hours.'" Read more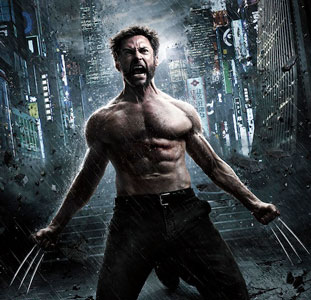 The Wolverine will be the sixth time Hugh Jackman will be playing the quick-tempered Marvel superhero on screen (and he's already signed for a seventh time in X:Men – Days of Future Past), and most fans wouldn't have anyone else play Logan at this point. 
Part of the reason for that is that Jackman is completely dedicated to the role, not only adopting Logan's furious character but also whipping himself into ripped superhero shape. He revealed to Collider how he manages to pull off both. Read more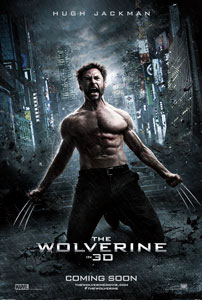 The Wolverine: Based on the celebrated comic book arc, this epic action-adventure takes Wolverine (Hugh Jackman), the most iconic character of the X-Men universe, to modern day Japan. Out of his depth in an unknown world he faces his ultimate nemesis in a life-or-death battle that will leave him forever changed. Vulnerable for the first time and pushed to his physical and emotional limits, he confronts not only lethal samurai steel but also his inner struggle against his own immortality, emerging more powerful than we have ever seen him before.
Starring: Hugh Jackman, Famke Janssen, Svetlana Khodchenkova, Rila Fukushima, Tao Okamoto, Brian Tee, Will Yun Lee, and Hal Yamanouchi.
Directed by: James Mangold
In Theaters: July 26th Read more