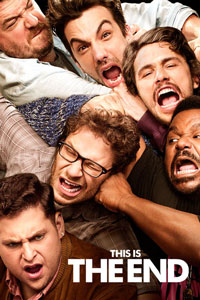 This is certainly a unique way to promote your film…
Seth Rogen, James Franco, Danny McBride, and Jay Baruchel are four of the many, many celebrities who are playing themselves in the apocalypse comedy This Is The End, which was co-written and co-directed by Rogen.  On the movie's Facebook page, the above four revealed that they would post videos of themselves doing the following demeaning tasks if they receive a certain number of "Likes" on Facebook:
500,000 Likes = McBride waxes Rogen's back
650,000 Likes = Baruchel and McBride will share a spaghetti Lady and the Tramp style
800,000 Likes = Rogen will paint Franco in the nude Read more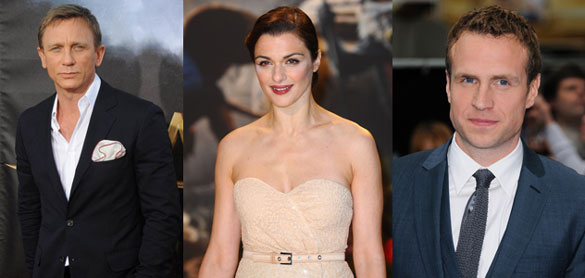 Daniel Craig, Rachel Weisz and Rafe Spall, will star on Broadway in Harold Pinter's Betrayal, directed by ten-time Tony Award-winner Mike Nichols.
Both Weisz and Spall will be making their Broadway debuts.
The show will begin performances on Tuesday, October 1st at the Barrymore Theatre (243 West 47th Street).  Opening night is Sunday, November 3rd.
It will run only 14 weeks, through January 5th, 2014. Read more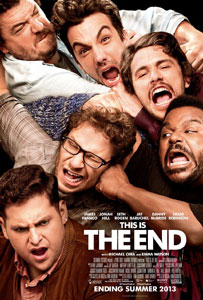 This is the End, which stars every funny person working in film and TV today (Seth Rogen, Danny McBride, Craig Robinson, James Franco, Jonah Hill, Michael Cera, Mindy Kaling, Aziz Ansari, Kevin Hart, Christopher Mintz-Plasse and Paul Rudd) comes out in June and from the clips shown at WonderCon this weekend, it looks hilarious. 
The panel, which had writer/director and star Rogen (in Wolverine costume), Robinson, McBride and co-writer/director Evan Goldberg (in an S&M outfit left over from AdultCon), was pretty damn funny, especially if you like their type of humor. Which I do.
I shot the video with my phone so the quality stinks but check it out if you have time. I also posted the newest red-band trailer.
Check them out below! Read more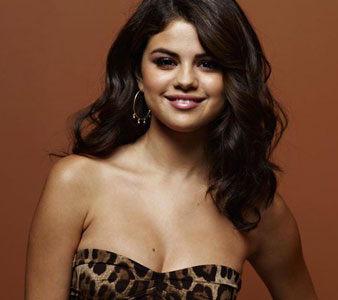 Selena Gomez is no longer the innocent Disney star from The Wizards of Waverly Place.  In her new film, Spring Breakers, Gomez is proving she's grown up quite a bit.
"When I auditioned for Harmony [Korine, writer/director], we talked about how he wanted to leave my lifestyle behind and have me go on this adventure with him," she said in an interview with Yahoo! News.  "I knew it was going to be crazy, but I was comfortable with it."
The process of making the film was a lot different from her micro-managed days as a Disney princess.  In the film, Gomez portrays an out-of-control college student on spring break that gets mixed up with some shady characters (like one named Alien, played by James Franco.)  Plus, she spends virtually the entire movie in a skimpy bikini.
"It was completely liberating," Gomez noted regarding the making of the film.  "[Up until this film], everything I've been a part of definitely has been a bit more processed, like how many pieces of jewelry I have on, what my hair looks like.  With Harmony, I never wore makeup and he never cared about my hair." Read more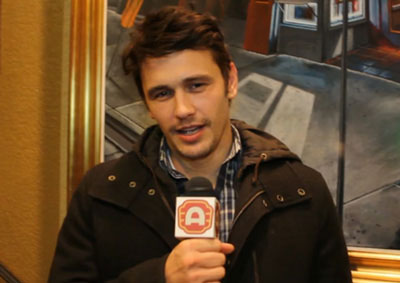 If you ever get a chance to go to the Alamo Drafthouse in Austin, TX you gotta go. It's a great theater and I love going there every year for SXSW.
One of the cool things about the theater are the videos they run before the movie. You might remember that last year they made a voice mail from an irate customer who was kicked out during a film because she was texting into a pre-show video.
Well, they have another cool one here with James Franco who was in town the other week for SXSW. "Look at this shit! We got hot dogs!"
Check it out below! Read more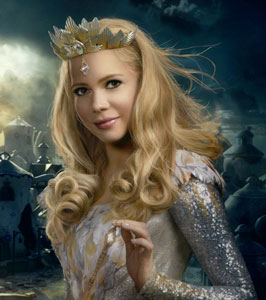 It might seem odd that Michelle Williams did research for her new movie role.  After all, she's playing a fairy tale witch in the new Wizard of Oz prequel, Oz: The Great and Powerful.  But the actress wanted to find a new approach for the character, different from Billie Burke's portrayal of Glinda the Good Witch in the 1939 film.
Williams read a biography of L. Frank Baum and the 14 books that the author wrote about his made up land.  She even kept a 'Glinda notebook.'  "You don't know if you're going to find anything when you do all that geeky research," she admitted in an interview with The Los Angeles Times.
But Williams knew that she didn't want to depict the witch as all-knowing.  "Glinda can't be omniscient because then she has no struggle," she said.  "If she already knows everything about the situation, there's nothing for her to discover." Read more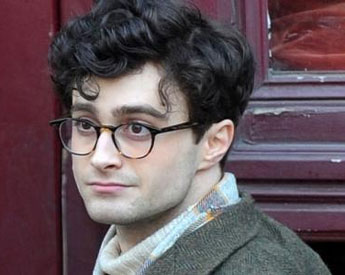 Despite starring in one of the biggest movie franchises of all time, the success doesn't seem to have gone to Daniel Radcliffe's head.  After playing Harry Potter, the British actor still insisted on auditioning for his role as Allen Ginsburg in the film Kill Your Darlings.  Radcliffe told director John Krokidas that he wanted to prove he was right for the part.
"I think he was nervous about whether I would want to audition or not, and so at my first meeting with him I said, 'I want to read, I want to audition,' because at this point in my career, I am aware that my name brings a certain kind of cachet," Radcliffe said in an interview with Out Magazine.  "I want to know that a director wants me for me, rather than for the cachet.  I can see why people are skeptical about me playing Allen Ginsburg, because I don't look like him—although, neither does James Franco [who also portrayed Ginsburg in 2010's Howl]—and I'm English and middle class, and not from New Jersey, but that's what I think is so exciting about it, because people have no idea." Read more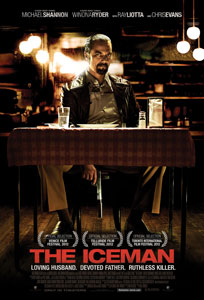 The Iceman: Inspired by actual events, The Iceman follows notorious contract killer Richard Kuklinski (Academy Award® nominee Michael Shannon) from his early days in the mob until his arrest for the murder of more than 100 men. Appearing to be living the American dream as a devoted husband and father; in reality Kuklinski was a ruthless killer-for-hire. When finally arrested in 1986, neither his wife nor daughters have any clue about his real profession. Co-starring Academy Award®  nominee Winona Ryder (Black Swan) and Chris Evans (Avengers, Captain America), The Iceman is directed by Ariel Vromen (Danika) from a script he wrote with Morgan Land (Rx). The IcemanMay 3, 2013.
Writer/Director: Ariel Vromen
Starring: Michael Shannon, Winona Ryder, James Franco, Ray Liotta, Chris Evans, David Schwimmer, Robert Davi and Danny Abeckaser
In Theaters: May 3rd  Read more
Academy Award Nominees Samantha Morton and Michael Shannon will star in The Harvest, a psychological thriller that questions the lengths parents will go to in order to save their only child.  
Charlie Tahan ("Charlie St. Cloud"), Natasha Calis ("The Possession"), Leslie Lyles ("We Need to Talk About Kevin") and Meadow Williams ("Sebastian") will co-star.
Billy Hopkins cast the film and that will be directed by John McNaughton. The film is shooting in Palisades and Brooklyn, New York through January 2013. Read more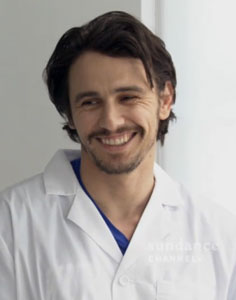 James Franco is known for mixing it up—for some time he was just as likely to appear in candid shots in a Columbia University classroom as he was to be shooting a part on General Hospital or appearing in a blockbuster like Rise of the Planet of the Apes.
"There's this public persona that's 'James Franco' that's half my creation but half of it isn't," the Oscar-nominated actor told The Los Angeles Times.  "Half of it's what other people write about me or how they perceive me."
Franco is also currently making a name for himself in the art industry, working on multimedia abstract pieces he says is "a way of using…an image that other people created and re-presenting it." Read more