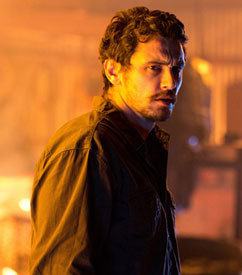 James Franco isn't your typical actor. He's one that marches to the beat of his own drum from independent films to big budget movies. The 35-year-old also teaches at the university level and is a published author.
His latest onscreen venture is playing a meth dealer in a small Southern town in Homefront. The role requires a darkness that Franco often explores. He talked to Reuters about why these type of characters appeal to him.
He said, "Villains can often be one note and I would say in that case, it's not fun to play the villain. It's fun to play the villain if he a) has dimension and b) the villain gets to do all the things in the movie that in life he would get punished for. In the movie, you're applauded for them if you do them with panache. And so that's why it's more fun to play the villain."
Even though his work runs the gamut from TV cameos in The Mindy Project to video spoofs of Kanye West and Kim Kardashian, the Oscar-nominated actor doesn't worry about overexposure.
"I guess that's just the price I have to pay. It's not like I'm going and begging to do some of these projects. They're favors or they're fun … I've decided I can't really control people's perceptions of me. All I can do is decide on what I work on and how hard I work on it, so if that's what happens, people think they see too much of me, then oh well," explained Franco. "The thing that is wrong about that is that people think I'm doing it just to get attention. No. If I go out and put myself in public or promote something in a big way, it's because I am doing things that are not The Avengers, that are not Thor. They need all the promotion they can get because I want them to do well."
While he might be doing the big Marvel pictures, he certainly has a strategy to his career. He understands that it is a business that needs the input of creativity.
Franco shared, "When I was a young actor, I just didn't understand how to function in this business as an artist. It is a business, it's called the film business for a reason, there's money involved…But on the flip side, now I do not let the business side of it rule either. It's a balance."
Even with that balance, he knows that he needs to listen to himself without the influence of others.
"When I was younger, I didn't know that I should just listen to my own voice, my own artistic sense of things when I was choosing projects, because one of the biggest creative decisions that an actor can make in the film business is what you will work on," he said. "And so I was thinking, 'Ok, I'm supposed to do this project because it'll help my career,' but that didn't work because I ended up doing movies that I worked really hard on but I didn't really like and they didn't turn out well, so it was like I lost double. Once I just started working with people and projects I believed in, everything changed and I suddenly had a career that I loved and that I was proud of."
Now that's some sound advice.