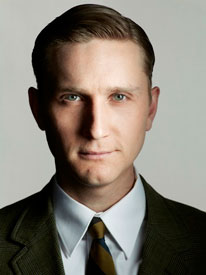 Aaron Staton has had to do all sorts of things while playing Ken Cosgrove on AMC's Mad Men.  During this past week's episode, he even had to tap dance.
"I took some classes in college, and my first job was in the Broadway show Mamma Mia!" he said in an interview with The New York Times.  "I played the fiancé [Sky], and I had to do a bit of dancing, albeit in flippers.  The truth of it is, it's not something I've done in a while.  It's been a few years.
"First I got a text message, 'Do you tap dance?'  And so I had to go: 'Do I?  Let me check.'  I'm still holding the phone—'What do I still know, if anything?'  Mary Ann Kellogg—who has choreographed all of the dance sequences over the course of the show, from when Pete and Trudy did the Charleston and the 'Zou Bisou Bisou' song last year—she came aboard, and we had fun figuring this out.  Matt [Weiner, the show-runner] knew he wanted a time step in there, and there were a couple steps that I needed to work on and freshen up a little bit." Read more
You want to learn how to become an actor? Join the club! Most everyone at one time or another has probably thought about becoming an actor.
They watch their favorite shows and movies and think, "I can do that!" They think it's easy and glamorous.
But what most people don't realize is that it's a lot of hard work. It's a huge amount of fun but yeah, it's work!
It takes a special kind of person to want to become an actor. They have to be determined, unafraid of rejection and willing to work hard to consistently get better at their chosen craft.
This isn't a site on how to become famous. This isn't about becoming a star because odds are, you won't. Hopefully you're here because you want to learn how to be the best actor you can be. Whether you're in Los Angeles or New York, Ohio or Colorado, you absolutely can make this happen.
One thing you should know from the start though is that being an actor is expensive. You'll need money for headshots, headshot reproduction and acting classes. Eventually, you'll need to market yourself with postcards and a website. You'll also need to add your material to casting websites such as Actors Access. It's definitely not cheap!
So, if you're looking for steps on how to get into acting, you've come to the right place.
For links and more information on how to become an actor, check out our actor resources page. (coming soon)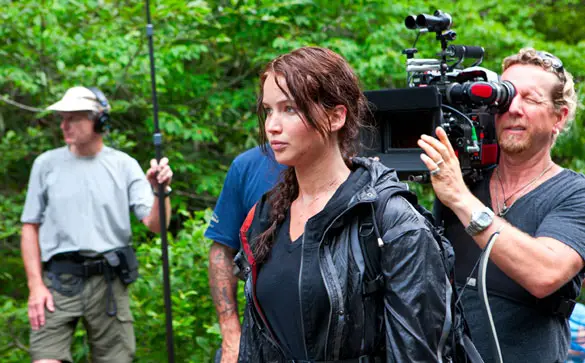 The Basics
Headshots
One of the first things you'll need is a headshot. This is not the place to skimp and be cheap because this is your calling card. If you submit an awful headshot, 99% of the time it'll be filed away in the trashcan. Having a headshot that isn't professional, it just automatically shows casting directors, directors and producers that you're not serious about acting.
Your headshot needs to be shot by a professional and needs to look like you. Seriously, I can't count how many times a casting director has told me that they've called in an actor for an audition and they either look 10 years older in person or their headshot was so photo-shopped that they had to do a double take. Your headshot must look like you, not what you want to look like. You should see my headshot… think I want to look like that?

What's the cost? For New York and LA, paying $400 to $500 for a headshot session is the norm. Obviously, if you live outside of these cities, you should pay less.
If you need to find headshot photographers near you, click on the link.

Resume
The next thing you'll need is an acting resume.
This isn't like a resume you'd give to someone when you're applying for a "normal" job. An acting resume is totally different. You can see examples here. (coming soon)
"I'm just starting out and have nothing to put on my resume!" I've heard that before and don't worry. Everyone starts somewhere. You can easily fix that! Audition for small roles at your local Community, Dinner theater or join the cast of a Church or School production. If you're in school then join the drama club. All of these things can be listed on your resume. You can even list any acting classes you've taken.
If there isn't a role for you in the upcoming show, ask if you can help out. Theaters always need a good, responsible volunteer. This will get you in with the theater community and will make it tons easier when you actually do audition. They'll already know you so it'll be easier for them to take a chance on you!
Click here for more information on an acting resume. And if you need it, here's an acting resume template. (both coming soon)

Learn Your Craft
Take a class! I'm sure there is some kind of acting class or acting program near you. I grew up in a small town and there were at least 5 acting classes within 20 minutes of where I lived.
If you're still in school, try and find a summer acting camp. Usually, these are all day workshops that take place Monday-Friday. You'll learn tons and walk away a much better actor. Plus, these are great places to meet people who are into the same things as you!

Go to college. There are a bunch of great schools you can choose for acting. You'll be immersed in all things acting so how can you not improve? You'll learn everything from movement, costumes, theater history, acting styles and techniques and best of all, you'll be performing constantly.
I went to college in Baltimore, Maryland and loved my time there. I met some wonderful teachers and made some great friends that I still keep in touch with to this day.
For a list of acting schools and colleges, click here. (coming soon)

Audition for Community Theater. Like I said in the resume section, auditioning for Community Theater is a wonderful way to get started. I did a handful of musicals for my local Community Theater when I was in high school and I loved every minute of it. Plus, I learned a lot in the process.
Start off as an ensemble member of a large cast (every town does Oklahoma or another huge production at least once a year). Again, by getting involved, you'll get to know the local theater companies and the people involved. The more they get to know you, they easier it'll be to nail a part in one of the upcoming shows – especially if you've started off with no experience.
Audition as much as you can. Audition even if you don't want the part. The more you audition, the better you'll be at it. Learn to love auditioning because chances are, that's all you be doing the first couple years once you have decided to become an actor.

Start Your Own Play Reading Group. Get a couple of friends together once every couple of weeks and read a play. Give yourself the lead role! The star of Beautiful Creatures, Alden Ehrenreich does exactly that. When I interviewed him, this is what he told me: "Just invite friends over to read a play. Like, me and my friends do that a lot and it just… it promotes that energy and that energy only builds, but you have to get the… you have to start the engine. You know?"
Don't know what to start off with? Try something from Christopher Durang or Martin McDonaugh. Or, how about something that's currently playing on Broadway?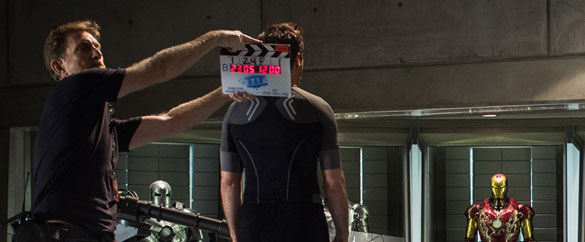 What Next?
Acting Agents and Managers. At this point, you might want to start looking for an agent. Do you have to have one? No, not at all. Especially if you're not a member of any of the acting unions (SAG-AFTRA or Equity).
Don't ever pay an agent or manager a fee for joining their agency or company. There are actor scams out there where you'll be asked to pay an "agency fee" when you sign up. Don't do it. Ever. The only time you should pay an agent or manager is after you've received payment for an acting job you've booked and already worked on.
Will you need a manager? Odds are you won't. You'll only need a manager when you have a career that actually needs to be managed. Typically, managers to 20% of what you've made on each job. That's a lot of money to give to someone when you're only working a couple times a year.
If you're in Los Angeles or New York City, check out our actor mailing labels. We have sets of casting director mailing labels and agent mailing labels updated monthly.
Auditions and Casting Calls. How do you find auditions and casting calls? If you're not in LA or NYC, check your local paper or their website. Google – auditions 'my city' – and I'm sure something will come up. Also, check out Actors Access or call your local SAG-AFTRA office. Most either have hotlines or audition information listed on their site. That's how I found out about the audition that got me my SAG card.
Also, take a look at our post, Top 11 Reputable Casting Websites.
Acting is a Business
You have to treat acting as a business because that's what it is, a business.
When you're called in for an audition, be prepared. Know your scene, monologue or your song. Come with your headshot and resume (stapled together!). Be professional. You might only have one shot with that casting director. Make it the best and show them you have the goods!
Casting directors, directors and anyone who can hire you want to know that you are the answer to their casting "problem". They need you and they want you to be great! They are rooting for you.

Keep up with what is happening in the entertainment industry.
Don't go into this blind. Nothing irritates me more than meeting an actor who doesn't watch TV or isn't up to date on what is going on in film, TV or theater. This is your job!
My favorites are The Hollywood Reporter and Variety for film and TV news. Backstage is good as well. And of course, Daily Actor (shameless plug) – we feature interviews with actors, articles where actors talk about the craft of acting. We also we have a huge actors resource page. (coming soon)

This Won't Happen Overnight
I did my first play in Elementary school, did the fall and summer productions in High School and then started to do shows at my local community theater. When I went to college, I moved onto Dinner Theater and found other theater companies to work with. While I was doing that, I auditioned for an industrial film, got the part and was lucky enough to get my SAG card. I've been acting for years and I've loved every minute of it.
Some people get lucky right off the bat. Some don't… it could take them years. But, if you work hard, it'll happen. If you're prepared, it'll happen.
Trust me.

Links and Resources Coming soon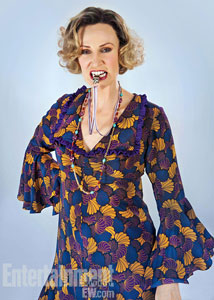 Though Jane Lynch has already admitted that she is scared about making her Broadway musical debut as Miss Hannigan in Annie this Wednesday, she confessed to The New York Post that she secretly always wanted to do the role.
She points out, "I used to have a list of things I wanted to do and Miss Hannigan was one of them." 
However, Lynch had never seen a production of the musical until this January and she has never seen the 1982 movie adaptation.  So when she talks about what made her always want to the role, she reveals that it was a result of her love for the 1977 original cast album, which featured Dorothy Loudon as Miss Hannigan.  She clarifies, "I know the soundtrack of course — every breath of it!  And I don't know if I ever had the cojones to say that I wanted to play this role on Broadway, but I've always wanted to do musicals." Read more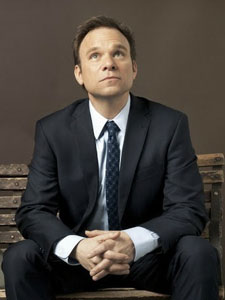 So if you already have gotten two Tony Awards for Best Leading Actor in a Musical, you shouldn't be getting nervous about taking your next lead role on Broadway, right?  Based on his interview with The St. Louis Dispatch, Norbert Leo Butz would disagree with you.
With the Chicago tryout of Big Fish — a musical adapted from the 2003 Tim Burton film — now wrapped up and heading to Broadway in September, Butz admits he's feeling nervous about it.  He confesses, "Talk about a tough gig.  I hope somebody will get some inspiration, some positive re-enforcement, from it. This acting thing is not for sissies.  But when I was in college, you couldn't have told me that I wouldn't be a working actor."In fact, he was convinced he would become an actor ever since high school, in which he starred not only in his high school's plays but also in plays in all-girls schools in his hometown.  He says, "The acting bug bit me before I graduated.  I just fell in love with theater, with a love bordering on the obsessive. I couldn't get enough." Read more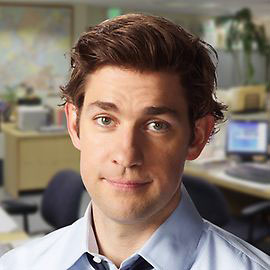 On May 16th, The Office will be closing its doors. After an eight-year run, Jim Pam, Dwight and the rest of the gang will be moving on to bigger and better things (hopefully). I've watched every episode of the long running series and I'll definitely be sad to see the show go.
Before getting the role of Jim, John Krasinski was like almost every other actor in New York. He'd work his job as a waiter during the week then run off to an audition when he could. He had booked a few things but "not anything that would allow me to claim that I was a working actor and didn't need another job," he said during a conference call. Booking The Office was like winning the lottery, "except with a winning lottery ticket you just get money, and with this you get a whole change of your life."
If you're a fan of the show, you'll love this interview. And honestly, even if you're not, there's some great stuff in here about what it's like to go from hustling for auditions to becoming a star on a major network show. In this interview, John and Executive Producer/Writer Greg Daniels talk about the end of The Office, John's audition, his past commercials and more. It's a long one but it's really great.
The Office airs on Thursdays at 9 on NBC – for only 2 more weeks! Read more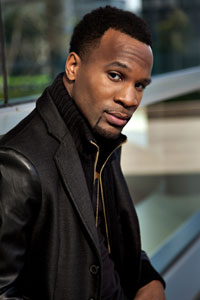 Johnny Ray Gill graduated from University of California, San Diego in 2010 with an MFA in Acting. While commuting back and forth to LA looking for work and a decent place to live, he auditioned for an episode of NBC's Harry's Law. The producers liked his work so much, that 1-episode role quickly turned into a 10-episode arc.
Since then, he hasn't stopped working. He's appeared on Bones, a couple of episodes of True Blood and now, he's starring in The Sundance Channel's new series, Rectify. The show is about a death row inmate named Daniel Holden (Aden Young), who has to put his life back together after DNA evidence reveals his innocence. Through flashbacks, Daniel relives his prison years and his friendship with another inmate, Kerwin Whitman, played by Johnny.
In this interview, Johnny talks about his education, Rectify and his advice to actors!
Rectify airs on Mondays at 10pm on The Sundance Channel Read more
Hamish Linklater starred for five seasons on the CBS comedy "The New Adventures of Old Christine," playing the brother of Julia-Louis Dreyfus's title character. On the big screen, he recently co-starred with Liam Neeson and Alexander Skarsgård in Peter Berg's 2012 action adventure "Battleship."
An accomplished stage actor, Linklater most recently starred opposite Alan Rickman in the Broadway play "Seminar," marking his Broadway debut. In 2011, he won an Obie Award for his performance off-Broadway in "The School for Lies." He earned a Drama Desk Award nomination in 2010 for his work in the Public Theatre's Shakespeare in the Park production of "Twelfth Night." Earlier this year, he made his playwriting debut with "Vandal," which just premiered off-Broadway.
Born in the heart of the Berkshire Mountains of Massachusetts, Linklater began acting at the age of eight as part of an acting troupe called Shakespeare & Company, founded by his mother, Columbia University drama professor and noted vocal coach Kristin Linklater. After attending Amherst College, he left school to pursue his career. Read more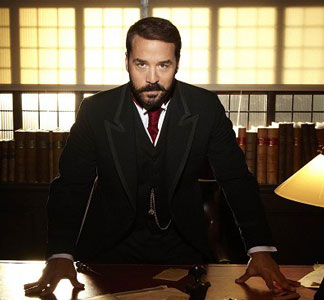 After starring as Hollywood agent Ari Gold on eight seasons of Entourage, Jeremy Piven didn't expect that his next major role would be in another television series.  Yet Piven stars as real-life turn-of-the-twentieth-century department store tycoon Harry Selfridge in Mr. Selfridge on PBS' Masterpiece Classic.  In a conversation with Collider, Piven speaks about how he ended up back on television so soon after his last lengthy run.
Piven is honest about the fact that after Entourage ended he had no plans to return to the small screen.  He says, "I wasn't even thinking about TV, to be honest with you.  They say it's the Golden Age of television, and I don't know if they're saying it tongue-in-cheek, but the stuff they're doing on TV right now with the premises that are so completely original and the writing that is so great, you'd be lucky to find it in TV, film, stage or anywhere." Read more
Podcast: Play in new window | Download (Duration: 13:13 — 9.1MB)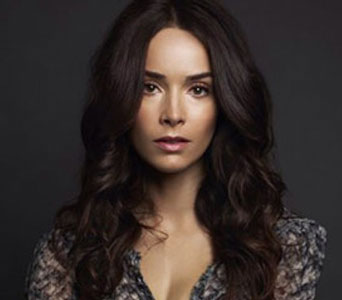 When Abigail Spencer shows up on your screen, you know those moments will be interesting. She was one of the best parts about Chasing Mavericks and she made the opening segment of Oz, the Great and Powerful that much better. 
Abigail was discovered by casting director of All My Children, Judy Blye Wilson, when she was – get this – sitting in the audience of the Regis and Kathy Lee. Wilson tracked her down, had her audition for a role on the soap and she ended up doing a little more than 20 episodes. But before you get all, "What the heck?," she already had the chops. She went to Carnegie Mellon University for acting, spent her teen years doing theater and her mentor growing up was none other than Broadway great Ann Reinking.
I talked to Abigail at SXSW where she was promoting her film, Kilimanjaro. In that film, Brian Geraghty plays Doug, a guy kind of floating through life. After his girlfriend moves out, Doug decides to embark on a more meaningful life and starts planning to climb the famous Mount Kilimanjaro. Abigail plays a woman who comes into his life and shows him that being spontaneous isn't a bad thing.
In this interview, we talk about how she got her start – including the Regis and Kathy Lee story, giving back to young actors, working with good people and her advice to actors.
Follow Abigail on Twitter and be sure to check her out in the new Sundance Channel series, Rectify. Premieres April 22nd!
For the full interview, click the audio link above or download it from iTunes 
Podcast: Play in new window | Download (Duration: 17:19 — 11.9MB)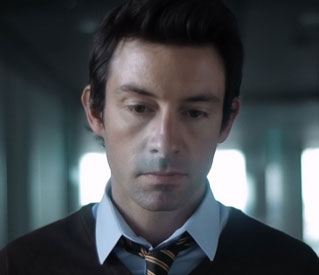 If you haven't seen Shane Carruth's directorial debut, Primer, you are missing out. It's really something to witness and it's one of those debut films that people are still in awe of.
His sophomore effort is Upstream Color, which screened at SXSW. The film, which also stars Amy Seimetz, is about how two people mysteriously come together by a strange, almost mystical and kind of evil organism. The film explores ideas about life, love and the images and imagery he captures on film is something that you really should witness in a theater. It might take you a couple minutes to get into it but once you do, the film just takes over and you're engulfed in this world he's created. It's really quite something.
Like Primer, Shane was the writer, director, producer, composer, editor and actor on the film and it's a massive undertaking. When I talked with him at SXSW, I have to say, he was completely inspiring and I would love to have half his energy and intelligence.
In the interview, we talk about his decision to be the lead actor, if he has any vanity at all when watching himself on-screen, casting and how he got the inspiration for the story.
For the full interview, click the audio link above or download it from iTunes 
Upstream Color opens in New York today and expands around the country April 12th. Read more