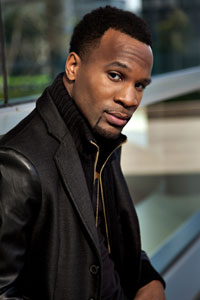 Johnny Ray Gill graduated from University of California, San Diego in 2010 with an MFA in Acting. While commuting back and forth to LA looking for work and a decent place to live, he auditioned for an episode of NBC's Harry's Law. The producers liked his work so much, that 1-episode role quickly turned into a 10-episode arc.
Since then, he hasn't stopped working. He's appeared on Bones, a couple of episodes of True Blood and now, he's starring in The Sundance Channel's new series, Rectify. The show is about a death row inmate named Daniel Holden (Aden Young), who has to put his life back together after DNA evidence reveals his innocence. Through flashbacks, Daniel relives his prison years and his friendship with another inmate, Kerwin Whitman, played by Johnny.
In this interview, Johnny talks about his education, Rectify and his advice to actors!
Rectify airs on Mondays at 10pm on The Sundance Channel Read more
Okay, so it's hard to think of David Schwimmer as anyone else than Ross on TV's Friends, a character he played on the highly-rated show for ten seasons.  In fact, Schwimmer seems completely aware of this problem, spending much of his post-Friends life behind the camera as a director. But Schwimmer, who began his acting career in theater, is actually returning to the stage in New York in the new comedy Detroit at Playwrights Horizons.  Schwimmer talks to TheaterMania about his return to acting and what advice he would give his young daughter about her career.
Schwimmer admits that part of the reason why he decided to star in Detroit is that it is convenient for him.  He explains, "The last several years I've been directing movies, and each movie takes so long to actually develop and shoot and do the post-production — especially Trust. Then my wife and I had a baby, so I wanted to be home a lot, but I've been chomping to get back on stage. So, when Detroit came about, I jumped." Read more
Why didn't someone cool and inspiring speak at my college graduation ceremony? Ok, I'm sure who spoke was fine but I have absolutely memory of who it was or what they talked about. Plus, I probably just wanted them to stop talking so I could get out of that awful cap and gown.
Amy Poehler spoke to Harvard's 2011 graduating class last Wednesday, where she talked about the rules of improvisation that she applies to her everyday life, her advice on becoming an actor ("Don't do it" – at the 4:30 mark) and quoted the wise words of OutKast.
The speech is 15 minutes long but like Denzel Washington's speech to University of Pennsylvania last week, it is something I think you should listen to; it's inspirational and funny.
My favorite part of the speech:
"You cant do it alone. As you navigate through the rest of your life, be open to collaboration. Other people and other people's ideas are often better than your own. Find a group or people who challenge and inspire you. Spend a lot of time with them and it will change your life."
Video after the jump

Podcast: Play in new window | Download (Duration: 19:16 — 13.3MB)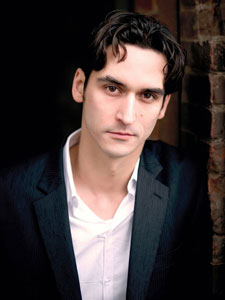 Sean MacLaughlin is traveling the country for the next year with his wife, baby and two dogs. When the "Von Trapp Family Singers" (as he called themselves) eventually stop at a city near you, that's probably because he's about to get on stage to play 'Peron' in the touring production of Evita.
Sean was last seen on Broadway as 'Raoul' in The Phantom of the Opera and he's from my neck of the woods – the Baltimore/DC/Virginia area. I love talking to people from my area and finding out how they got to where they are. Sean played it smart in his early career: before he packed everything up and moved to New York, he went to College at Virginia Tech and got a degree in communications. Then he moved to DC and did a bunch of theatre there because as he told me that he "was a firm believer in not moving to New York without getting experience."
But, before he tried his luck in New York something great happened before that. I'll let him tell the story in the interview below but basically, the success he's having now all comes down to a combination of planning, preparation and luck. We also talk about his audition for Evita and auditioning in general, touring and more!
Evita is currently playing in San Diego. For tickets, click here. Upcoming tour dates include San Jose, Las Vegas and Tempe, AZ. For more tour dates and ticket information, click here.
For the full interview, click the audio link above or download it from iTunes  Read more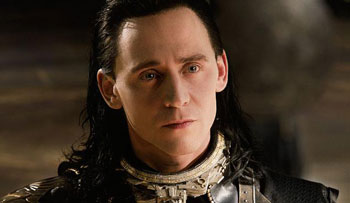 While it's hard to argue against Clark Gregg's Agent Phil Coulson being the unexpected breakout character of the Marvel Cinematic Universe — the guy went from being a background character in Iron Man to the lead role in a television series — a close second has to be Tom Hiddleston's Loki. 
Hiddleston's portrayal of the shape-shifting trickster god Loki in Thor and The Avengers has been embraced by audiences so strongly that it has threatened to overshadow the character's heroic brother Thor.  What's most surprising about it is that no one — not even Hiddleston himself — would have thought of the actor as having supervillain potential before Thor.  In a conversation with The New York Times, he speaks about his surprising success and his acting roots. Read more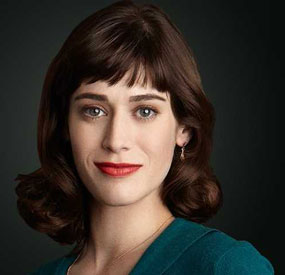 Lizzy Caplan has had a successful career for a young actress, but getting there hasn't been easy. In an interview with BGB Mag, the Masters of Sex star talked about the struggles of being "on avail" for a role and how the auditioning process never gets any easier.
Caplan plays the groundbreaking sex pioneer Virginia Johnson in the Showtime series. She was attached to the part for months before the contract was officially signed. The 31-year-old actress shared what that endless wait was like.
"It was not the most fun process, as you know. It took a while to be officially signed on to the show. It remained unofficial for months. So I mostly walked around with the news that I was to play Virginia as a secret, since I didn't want to suffer the humiliation of telling everybody I got the part, then having to call all those same people and tell them that it didn't work out. Which I've had to do before," she said. "All actors and actresses seem to have their 'firing story'. Pilot season happened while I was waiting to hear officially about Masters, and I didn't have the easiest time convincing my agents and managers that even the POSSIBILITY of getting to do Masters of Sex was infinitely more appealing to me than the real, tangible pilot jobs that were being presented to me. But (somewhat miraculously), it all worked out." Read more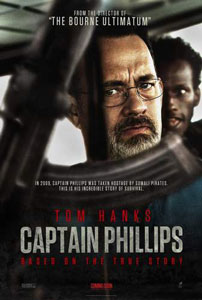 One of the things that I love about Tom Hanks is that he doesn't rest on his laurels. He's been a huge star forever and if he wanted to, he could be giving us garbage and odds are, we'd show up and plop our butts in the seats. But Hanks is still out there, challenging himself in films and, most recently Broadway, feeding his creative beast. He's a guy who just loves being an actor.
In Captain Phillips, director Paul Greengrass' new film about the hijacking of a U.S. container ship by a group of Somali pirates, Hanks plays the title character; a regular guy who's got a family and is  worried about his kinds chances of getting into a good college. A guy who takes his job seriously and expects his shipmates to do the same. You could almost say he seems kind of boring. Read more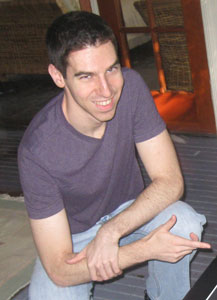 Interviewed by Theresa Pickett
Director Michael Matteo Rossi recently finished shooting feature film Misogynist, a drama thriller shot in Los Angeles. Rossi shares an insider's view about the Hollywood movie industry and examines how actors can find success in the movie capital of the world.
To learn more about Misogynist, check out their IMDb and Facebook pages.
You have secured a great group of talent for your latest movie, indie feature film Misogynist. The cast includes Jon Briddell, Tracey E. Bregman, Eve Mauro, Danielle Loseau, Jonathan Bennett, Kris Black, Alia Raelynn, and Cameron Barsanti. What strategies did you use in selecting your talent? Can you describe the audition process?
Since I wrote the script to the film, I had a leg-up in terms of knowing the look of the characters and what I wanted. We sent out a casting notice online for several of the supporting roles and got very lucky with the talent that came in to audition. I knew, however, that even for an indie film, you must have some sort of "name" actors for the film to get noticed. It's how the business works. I got in touch with Jonathan Bennett through acquiescence and sent him the script, which he loved and wanted to work on. Read more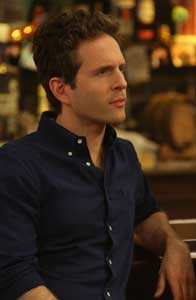 It's not every day that a show is asked to help launch a brand new network, but that's what happened with the gang at It's Always Sunny in Philadelphia. The cast took it in stride though. "[We were] mildly honored to be launching an entire new network.  Maybe slightly worried that it wouldn't work out, but not that worried," star Glenn Howerton said.
Well, they don't need to be worried because since the premiere, the show has kept their demo almost the exact same as it was when it aired on FX.
For the past nine season, Howerton has played Dennis and he told me in a recent conference call, that it's still fun. "I do enjoy playing bad guys," he said. That's why he loves playing the character. Also, "because the challenge is making Dennis, you know, likable even though he's such a despicable person."
In the interview, he talks more about playing Dennis, not getting any Emmy attention, auditioning for blockbuster movies and tons more.
It's Always Sunny in Philadelphia airs at 10pm on Wednesdays on FXX Read more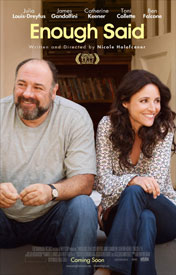 There are times when I'm watching a movie and I become so engrossed in the world and the characters that when it's over, I feel a certain sadness. Not because the movie itself was sad, but sad because my time with these people has come to an end. 
Enough Said was one of those movies.
The film, written and directed by Nicole Holofcener and staring Julia Louis-Dreyfus and, in his final film, James Gandolfini, is the story of a divorced masseuse, named Eva (Louis-Dreyfus). Her teenaged daughter is about to head off to college and she's coming to terms with the thought of an empty house. On a rare night out, she meets Albert (Galdolfini) and the two quickly hit it off, bonding over their kids and being middle-aged singles.
They both start to fall for each other, except… Eva now has a new client, Marianne (Catherine Keener). As the two become close friends, her bitter divorce and constant complaining about her ex-husband begins to throw a wrench in Eva and Albert's romance. Read more