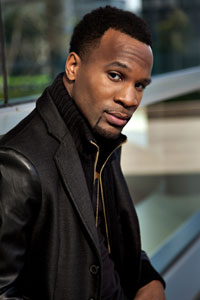 Johnny Ray Gill graduated from University of California, San Diego in 2010 with an MFA in Acting. While commuting back and forth to LA looking for work and a decent place to live, he auditioned for an episode of NBC's Harry's Law. The producers liked his work so much, that 1-episode role quickly turned into a 10-episode arc.
Since then, he hasn't stopped working. He's appeared on Bones, a couple of episodes of True Blood and now, he's starring in The Sundance Channel's new series, Rectify. The show is about a death row inmate named Daniel Holden (Aden Young), who has to put his life back together after DNA evidence reveals his innocence. Through flashbacks, Daniel relives his prison years and his friendship with another inmate, Kerwin Whitman, played by Johnny.
In this interview, Johnny talks about his education, Rectify and his advice to actors!
Rectify airs on Mondays at 10pm on The Sundance Channel Read more
Okay, so it's hard to think of David Schwimmer as anyone else than Ross on TV's Friends, a character he played on the highly-rated show for ten seasons.  In fact, Schwimmer seems completely aware of this problem, spending much of his post-Friends life behind the camera as a director. But Schwimmer, who began his acting career in theater, is actually returning to the stage in New York in the new comedy Detroit at Playwrights Horizons.  Schwimmer talks to TheaterMania about his return to acting and what advice he would give his young daughter about her career.
Schwimmer admits that part of the reason why he decided to star in Detroit is that it is convenient for him.  He explains, "The last several years I've been directing movies, and each movie takes so long to actually develop and shoot and do the post-production — especially Trust. Then my wife and I had a baby, so I wanted to be home a lot, but I've been chomping to get back on stage. So, when Detroit came about, I jumped." Read more
Why didn't someone cool and inspiring speak at my college graduation ceremony? Ok, I'm sure who spoke was fine but I have absolutely memory of who it was or what they talked about. Plus, I probably just wanted them to stop talking so I could get out of that awful cap and gown.
Amy Poehler spoke to Harvard's 2011 graduating class last Wednesday, where she talked about the rules of improvisation that she applies to her everyday life, her advice on becoming an actor ("Don't do it" – at the 4:30 mark) and quoted the wise words of OutKast.
The speech is 15 minutes long but like Denzel Washington's speech to University of Pennsylvania last week, it is something I think you should listen to; it's inspirational and funny.
My favorite part of the speech:
"You cant do it alone. As you navigate through the rest of your life, be open to collaboration. Other people and other people's ideas are often better than your own. Find a group or people who challenge and inspire you. Spend a lot of time with them and it will change your life."
Video after the jump


It might be hard to believe, but when Neil Patrick Harris takes the stage in Hedwig and the Angry Inch in the spring it will be the first time in nearly a decade that Harris has been in a Broadway musical. Sure, in the meantime we've seen Harris sing, dance, host the Tonys (four times) and direct the Off-Broadway play Nothing to Hide, but Harris hasn't been in a Broadway musical since Assassins had a brief run in 2004.
Yet as he tells The New York Times, performing as the titular transgender woman from East Berlin in the Broadway debut of the 1998 Off-Broadway hit is the exact opposite of taking it easy. Read more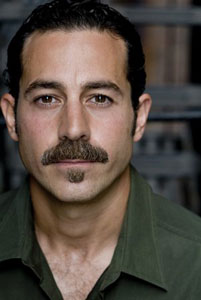 Waleed F. Zuaiter is one of those actors who've you've seen someplace…but can't quite remember where. That's what makes him such a good actor; he blends into the film and serves it's story. From The Men Who Stared at Goats, to TV's Revolution, Homeland, The Good Wife, Blue Bloods and tons more, Waleed has done some fantastic work and even more so with his new film, Omar.
Omar, the Winner of the Jury Prize Un Certain Regard at the Cannes Film Festival, is about a guy young Palestinian baker, Omar (Adam Bakri). He's who is in love with his friends sister, Nadja (Leem Lubany) and secretly climbs over the separation wall to meet with her. He's also… a terrorist. Or freedom fighter depending how you look at it. After he's arrested for killing an Israeli soldier, he coerced by Agent Rami (Zuaiter) to work as an informant. Reluctantly.
The film, directed by Palestinian filmmaker Hany Abu-Assad (Paradise Now), is quite good and I'd totally recommend it. It's tense and gripping and has a whopper of an ending. And all of the actors – except for Waleed -  had never appeared in a film before. And they're fantastic. Read more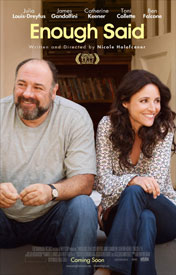 Enough Said: A divorced and single parent, Eva (Julia Louis Dreyfus) spends her days enjoying work as a masseuse but dreading her daughter's impending departure for college. She meets Albert (James Gandolfini) – a sweet, funny and like-minded man also facing an empty nest.
As their romance quickly blossoms, Eva befriends Marianne (Catherine Keener), her new massage client. Marianne is a beautiful poet who seems "almost perfect" except for one prominent quality: she rags on her ex-husband way too much. Suddenly, Eva finds herself doubting her own relationship with Albert as she learns the truth about Marianne's Ex. Read more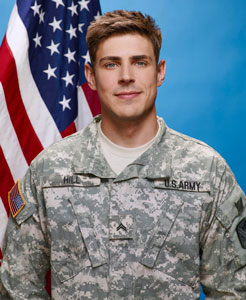 Chris Lowell is ready to have a big year in 2014. The 29-year-old actor just had his new sitcom Enlisted premiere on FOX, his first leading-man film Brightest Star was just released, Veronica Mars will hit the big screen, his directorial debut for Beside Still Waters is happening and he's headed to the stage in A Moveable Feast. Are you exhausted yet?
The multi-talented actor talked to Interview about his busy career and how he got started in the industry.
Lowell revealed that his decision to be an actor came early. Read more
Podcast: Play in new window | Download (Duration: 15:14 — 12.2MB)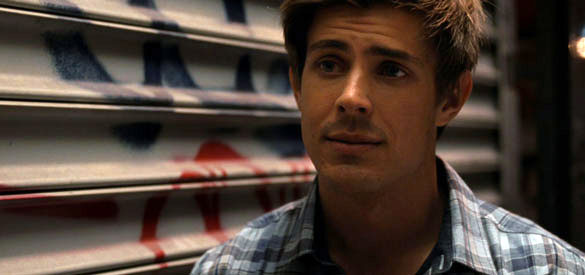 Chris Lowell stars in the new indie film, Brightest Star, about a guy (Chris), who's right out of college and  dumped by his girlfriend, Charlotte (Rose McIver). So, he reinvents himself into the man he thinks she wants. Trouble is, along the way he ends up falling for his friend, Lita (Jessica Szohr). The movie, directed by actress Maggie Kiley, shows life as twenty-something New Yorkers and I really enjoyed it (here's the review).
I talked with Chris the other day about the film, how he didn't he didn't play his characters wishy-washiness (I may have just made that term up) and the 18-day shoot. We also chat about Enlisted, his advice to actors and his worst audition. And I'll give you a hint: the audition was… unchained.
Follow Chris on Twitter!
For the full interview, click the audio link above or download it from iTunes.
Brightest Star is in theaters and on VOD now Read more
Podcast: Play in new window | Download (Duration: 12:17 — 9.8MB)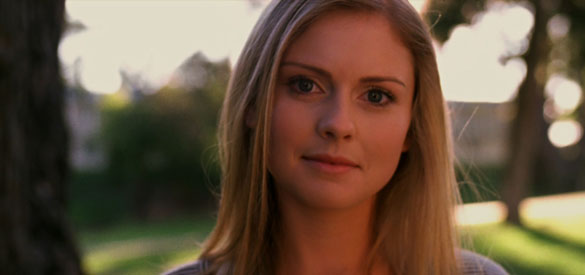 Rose McIver is all over the place it seems like. She's appearing in Showtimes' Master of Sex, playing Tinkerbell on ABC's Once Upon a Time and now, she's starring in the new film, Brightest Star.
The film is about a guy (Enlisted's Chris Lowell), who, right out of college is dumped by his girlfriend, Charlotte (McIver). So, he reinvents himself into the man he thinks she wants. Trouble is, along the way he ends up falling for his friend, Lita (Jessica Szohr). I liked the film a lot and you can read my review here.
The movie is directed by actress Maggie Kiley and in the interview, I asked Rose what it's like to be directed by another actor. She said the Kiley "wants us to do the best work we can, so as an actor she knows what we need and the conversations that will be useful." We also talk about her character, how she got the part and how she and Chris -  before they even met each other – formed a bond over email. And we get into her audition for Once Upon a Time and her flawless American accent.
For the full interview, click the audio link above or download it from iTunes
Brightest Star is in theaters and on VOD now Read more
Podcast: Play in new window | Download (Duration: 28:30 — 22.9MB)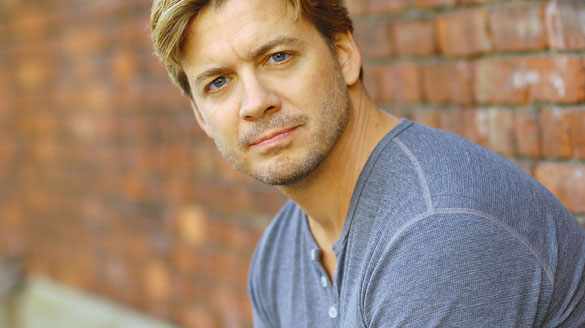 Chris Henry Coffey is making his Broadway debut in the new play, Bronx Bombers, about the New York Yankees that follows the great Yogi Berra and his wife, Carmen, through almost a hundred years of the teams high's and lows. The show brings together some of its most legendary players like Babe Ruth, Mickey Mantle, Lou Gehrig, Derek Jeter and Joe Dimaggio, played by Chris.
I love hearing stories of how people got the part that lands them on Broadway and Chris' story is up there as one of my favorites.
Originally from Green Bay, he went to school at Yale and soon after moved to New York and as he told me, he's been "pounding the pavement for a lot of years." That's not to mean that he hasn't been working. He's always been a busy working actor, doing a bunch of off-Broadway shows, commercials, TV and films (like Trust directed by David Schwimmer). If that's not enough, he also teaches acting!
As you'll find out in the interview, he's a genuinely nice guy. He's talented and I gotta say that I'm incredibly happy for him. In the interview, we talk about how he got the part, the first time he stepped on-stage for preview night and one of his worst auditions. I also recommend checking out the podcast where he talks about his research on DiMaggio, meeting Henry Miller and tons more. It's well worth your time!
Follow Chris on Twitter!
For the full interview, click the audio link above or download it from iTunes.