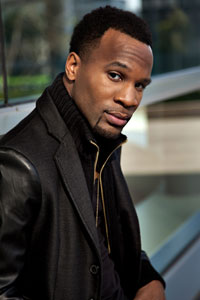 Johnny Ray Gill graduated from University of California, San Diego in 2010 with an MFA in Acting. While commuting back and forth to LA looking for work and a decent place to live, he auditioned for an episode of NBC's Harry's Law. The producers liked his work so much, that 1-episode role quickly turned into a 10-episode arc.
Since then, he hasn't stopped working. He's appeared on Bones, a couple of episodes of True Blood and now, he's starring in The Sundance Channel's new series, Rectify. The show is about a death row inmate named Daniel Holden (Aden Young), who has to put his life back together after DNA evidence reveals his innocence. Through flashbacks, Daniel relives his prison years and his friendship with another inmate, Kerwin Whitman, played by Johnny.
In this interview, Johnny talks about his education, Rectify and his advice to actors!
Rectify airs on Mondays at 10pm on The Sundance Channel
You're on Rectify playing a death row inmate.  How do you get into the mindset of your character, Kerwin?  Did you do a lot of research?
Johnny Ray Gill: As an African American male, I'm constantly bombarded with images of thuggery & incarceration in the media at large & in Hollywood more specifically. People of color continue to be disproportionately incarcerated, policed, and sentenced to death.  The incarceration rate for African-Americans is roughly six times the national average, thus as a culturally aware individual I don't need to seek out prison; it comes to me in many respects.  More specifically, Kerwin's rhythm is much slower than mine. He lives literally in a box and is bound by chains that cut my wrists & ankles so I let my mind wade in the given circumstances.  So much to process.   
You graduated from UCSD in 2010.  How did you go from there, to starring in two hit shows in such a short amount of time?
Johnny Ray Gill: A Leprechaun showed me a short cut. Lol. =) Seriously, I just auditioned & I'm glad people have responded to my work.
Do you know how long it was from when you moved to LA, till the time you booked Harry's Law? 
Johnny Ray Gill: I was still commuting from San Diego when I booked Harry's Law.  It's hard to find a suitable apartment in LA, especially being a poor college grad with that pimp Sallie Mae slapping me around.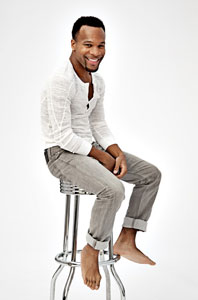 Do you credit your education, with your success?  Would you recommend going to school for acting?
Johnny Ray Gill: I do credit my education because education is so tremendously important.  It's the key to all your dreams, regardless of what you aim to pursue.  Big thank you to my mentors Jim Winker who trained me & helped me endure at UCSD & Kimmika Williams–Witherspoon who pushed me to act for the first time while at Temple.  I don't necessarily recommend school per se.  School was my path, you must be brave enough to find yours.  But you do need training; you need education.  It can be found in many places, you just need to find it. 
It sounds like you've had a string of great auditions, booking role after role.  Tell me about your audition progress.  What do you do to prepare, once your agent calls you with something? 
Johnny Ray Gill: Tough question because my process changes from audition to audition.  Each character is a jigsaw puzzle & after I get the call my quest is to find how all the circumstances fit. The "agent call" sounds so epic lol – DUN DUN DUUUUUUUUUNNNN!! Nevertheless, I make bold choices.  I have fun. I rock out!
What is the worst audition you have ever had?  Actually, I should rephrase that.  Have you ever had a bad audition with your success? 🙂 
Johnny Ray Gill: No. I haven't. I'm awesome 😉 – Honestly, I don't focus on good or bad.   Putting focus there is for the weak of mind.  I take focus off me and put it on the character.  But hey, even Tom Brady has thrown a horrible interception or two or three.  He's great, however, because he forgets about that interception immediately & puts his focus on succeeding on the next play.
You have also written and directed two shorts.  Was that just to gain experience or do you see yourself directing a feature someday?
Johnny Ray Gill: I undoubtedly will direct a feature. Stay tuned. 😉
What is your best advice to actors?
Johnny Ray Gill: Hustle. Then hustle harder. Don't be afraid to fail big. Be bold. Hold fast to those who love you.  This business is crrrrraazzzzy.