The SAG Foundation has been doing some really Q&A's lately and this one, with Emily Deschanel and David Boreanaz from Bones, falls into that category. 
Moderated by Sandra Gonzalez from Entertainment Weekly, the two talk about the show, working together, their careers, acting and being an actor and tons more.
"I love talking to actors. This is great." – David Boreanaz
Check it out below! Read more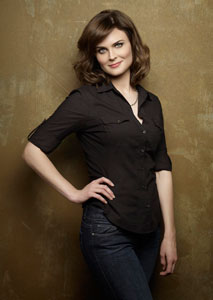 Bones just wrapped up its eighth season on a high note and star Emily Deschanel thinks one of the reasons they've lasted is because the show offers so many "different things for so many different people."
"But," she said in a recent conference call, "it may also be why we're not the number one television series on TV."
In this Q & A, Emily talks about the past season, how she balances starring on a hit show and motherhood and the growth of Brennan.
Do you find filming the emotional scenes challenging?
Emily Deschanel: It depends.  It really depends on what it is.  It depends on the emotion and the way the scene is written and the circumstances.  I find it challenging to switch tone like we do on our show.  It's definitely challenging to go from comedy to humor and lightness to sadness.  It really depends on the particular scene and what it is.  Sometimes emotion comes easily for me and sometimes it's more challenging whether it's because we are laughing and being light a moment before or for whatever reason it's not as—sorry.  My baby is pounding on the door right now.  Sorry.  What we were talking about? Read more
Although John Francis Daley is best known for on-screen roles in TV shows like Freaks and Geeks and Bones, his latest passion is the written word.
His and fellow writer Jonathan Goldstein's first feature film, Horrible Bosses, will arrive in theaters July 8. The 25-year-old talked about the transition from child actor to screenwriter in a recent interview with New York Magazine.
"Ever since I was seven years old, I was writing," recalls Daley of his early days as a scribe. "I remember being in the basement of my house, this dank, horrible basement, putting on plays with not-very-willing participants, and I would promise kids in the neighborhood that I'd play Nintendo 64 with them after we'd rehearse this stupid play that I wrote. The epic I remember best is this tale that took place in Pompeii during the Vesuvius disaster. You'd laugh, you'd cry…"
As with many others in Hollywood, it was none other than Steven Spielberg that got Daley interested in filmmaking. However, in Daley's case, it was through an actual encounter with the legendary producer and director. "He had told my dad to get me a computer with editing equipment and a camera so that I could pursue filmmaking, because it's something I had expressed to my dad that I had wanted to do," said Daley. Ten years later at a pitch meeting, "He looked at me with that look of, 'I know I've seen you…' and I reminded him and he said, 'Oh, wow, so you're writing now? And you're still acting?' It was one of the most surreal meetings that I think I've ever had."
Read more
Brendan Fehr was an actor for all of one year when he got the part of Michael  on Roswell.
But sometimes luck doesn't bring perspective. He say's that he "didn't realize how hard [acting] was because it came so quick and when it comes quick it seems relatively easy."
After Roswell ended, he admittedly didn't go out on pilots for a long time and now he says that he's "definitely been humbled."
Since then though, he's had some great recurring roles on Bones and CSI: Miami and this Saturday, you can watch him and Victor Garber in SyFy original movie, Ice Quake.
I talked to him in a Q & A where he talks about the new movie, how he got his roles on both Bones and Roswell, how he got started and more!
Ice Quake airs Saturday, December 11 at 9pm on SyFy.
So how did you initially get involved with this film?
Brendan Fehr: Just through the typical channels. It came through my agents. They handed me the – they sent the script over and I read it and it was a number of things. It was obviously getting to play a guy who's married and who's got a family and two kids which is something I haven't had the opportunity to do on film.
And it's obviously with the SyFy base and all that stuff. They got a definite following which is always encouraging as an actor. It's always a bonus when people are going to be watching these things that you do.
And then ultimately it also – it's filmed in my home town basically about half hour outside of where I grew up as a kid. So I got to go back and spend the weekends with my mom and my sister and my family and all that stuff. So that stuff was all very, obviously, intriguing to me.
Podcast: Play in new window | Download (Duration: 17:18 — 11.9MB)
Emily Deschanel has played the title character in Bones for 6 seasons. Usually that's when shows start to sag but not Bones. In tonight's moving episode, you get to see a different side to 'Brennan'; a side that the audience hasn't really seen.
Titled, The Doctor in the Photo, it centers on a Dr. whose life revolves around her work. When the Dr. is found dead, Brennan sees herself in the victim. "She starts relating to the character, believing that it's her. "(The case) forces Brennan into a place where she is bold and kind of aware of her feelings in a way that she hasn't been before," Deschanel said.
I talked to Emily in a conference call where she talked about the emotional toll this episode took on her, if anything about  character still surprises her and of course, I asked her advice to actors.
For the full interview, click the audio link above or download from iTunes.
Does it ever get exhausting playing Brennan, because she's so serious and factual? You, yourself always come across as so lively. Is it hard to be in that state of mind a lot?
Emily Deschanel: Yes and no. I think that Brennan has (a) become a lot more open over the years and you get to see her kind of dorky, quirky side at times, which is fun. I hang on to those moments and try to incorporate things like that in every episode. My favorite things about people in general is that they have contradictions. Brennan is no exception to that rule. I love exploring the contradictions of her character and all of that.
No, I'm an actor, too. So playing a character who's very different from myself is one of the best things to happen to me, especially in a television series. So many times people are hired to play something very close to who they are in real life. It's a wonderful opportunity to play this character who is very different. I can't say that I don't possess some qualities that are similar or that sometimes I don't remind myself of her, when I behave like a real, I don't know, nerd—I say that in the most affectionate way—but, I'm very different. So, I love the fact that I am different from the character. But, that's true sometimes, especially when you're doing certain episodes. You come home and you take it home a little bit with you.
I have tried to make boundaries for myself where I leave work at work. If I have lines to learn, I do all my acting work on the weekends and then I learn my lines the day before. If there's any work that needs to be done before the next day, I do it at work. I don't leave work until I've finished that. I don't like to take work home with me. That means staying late even after working 15 hours. I'll stay late an hour or two just to make sure I get everything right. I try to set those boundaries so I don't take things home, but that said, it does leak into your personal life sometimes.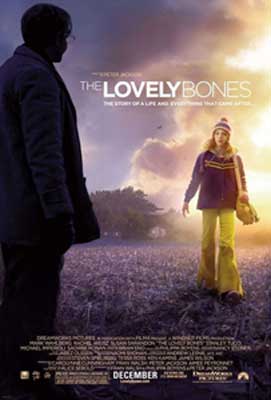 Want the screenplay to The Lovely Bones?
Sure you do!
Thanks to mypdfscripts.com
From wsj.com:
The Wall Street Journal: How did you decide to take on this part of a rapist and murderer?
Mr. Tucci: I really trusted Peter [Jackson] and his wife, Fran. In the original draft of the script that I read, that scene was more graphic. In the film, everything is left to your imagination, which is how it should be— it makes everything so much more scary and more interesting. Also, much of the movie was shooting in Pennsylvania, so I knew I could take a train and commute home to see my family [in upstate New York]. I also brought my family when we shot in New Zealand. I don't think I could have done the part if I had been by myself.
Even though Saoirse Ronan [who plays the young girl] is a professional actor, did you have to gauge how much you could push her emotionally?
Yes, because it's scary material and she's a kid. As a parent, after every take, I'd ask her if she was OK, and she would do the same thing to me. I begged Pete to shoot in one day, but we ended up needing a day and a half. And it was at the end of the shoot, so I had to wait five months to shoot it. Once it was done, I felt so free. I like to joke a lot, and I think it's vital for something like this.
You shot "Julie & Julia" immediately after this film, which must have been a relief.
That film was the antidote to this one, and was exactly what I needed to do. I stayed at home, worked with Meryl, laughed a ton and made martinis every night. We're like two children together and laugh all the time, which is why we get along so well. Plus, she's completely fearless as an actress.
In the spring, you'll be making your debut as a theater director on "Lend Me a Tenor." How did the project come about?
I've done plays all my life and the Araca Group, the guys who did "Frankie and Johnny in the Clair de Lune" [with Mr. Tucci in 2002], have been after me to do another, but I couldn't. I have three little kids and that play almost killed me. I hate the schedule and I don't believe in eight shows a week. But directing is different. And this play is hilarious. All of the cheap gags that you find in farces are in this one farce. I would go crazy just being an actor. That's why I started writing and directing. I don't like being at the mercy of people I don't like or trust.
Here's a clip from Peter Jackson's upcoming film, The Lovely Bones.
In this scene, Stanley Tucci has his first encounter with Michael Imperioli.
Synopsis: The Lovely Bones centers on a young girl who has been murdered and watches over her family – and her killer – from heaven. She must weigh her desire for vengeance against her desire for her family to heal.
We didn't have anyone submit this week so I kept last week's appearances up. Don't forget to send us your appearances! We send out an e-mail to casting directors daily!
MONDAY
Larry Guli
General Hospital
Recurring role!
3pm on ABC
Mar 23rd
TUESDAY
Dot Jones
The Mentalist
10pm on CBS
Mar 24th
THURSDAY
Dru Mouser
Bones
8pm on FOX
Mar 26th