Jane Lynch on Her New York Cabaret Performances and How 'Glee' Was Her "Game Changer"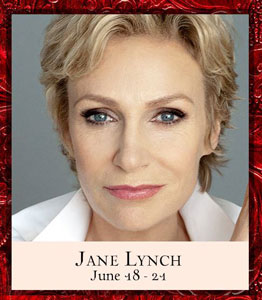 One year ago Jane Lynch was in the middle of her eight week run of playing Miss Hannigan in Broadway's Annie. It was Lynch's long-awaited Broadway debut in a career that stretches back to the early 1980s. However, audiences didn't have to wait that long to see Lynch back on a New York stage. On June 18, Lynch began a four night stand of cabaret performances at 54 Below, a New York City venue that is housed in the basement of the former Studio 54. Lynch spoke to the Associated Press about why she decided to do the performances and why she has Glee to thank for her musical theater success.
Lynch admits that unlike most cabaret performances her shows don't have any kind of overarching theme. She explains, "It's just a bunch of songs that I like to sing, hopefully some engaging patter, and I hope everybody has a good time and I'm not holding people hostage."
She also says that doing cabaret performance is a natural extension of ignoring all of her instincts when it comes to musical theater. She points out, "I didn't have any conscious plans to do Broadway but I always wanted to. So when I got the Annie gig, everything in me screamed 'No!' but of course I said, 'Yes.' I was so happy I did it and I got the bug back. I saw (Glee co-star) Matt Morrison perform here and I said to myself, 'Self, this would be fun for you, Jane.' And then I got the call: Would you like four days? Everything inside of me screamed 'No!' but I said, 'Yes.'"
Of course, Lynch rightly credits Glee for bringing her career to a new level. She says in reflection, "It was a total game-changer. They would not have asked me to do Annie if I weren't on Glee. At the time I was kind of known for the Christopher Guest movies. I was enjoying my career. I was happy doing guest spots here and there. But this really upped it."
For tickets to 54 Below, click here
http://www.dailyactor.com/wp-content/uploads/2016/08/imperium_daniele_radcliffe.jpg
Daniel Radcliffe on Playing a Neo-Nazi in 'Imperium': "It's still just horrible to say some of this stuff"
Radcliffe reveals how he played such a layered character and what it felt like to say his character's hate-filled dialogue.
http://www.dailyactor.com/actors-on-acting/daniel-radcliffe-playing-a-neo-nazi-imperium/
http://www.dailyactor.com/wp-content/uploads/2016/08/John-Cho-Star-Trek-Beyond.jpg
How John Cho Took A Stand for Diversity Early in His Career
"When one does speak one's mind, one might be surprised at how receptive people are." - Actor John Cho
http://www.dailyactor.com/actors-on-acting/john-cho-took-a-stand-for-diversity/
http://www.dailyactor.com/wp-content/uploads/2016/08/simon-helberg-florence-foster-jenkins.jpg
Simon Helberg on His 'Florence Foster Jenkins' Role: "I'm an actor and I want to stretch different muscles"
Helberg spoke about portraying his character in the film and whether or not he feels typecast by his Big Bang Theory role.
http://www.dailyactor.com/actors-on-acting/simon-helberg-florence-foster-jenkins-role/
http://www.dailyactor.com/wp-content/uploads/2016/08/Will-Chase-Something-Rotten.jpg
The Role That Got Away: Will Chase on Returning to 'Something Rotten!'
"I know that I am a poor man's fill-in-the-blank. And I know that there are poor man's Will Chases out there. That's just the nature of the business" - Will Chase
http://www.dailyactor.com/actors-on-acting/will-chase-something-rotten-role-that-got-away/
http://www.dailyactor.com/wp-content/uploads/2016/08/Julia-Stiles-Jason-Bourne.jpg
Julia Stiles on the Jason Bourne Series and Growing as an Actress: "There's always room for improvement"
"I like a director that encourages me to be playful. I don't really like being restricted or controlled by a director." - Julia Stiles
http://www.dailyactor.com/actors-on-acting/julia-stiles-growing-as-an-actress/