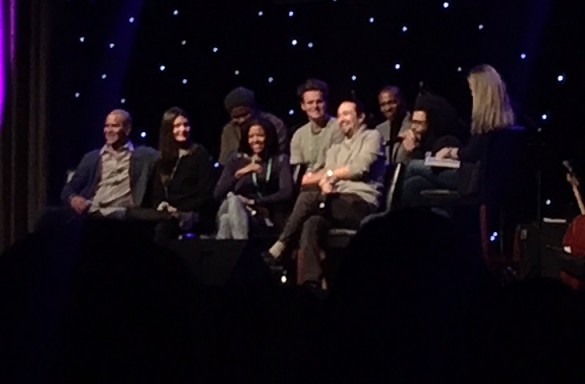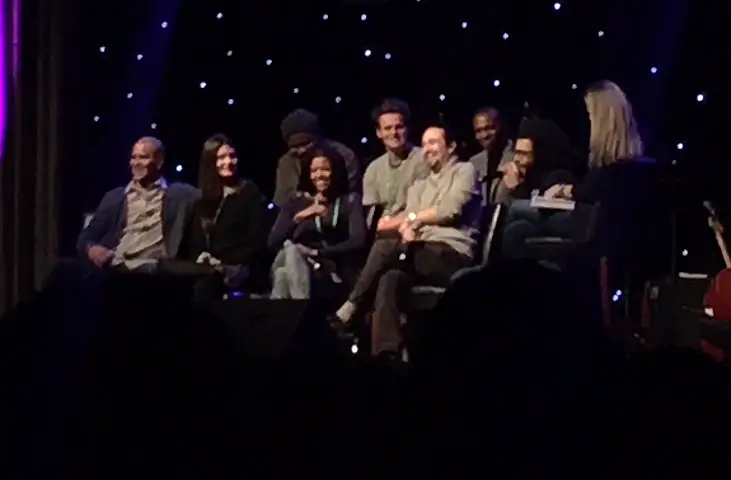 Just three hours before the cast of Hamilton would take the stage at the Richard Rodgers Theatre, the entire cast appeared at BroadwayCon to talk about the show that has taken over all of Broadway. To say that the Hamilton panel was one of the most anticipated events of BroadwayCon is an understatement. The panel was held in the convention's largest hall — the Main Stage, capable of holding all attendees — and took place after a star-studded opening that included special appearances by Anthony Rapp, Idina Menzel (via video), Tommy Tune, and Ben Vereen, and even the excitement for those Broadway favorites didn't match the enthusiasm for the Hamilton cast: including Daveed Diggs (Marquis de Lafayette/Thomas Jefferson), Reneé Elise Goldsberry (Angelica Schuyler), Jonathan Groff (King George), Christopher Jackson (George Washington), Leslie Odom, Jr. (Aaron Burr), Phillipa Soo (Eliza Hamilton), and creator/Alexander Hamilton, Lin-Manuel Miranda.
Anthony Rapp introduced the cast by noting that Hamilton represents the type of diverse, ground-breaking theater that Rent creator Jonathan Larson dreamed would be created. The fascinating and often-hilarious was then moderated by Blake Ross, Editor-in-Chief of Playbill.
First the cast spoke about how they each got involved in the production, and most were hand-picked by Miranda (although some admitted they initially thought it sounded like a terrible idea). The only exception is Goldsberry, who was the only cast member who had to audition. Sounding a little annoyed, she remarked that unlike he co-stars, "no one called me and offered me a job!"
The cast also spoke about interesting facts they have learned about history since starring in the show. Miranda and Diggs spoke about Thomas Jefferson's idiosyncrasies, and then Miranda said that "You could write three other musicals about Alexander Hamilton with different facts about his life" (of course, many in the audience begged him to do just that). Ross asked Miranda how it felt to have the rap community to embrace Hamilton. He responded that it was gratifying, but noted that he felt a majority of people don't simply listen to one genre of music, saying, "There's the rest of us that just like good shit." The group then spoke about how proud he was that the cast was asked to record a Cypher for the BET Hip-Hop Awards, which led to Miranda freestyling a rap about BroadwayCon. The impressive display hilariously ended with a joke about the venue's closed-caption typer, who previously forgot the second "p" when spelling "rapping" a few minutes earlier.
The show's monumental success and influence came up and Miranda noted that one aspect that intrigues him is how many issues America faced in Hamilton's time are still issues America faces today. For example, Miranda pointed out that many characters in Hamilton die by gun violence, adding, "That's not going away anytime soon unless someone does something." That led to a discussion about the politicians and celebrities who have come to see the show, including President Obama and Vice President Biden. It was revealed that Biden came because he had lunch with Obama after the President had seen Hamilton and he would not stop raving about it, which Miranda took a lot of pride in.
The panel wrapped up by going full circle in talking about the influence of Rent on Hamilton because it has become a similar influential phenomenon. Miranda spoke about appearing in the Encores! Off-Center 2014 production of Larson's Tick, Tick… Boom! and Goldsberry spoke about starring in the cast of Rent when it closed on Broadway in 2008.
After that, the cast was escorted offstage so they could make showtime at the Rodgers Theatre as the crowd of BroadwayCon sang along to the cast recording of Hamilton. If anyone in the house hadn't heard of the musical before (and who couldn't have?), it was likely they were now huge fans of the cast.