Biography: Dominic West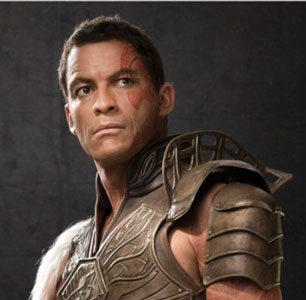 Dominic West has successfully combined a career in both the U.K. and the U.S., with leading roles in international film, in American television and on the London stage.
After graduating from Trinity College Dublin and then from the Guildhall School of Music and Drama in London, West won the Ian Charleson award for Best Newcomer for his performance in Sir Peter Hall's production of "The Seagull."
A very successful film career soon followed with West winning leading roles in studio movies including "28 Days" opposite Sandra Bullock; "Mona Lisa's Smile," with Julia Roberts; and "The Forgotten," with Julianne Moore. He also starred as Theron in Warner Bros.' "300."
Further credits include "Chicago," "A Midsummer Night's Dream," "True Blue," "Hannibal Rising," "Rock Star," "The Phantom Menace," "Surviving Picasso" and "Richard III."
In 2000, he won the role of McNulty in HBO's "The Wire," one of the most critically acclaimed television programs ever made in the U.S. The show ran for five seasons, with West directing an episode in the final season.
His theater credits include Peter Gill's production of Harley Granville Barker's "The Voysey Inheritance" at the Royal National Theatre; David Lan's West End production of "As You Like It," in which he starred opposite Helen McCrory; and Trevor Nunn's West End production of Tom Stoppard's most recent play, "Rock N' Roll," which opened to huge plaudits at The Royal Court Theatre in summer 2006.
In 2008 he played Oliver Cromwell in Channel 4's BAFTA-nominated television series "The Devil's Whore." He then went on to do Pedro Calderon de la Barca's "Life Is a Dream" at the Donmar Warehouse in London, followed by "Centurion" directed by Neil Marshall and also starring Michael Fassbender.
Last year West starred in "The Awakening," the box office hit "Johnny English Reborn" and ITV's critically acclaimed miniseries "Appropriate Adult," as well as "The Hour" by Abi Morgan for which West was nominated for a Golden Globe®. On the stage in 2011, West captivated audiences in the title role of "Butley" at the Duchess Theatre as well as sharing the stage with his "Wire" co-star Clarke Peters in "Othello" at the Crucible Theatre in Sheffield. West is currently shooting the second season of "The Hour" in London.
Biography/Filmography courtesy of Walt Disney Pictures and the film, John Carter.
http://www.dailyactor.com/wp-content/uploads/2016/08/Will-Chase-Something-Rotten.jpg
The Role That Got Away: Will Chase on Returning to 'Something Rotten!'
"I know that I am a poor man's fill-in-the-blank. And I know that there are poor man's Will Chases out there. That's just the nature of the business" - Will Chase
http://www.dailyactor.com/actors-on-acting/will-chase-something-rotten-role-that-got-away/
http://www.dailyactor.com/wp-content/uploads/2016/08/Julia-Stiles-Jason-Bourne.jpg
Julia Stiles on the Jason Bourne Series and Growing as an Actress: "There's always room for improvement"
"I like a director that encourages me to be playful. I don't really like being restricted or controlled by a director." - Julia Stiles
http://www.dailyactor.com/actors-on-acting/julia-stiles-growing-as-an-actress/
http://www.dailyactor.com/wp-content/uploads/2016/08/Michael-Kenneth-Williams-The-Night-Of.jpg
Michael Kenneth Williams on How His Roles Impact Him: "That energy's gotta go somewhere"
Since his days of playing Omar on 'The Wire', Williams has learned how to separate himself from his characters.
http://www.dailyactor.com/actors-on-acting/michael-kenneth-williams-the-night-of/
http://www.dailyactor.com/wp-content/uploads/2016/08/margot-robbie-the-wolf-of-wall-street.jpg
Margot Robbie Believed 'The Wolf of Wall Street' Would Ruin Her Career
Many actors can point to a single role that was a career breakthrough -- but not all of them realize that it's a breakthrough as it's happening.
http://www.dailyactor.com/actors-on-acting/margot-robbie-the-wolf-of-wall-street-ruin-her-career/
http://www.dailyactor.com/wp-content/uploads/2016/08/Jonah-Hill-War-Dogs.jpg
Jonah Hill Talks 'War Dogs' and Getting into Character by Listening to Music
"When I started taking acting classes, it was the first time teachers were like, 'You're good and you should keep doing this.'" - Jonah Hill
http://www.dailyactor.com/actors-on-acting/jonah-hill-war-dogs/