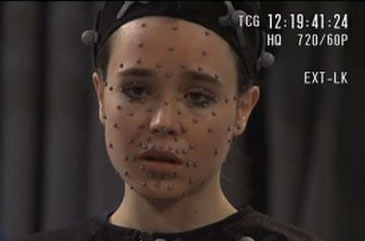 Go back one hundred years and the only options actors had to display their craft were the theater and the still-in-its-infancy movies.  Radio and television opened up more opportunities in the following decades, and more recently the internet has allowed actors to show their work instantly on a worldwide scale.  But one of the more lucrative options that was unavailable to actors of previous decades is video games, which now not only boast the voice talents of popular actors but also now uses motion capture to display incredibly life-like movement. 
Even major names like Ellen Page have gotten into the act, with Page "starring" in the Playstation 3 video game Beyond: Two Souls.  Page spoke to The Hollywood Reporter about her experience on the project.
Though Page has starred in several major films in the last few years, she refers to acting in the game and its 2000 page script as "crazy acting bootcamp."  During the process her face alone was covered with 88 performance-capture sensors and she was dressed in a body-formed suit to capture her movement.  All of her movements were confined to the space covered by a rectangular orange box.  It certainly wasn't like working on the massive sets of Inception.
Page points out the challenges of acting in such an environment, noting, "You're not working on sets or going to a location.  It's like being six years old. You have to imagine everything. You have to completely let yourself go."  She also was surrounded by seventy cameras to capture her movement from every angle — something she's not used to from her time on single-camera movie sets.
When she finally saw the animation that resulted from all her hard work, Page was surprised.  She reveals, "I was completely blown away. I think I was scared to see it because how am I going to act when I see myself animated?  I was so moved. I could not believe what I was looking at."
You can check out a behind-the-scenes look at Page's tough work on Beyond: Two Souls below: