Biography: Derek Luke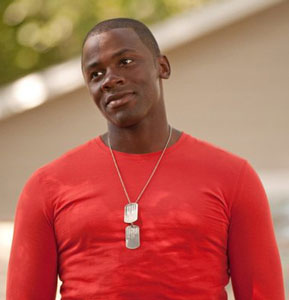 Derek Luke previously starred for Focus Features as real-life South African hero Patrick Chamusso in Catch a Fire. His performance brought him Satellite and Black Reel Award nominations, as well as the Breakthrough Award from the Hollywood Awards and the Star of Tomorrow Award from the Motion Picture Club.
The New Jersey native made his feature film debut in 2002 in the title role of Antwone Fisher,  written by the real-life Antwone Fisher  and directed by and starring Denzel Washington. He won the part after five auditions, and while working at the Sony Pictures gift shop. Up until that time,  his acting credits had consisted of small appearances in the television series Moesha and The King of Queens.
Mr. Luke's performance in Antwone Fisher earned him the Independent Spirit and Black Reel Awards for Best Actor. He was also honored by the National Board of Review, for Breakthrough Performance; and nominated for an MTV Movie Award for the portrayal.
His subsequent movies have included Peter Hedges' award-winning Pieces of April, opposite Katie Holmes and Academy Award nominee Patricia Clarkson; Peter Berg's Friday Night Lights; David Mamet's Spartan; Reggie Rock Bythewood's  Biker Boyz;  James  Gartner's Glory Road;  Robert Redford's Lions for Lambs; Adam Brooks' Definitely, Maybe; Spike Lee's Miracle at St. Anna, for which he was again a Best Actor nominee at the Black Reel Awards as well as an Image Award nominee; George Tillman Jr.'s Notorious; Tyler Perry's Madea Goes to Jail; Joe Johnston's Captain America: The First Avenger; and Salim Akil's Sparkle, opening in the second half of 2012, in which Mr. Luke stars as part of an ensemble that includes Michael Beach, Carmen Ejogo, Mike Epps, Omari Hardwick, Whitney Houston, Jordin Sparks, and Tika Sumpter.
Television audiences have seen him starring in the series Trauma, and in a guest arc on the show Hawthorne.
http://www.dailyactor.com/wp-content/uploads/2016/08/imperium_daniele_radcliffe.jpg
Daniel Radcliffe on Playing a Neo-Nazi in 'Imperium': "It's still just horrible to say some of this stuff"
Radcliffe reveals how he played such a layered character and what it felt like to say his character's hate-filled dialogue.
http://www.dailyactor.com/film/daniel-radcliffe-playing-a-neo-nazi-imperium/
http://www.dailyactor.com/wp-content/uploads/2016/08/John-Cho-Star-Trek-Beyond.jpg
How John Cho Took A Stand for Diversity Early in His Career
"When one does speak one's mind, one might be surprised at how receptive people are." - Actor John Cho
http://www.dailyactor.com/film/john-cho-took-a-stand-for-diversity/
http://www.dailyactor.com/wp-content/uploads/2016/08/simon-helberg-florence-foster-jenkins.jpg
Simon Helberg on His 'Florence Foster Jenkins' Role: "I'm an actor and I want to stretch different muscles"
Helberg spoke about portraying his character in the film and whether or not he feels typecast by his Big Bang Theory role.
http://www.dailyactor.com/film/simon-helberg-florence-foster-jenkins-role/
http://www.dailyactor.com/wp-content/uploads/2016/08/Will-Chase-Something-Rotten.jpg
The Role That Got Away: Will Chase on Returning to 'Something Rotten!'
"I know that I am a poor man's fill-in-the-blank. And I know that there are poor man's Will Chases out there. That's just the nature of the business" - Will Chase
http://www.dailyactor.com/broadway-theater/will-chase-something-rotten-role-that-got-away/
http://www.dailyactor.com/wp-content/uploads/2016/08/Julia-Stiles-Jason-Bourne.jpg
Julia Stiles on the Jason Bourne Series and Growing as an Actress: "There's always room for improvement"
"I like a director that encourages me to be playful. I don't really like being restricted or controlled by a director." - Julia Stiles
http://www.dailyactor.com/film/julia-stiles-growing-as-an-actress/