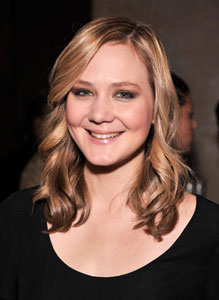 If you haven't heard of Louisa Krause, wait a couple minutes because her name will soon be on your radar.
Louisa recently starred in the SXSW hit, King Kelly and had a short film, Double or Nothing (written by Neil LaBute) premiere at the Tribeca Film Festival. And as I was talking to her, she was getting ready to fly out to Seattle to film You Can't Win, a project co-written, produced and starring Michael Pitt (Boardwalk Empire).
She's previously appeared on Law & Order and Law & Order: Criminal Intent, Blue Bloods and last year's great indie hit, Martha Marcy May Marlene.
King Kelly, which I saw at SXSW, got a great reception and the audience loved it and Louisa. The film is about an up-and-coming internet star (Krause) who strips on a webcam. When her car, that's loaded with drugs, is stolen by her ex-boyfriend, Kelly and her friend head out on an epic streak of sex, drugs and violence as they try to get the car back. You should definitely check it out if you get the chance.
I talked to Louisa about how she got her start, King Kelly, You Can't Win and how she got Neil LaBute's phone number.
For the full interview, click the audio link above or download it from iTunes
You are in a pretty good place right now.  You had King Kelly at SXSW and then your short, Double or Nothing, written by some guy named Neil LaBute, I've heard of him, premiered at Tribeca.
Louisa Krause:  Yes, I know, I'm super excited, directed by my brother [Nathaniel Krause].
Yes, that too. 
Louisa Krause:  And I'm leaving tomorrow to go be in You Can't Win, which is Michael Pitt's producing it and he is co-writing it.  It's an autobiography, Jack Black's autobiography. Not the Jack Black that, you know, the current Jack Black, but the Jack Black of the 1890s.  Yeah, so I have a supporting role in that.
Nice.
Louisa Krause:  I know, I get to be Irish and I get to age.
From what age to what age?
Louisa Krause:  I would say like 15 years.  Yeah, 10 to 15 years. From like 20, early 20's, like 24.  I'm actually 25 when he finds me.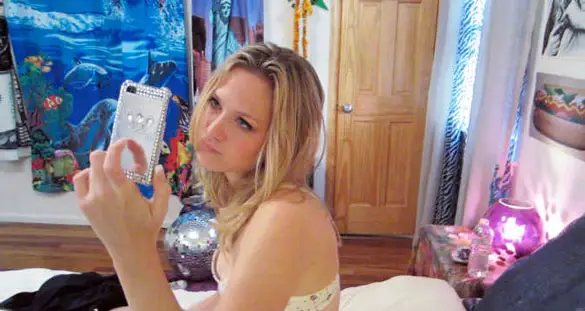 Let's talk about King Kelly.  So, the film was made from actual camera film footage?
Louisa Krause:  Yeah, well, we did shoot on iPhones as well as little Canon Elph cameras, to you know, be like an iPhone.  But yeah, shooting that movie, there was so much creative power because the DP would show us like what would be good to keep a shot steady or block out so we wouldn't catch like the reflection of the camera in a car. But we really had like free range and a lot of times, they would have no idea what was – they'd be in another room, the director and the DP and we would just be doing our own thing in a bedroom, you know. 
That's what my character was all about, you know, obsessed with becoming famous and she's filming everything.  I mean it was as real as it can get.  We were our own movie crew. 
Did they say "Okay, we need you to show this" or was it just up to you? You could film whatever the heck you wanted?
Louisa Krause:  Oh, no, it was very clear and laid out for us.  But, I mean like, there's only so much control.  If I'm in a room with somebody and we're playing around and trying to figure out what would be best for my strip tease, there's only so much that you can kind of block out, because we are humans and we've got these cameras and they're extensions of our character.  But, we were, everything, all the scenes, everything was written.  It was very clear as to what was going to be happening, you know? Yeah, that was all very clear. 
But, we had a very clear, all of the scenes and all of the dialog, everything was mapped out.  But there was this freedom too, because, you know, I wanted to have fun.  Kelly's fun.  Even the ability to have fun was given to me by that part.  You know, like, yeah, the mastermind behind that is Andrew Neal.  Yeah.
Let's talk about Double or Nothing.  How did you and your brother, as you said is also the director, how did you guys get involved in this?  Because I know you did Neil LaBute's play In a Dark, Dark House awhile back, right?
Louisa Krause:  Yeah, yeah, yeah.  Yeah, my brother called me up and he was like, "I'm doing my thesis project and I want you to be in it and I don't know what it's going to be. Are you going to be free to shoot?"  And I was like, "Yeah, of course." When he was just an undergrad, I had worked with him a few times, and we grew up together doing theater, and he choreographed too when we were younger.  He would choreograph.  He is just like this incredible artist and I look up to him.  He choreographed a dance that I was in a long time ago.  I am just so thrilled that he is now a director because the world needs more great directors. [laughter]
I was like, "You know what, let me call up Neil to see if he has anything. Maybe he has written something that that you could use."  So, I called him and he said he didn't have anything, but he said, "You know what, let me see if something comes to me.  I'd love to write a part for you and let your brother…" — he actually met my brother at the In a Dark, Dark House premiere way back – so he knew he was.  So, I said, you know, your work will be in good hands.  And then Neil shot him the script and it was amazing.  Matt loved it and then the ball began to roll from there.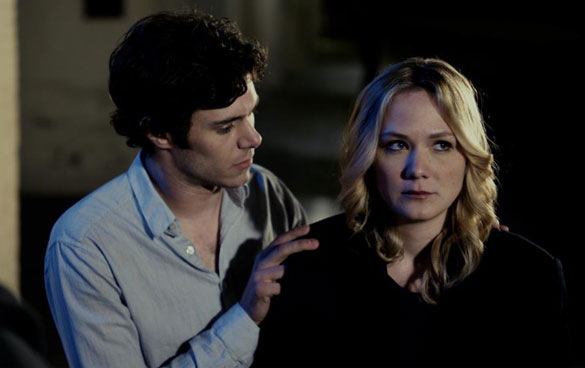 That's a good phone number to have, you know, Neil LaBute.
Louisa Krause:  Yeah, he's a great friend.  I value quality work and I know he values quality work.  I think we both admire each other, you know?  He's great.  He's great.
How did you get your start?  You're from Falls Church, VA.  Did you always want to do this? 
Louisa Krause:  Yes, I knew I was put on this earth to do this.  Oh man, let's see, I got my start, I grew up in the arts and my parents really supported the arts.  I danced, I grew up dancing.  I'm actually, we are a quarter Okinawan.  My dad is half Japanese and that island over there dances. And also, their such nice people, like they're just so jolly and happy – I feel like having that in my blood has really helped in this career. I just feel like having Okinawan Island blood in me has somehow helped in my career.  I don't know how, but I know it has.  That's so funny. 
Yeah, but anyway, dancing, and then I would always be singing and dancing around the house.  I was going the pro dance track at Washington School of Ballet.  My brother, too, danced with Washington Ballet and we were Clara and Fritz together and The Nutcracker. Then I did in high school, I had this incredible theater director, which was my first kind of taste of real inspiring theater and being my first real training.   I mean, we were exposed to great literature and I played such a wide range of characters in high school, that when I went to Conservatory for college I knew I was ready to do it and it was just time to go.  The faculty supported me and they were like go kid, give it a shot. 
So, I left early and got a job at The Ogunquit Playhouse in Aida, and that was my first professional job as a slave dancer.  I got my Equity card and then I got some film stuff and I got other great theater.  You know, I did Odet' Rocket to the Moon and Dangerous Liaisons and then film wise, I was in The Babysitters, which was my first kind of bigger movie. It's been picking up film wise for me, which has been really great.  It's exciting to see. 
And also, I've been lucky that I've gotten to play a range of characters.  You know, I'm not limited, because I'm about to go do this Irish part where I get to age.  I'm like so excited.  I just think that's rare, that's rare, and I want to keep stretching, or not stretching, but keep transforming and playing all these different people.
When your agent calls you with an audition and you get sent the sides, what are the first things that you start to work on, start to focus on to get you prepped.
Louisa Krause:  Well, when an agent calls, first I will read the sides and then I read the script so I know like when I'm going through the script, I'm like, "Oh okay, here's that audition scene."  And then, I just think about the character in the specific scene.  It's just being honest with words.  That's what you do.  And having a sense of who you are saying those words, that's what it is.  It's being honest with the words and having a sense of who you are saying those words. 
I think that spontaneity is so important and instinct because that's what's alive and real.  That's what's happening in life.  People are — it's action, reaction, not planned.  It's not planned.  So you just have to throw yourself into whichever moment you're performing and commit to the moment and listen and react and have a sense of who you are.  You get those clues from the script. And then also, who you think this other person is like taking on all of that.  It's just, it's really fun.  It's very, it's like we're crazy, and we're witches.
Oh, we're definitely crazy.
Louisa Krause:  Yeah, we're like mercurial beings. I love it.  I love it.
What is your advice to actors?
Louisa Krause:  My advice is to persevere, definitely persevere, work hard, commit fully and in auditions, this is what I've told people: if you mess up at an audition and you've worked hard, go back, don't be afraid to say, "Wait a second, can I go back?  This is so bad." Like, don't have fear. 
Keep going.  Persevere, commit.