Rebel Wilson Recalls Her First Acting Class and Being Told She'd Never Get a Job as a "Beach Babe"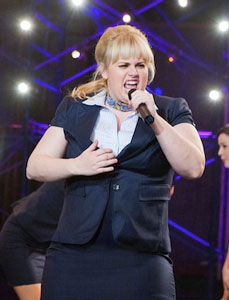 Rebel Wilson was sort of thrown into acting.
"It was so embarrassing," she said of the time her mother dragged her to an acting class when she was 14.  "I'm there.  My face is red from crying.  My mom has left.  I'm stuck for the next 90 minutes.  The teacher came up and asked me my name, and I said, 'Hi, I'm Rebel,' in an American accent.  It was the only way I could deal with this traumatic situation.  I became a character instantly.  And then I just started making stuff up."
The experience worked out well for the Australian actress.  However, her current success didn't come without some struggle.  She didn't seem to be getting any roles even though "I thought I was killing it on stage."  After visiting an agent, she was told "Well, you're not going to get a job on Home and Away as a bikini beach babe."
"I was really pissed off," Wilson said in an interview with The Los Angeles Times.  "Don't they see I'm talented?  Don't they see that I'm funny and interesting?  But of course nobody did."
Wilson wrote her first play, The Westie Monologues, which finally helped gain her some acclaim in Australia.  Then Hollywood started paying attention.  "During that period I had come close to getting into a lot of different things, but no one had the guts to cast me," she said.  "It's like what happened when I first started out in Australia: No one had the guts to say: 'She's good.'"
Now, Wilson is appearing in the film Pitch Perfect, where she's proving to be a bright new voice in the comedy world.
http://www.dailyactor.com/wp-content/uploads/2016/02/david-harewood-supergirl.jpg
David Harewood on 'Supergirl' and How He Was "Struggling to Get a Handle" on His Character
Harewood reveals how he relates to the character and how he eventually got comfortable playing him.
http://www.dailyactor.com/actors-on-acting/david-harewood-supergirlstruggling-to-get-a-handle-on-his-character/
http://www.dailyactor.com/wp-content/uploads/2016/01/Jeff-Daniels.jpg
Jeff Daniels Remembers a Terrible Audition for a Diane Keaton Movie
One actor that knows the ups and downs of the audition process is Jeff Daniels.
http://www.dailyactor.com/actors-on-acting/jeff-daniels-terrible-audition-diane-keaton-movie/
http://www.dailyactor.com/wp-content/uploads/2016/02/Jennifer-Jason-Leigh-The-Hateful-Eight.jpg
Jennifer Jason Leigh on Her First-Ever Oscar Nomination: "It's kind of phenomenal"
"He knew that I could, in his words, 'act the … out of it' and I'm not afraid to take a risk in terms of acting" Jennifer Jason Leigh on Quentin Tarantino
http://www.dailyactor.com/actors-on-acting/jennifer-jason-leigh-oscar-nomination/
http://www.dailyactor.com/wp-content/uploads/2016/02/Forest-Whitaker-Hughie-Broadway.jpg
Forest Whitaker on Making His Broadway Debut in 'Hughie': "His rhythms are starting to invade inside of me"
"I want to get better as an actor, to keep trying to work harder, trying to discover something different" - Forest Whitaker
http://www.dailyactor.com/actors-on-acting/forest-whitaker-broadway-debut-hughie/
http://www.dailyactor.com/wp-content/uploads/2016/02/alicia-Vikander-Ex-machina.jpg
Alicia Vikander on the Her First Trip to L.A. and the Acting Tip 'Ex-Machina' Director Alex Garland Gave Her
"You [get immersed in] a film and of course you think that that is it. And then you go away and you read a new script and you have a new crush" - Alicia Vikander
http://www.dailyactor.com/actors-on-acting/alicia-vikanderacting-tip-ex-machina-director-alex-garland-gave-her/