Rebel Wilson Talks 'Bachelorette' and Her "Parades of Meetings" with Studios and Networks When She First Came to America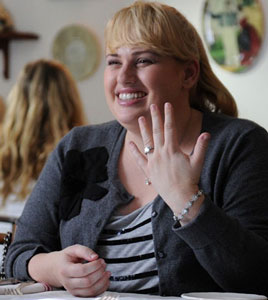 Moviegoers should expect to see a lot of Rebel Wilson in the coming months.
The raunchy Australian actress first caught our attention as Kristen Wiig's bizarre roommate in last year's Bridesmaids.  Now, Wilson is appearing in another wedding-related comedy, Bachelorette, alongside Kirsten Dunst and Lizzy Caplan.
Although Wilson will be appearing in upcoming movies like Pitch Perfect and Pain and Gain, the actress wasn't automatically handed roles.  "Well, what happened is I first came to America and signed with William Morris Endeavor within, like, a couple of days of coming here," Wilson told NBC New York.  "Then they send you out on these parades of meetings, because of course nobody knew me even though I was well known in Australia and had done 13 TV series there.  It's not like Americans watch Australian TV, and so they had no idea."
"I call it a parade, where you just go around to all the studios, all the networks, and they set up all the meetings.  Some of it is celebrity lunches with certain people, and people can give you advice about how it all works in America and producers.  It took three months of that and then Bridesmaids was the first thing that I got cast in, which of course I'm so grateful for because that was a super hilarious movie.  I auditioned for the Melissa McCarthy role and was one of the choices for that role, but I was too young for that anyway—and Melissa was so amazing, of course, and was very good friends with the girls.  But because Judd [Apatow] and Paul Feig liked my audition so much they added me into the movie."
In addition to being a seriously funny comedian, Wilson also writes.  "I have a sitcom that I'm doing for ABC now, that I'm writing and Conan O'Brien is producing with me," she said.  "I'll see how that goes, and yeah, trying to get into the features that I write myself.  But I've been so busy doing the acting roles that I haven't had time to do it, but obviously that's the direction where I want to head in: people like Jonah Hill or Seth Rogen, they got quite famous and then they had their own stuff coming out."
Bachelorette is playing in select theaters now.
http://www.dailyactor.com/wp-content/uploads/2016/08/John-Krasinski-The-Hollars.jpg
John Krasinski on his "Lottery-Ticket Life": "What I try to do instead is try to deserve to stay here"
"It's so unbelievably rare to get the opportunity that I did to be on The Office, so what I try to do instead is try to deserve to stay here" - John Krasinski
http://www.dailyactor.com/film/john-krasinski-ottery-ticket-life/
http://www.dailyactor.com/wp-content/uploads/2016/08/john-turturro-the-night-of.jpg
John Turturro on 'The Night Of', Almost Quitting Acting and Why He Doesn't Chase Awards
"Why do I have to pay a publicist? I'd rather save my money so I can go do an Off Broadway play.'" - John Turturro
http://www.dailyactor.com/tv/john-turturro-the-night-of-quitting-actingawards/
http://www.dailyactor.com/wp-content/uploads/2016/08/imperium_daniele_radcliffe.jpg
Daniel Radcliffe on Playing a Neo-Nazi in 'Imperium': "It's still just horrible to say some of this stuff"
Radcliffe reveals how he played such a layered character and what it felt like to say his character's hate-filled dialogue.
http://www.dailyactor.com/film/daniel-radcliffe-playing-a-neo-nazi-imperium/
http://www.dailyactor.com/wp-content/uploads/2016/08/John-Cho-Star-Trek-Beyond.jpg
How John Cho Took A Stand for Diversity Early in His Career
"When one does speak one's mind, one might be surprised at how receptive people are." - Actor John Cho
http://www.dailyactor.com/film/john-cho-took-a-stand-for-diversity/
http://www.dailyactor.com/wp-content/uploads/2016/08/simon-helberg-florence-foster-jenkins.jpg
Simon Helberg on His 'Florence Foster Jenkins' Role: "I'm an actor and I want to stretch different muscles"
Helberg spoke about portraying his character in the film and whether or not he feels typecast by his Big Bang Theory role.
http://www.dailyactor.com/film/simon-helberg-florence-foster-jenkins-role/