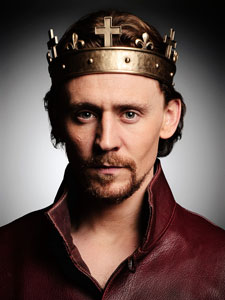 The next time audiences will see Tom Hiddleston won't be as the nefarious Loki in Thor: The Dark World, but doing something closer to his heart — PBS's Great Performances: The Hollow Crown miniseries.  The Hollow Crown is an adaptation of Shakespeare's Richard II, Henry IV, Part 1 and 2 and Henry V, and Hiddleston stars as Prince Hal/Henry V.  Some might wonder why an actor who played the villain in the third highest-grossing film in history would do a PBS miniseries, but as Hiddleston reveals in an interview with The Backlot he has no desire to be known only as Loki.
Considering how perfect he is in the role of Loki, Hiddleston could easily spend the rest of his career churning out Avengers films and other roles in which he plays cowardly, yet crafty, antagonists.  He even expresses surprise at how he even ended up as the best bad guy in the Marvel Cinematic Universe, admitting, "It's never really been something I've consciously chosen. I really want to stay an actor and it's wonderful to have success like The Avengers. It's honestly one of the great unprecedented strange accidents of my life. I was cast in Thor and Avengers with some idea in Kevin Feige's head and then it became the biggest thing I've ever done without question, and on a level that's actually difficult to process."
Many of us would probably go the more comfortable route of playing similar characters, but Hiddleston has no desire to keep doing so.  He explains, "But the actors I respected are the ones who just keep acting through thick and thin. It's John Hurt. It's Ian McKellen. It's Anthony Hopkins. They're still going, so whatever moments of flourishing that I pass through, it's all temporary. And the thing that keeps you grounded is doing the thing you love."
He also points out the fact that because of the nature of making movies his success played out months after he had filmed the roles — often not knowing how they would do in theaters and with critics. "And actually I was cast as Prince Hal before I shot The Avengers. It was around the time that Thor was coming out, and it was so odd because I had five films in the can and none of them had come out and I knew I was making Avengers and I wasn't being strategic and I didn't know how any of those films were going to play…those films were Thor, War Horse, Midnight in Paris, The Deep Blue Sea and Archipelago. And by the time I got around to playing Prince Hal, half of those films had been seen by the world and so my position, I suppose, is a bit different but, anyway, it was never a kind of big conscious thing."
However, now that he sees his face on action figures and t-shirts?  I'd guess it's probably a "big conscious thing" now.