Mandy Patinkin on Shooting 'The Princess Bride' and His Character's Immortal Catchphrase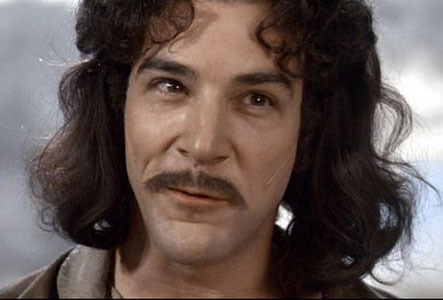 The cast of the classic fairytale film The Princess Bride reunited at the New York Film Festival earlier this month for the film's twenty-fifth anniversary, and though one of the film's stars, Mandy Patinkin, has other projects to promote — he currently stars on Showtime's Homeland — Patinkin spoke to NPR about his experience staring in the film as Spanish swordsman Inigo Montoya and whether or not that line of dialogue — you're probably saying it now — ever gets tiresome to him.
Patinkin, despite a wealth of credits in film, television, and theater, is one of those actors whose entire career is essentially defined by a single line of dialogue: "Hello. My name is Inigo Montoya. You killed my father. Prepare to die."  However, despite fans endlessly quoting that line to him, he reveals that he never tires of it, saying that when a fan does it "I have a smile as big as, as big as can be from one end of the room to the other." 
On why he thinks the line has achieved that rare status of memorable film dialogue, Patinkin says, "First of all, it's the brilliance of William Goldman's genius and the gift he gave all of us with this extraordinary book and then movie, and I just got to be the mailman who delivered it. So I take really no credit for it. It was Rob [Reiner]'s gorgeous direction. And I'll never forget, Rob said to me, 'What I really want the actors to do in this movie is, as though they're holding their card, their poker cards in their hand, but they're just hiding one card.' And the one card was the twinkle in their eye. The one card was the fun they knew was underneath everything they were saying. And I never forgot that image — that there was always a little secret, and that secret was the fun."
That fun rubbed off on the other cast members, with Patinkin revealing that he especially cherishes the days that he was filming with co-star Billy Crystal.  He confesses, "Those were the three greatest days of my life.  For three days, I stood off camera while Billy Crystal had cataract contact lenses in so he couldn't see. I was camera left, the camera was between Rob Reiner and myself and we were facing Billy. My job was to keep feeding Billy his off-camera — my off-camera lines so he could keep doing it. He improvised 13th century period jokes, three days straight, 10 hours a day, never the same thing, never the same line twice. Rob got so hysterical on almost every take, he'd have to leave the room because he couldn't keep quiet from laughing and it would end up on the soundtrack."  However, that fun also came with a price, with Patinkin revealing, "I bruised the muscles on the side of my rib because I was so tight trying not to laugh."
And there are two things that are for certain: The Princess Bride will continue to be a beloved classic and Patinkin will continue to hear that line from new fans who are discovering the movie for the first time.
http://www.dailyactor.com/wp-content/uploads/2016/06/jeff-bridges-hell-or-high-water.jpg
Jeff Bridges on Creating a Character, 'Hell or High Water' and Playing The Dude
"I use elements of myself—I see my parallels with a character—and find similar things in my own personality." - Jeff Bridges on Creating a Character
http://www.dailyactor.com/film/jeff-bridges-creating-a-character/
http://www.dailyactor.com/wp-content/uploads/2016/07/benjamin-bratt-actor.jpg
Benjamin Bratt: "For as limiting as the opportunities are for actors and actresses of color I've been very blessed"
"...it's dangerous to keep going down the same artistic path." - Benjamin Bratt
http://www.dailyactor.com/film/benjamin-bratt-ive-been-very-blessed/
http://www.dailyactor.com/wp-content/uploads/2016/07/watch-keegan-michael-key-explain.jpg
Watch: Keegan-Michael Key Explains Why "Improv actors are at war together"
Check out Key's points on why it's so important for improv actors to have each others' backs in the clip above.
http://www.dailyactor.com/videos/keegan-michael-key-improv-actors-at-war-together/
http://www.dailyactor.com/wp-content/uploads/2016/07/norman-reedus-actor.jpg
Norman Reedus on Acting: "If it's something you really want, you have to roll with the rejection"
Norman Reedus is a fan-favorite star on The Walking Dead and was in the cult favorite film The Boondock Saints. However, in the dozen years between those two gigs Reedus had experienced ups and downs in his career and in many cases he was cast in very small roles in big movies or lead roles […]
http://www.dailyactor.com/actors-on-acting/norman-reedus-acting-rejection/
http://www.dailyactor.com/wp-content/uploads/2016/07/frank-grillo.jpg
Frank Grillo on Being Typecast: "I welcome it"
"I hear actors pooh-pooh the idea... people might see them as a certain thing. I welcome it" - Frank Grillo on Typecasting
http://www.dailyactor.com/film/frank-grillo-on-typecasting/