Mandy Patinkin on Shooting 'The Princess Bride' and His Character's Immortal Catchphrase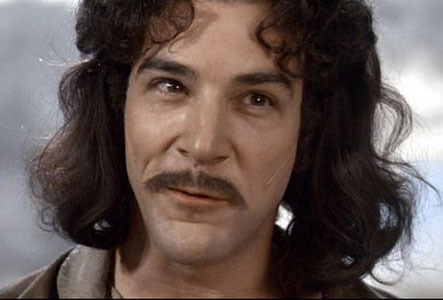 The cast of the classic fairytale film The Princess Bride reunited at the New York Film Festival earlier this month for the film's twenty-fifth anniversary, and though one of the film's stars, Mandy Patinkin, has other projects to promote — he currently stars on Showtime's Homeland — Patinkin spoke to NPR about his experience staring in the film as Spanish swordsman Inigo Montoya and whether or not that line of dialogue — you're probably saying it now — ever gets tiresome to him.
Patinkin, despite a wealth of credits in film, television, and theater, is one of those actors whose entire career is essentially defined by a single line of dialogue: "Hello. My name is Inigo Montoya. You killed my father. Prepare to die."  However, despite fans endlessly quoting that line to him, he reveals that he never tires of it, saying that when a fan does it "I have a smile as big as, as big as can be from one end of the room to the other." 
On why he thinks the line has achieved that rare status of memorable film dialogue, Patinkin says, "First of all, it's the brilliance of William Goldman's genius and the gift he gave all of us with this extraordinary book and then movie, and I just got to be the mailman who delivered it. So I take really no credit for it. It was Rob [Reiner]'s gorgeous direction. And I'll never forget, Rob said to me, 'What I really want the actors to do in this movie is, as though they're holding their card, their poker cards in their hand, but they're just hiding one card.' And the one card was the twinkle in their eye. The one card was the fun they knew was underneath everything they were saying. And I never forgot that image — that there was always a little secret, and that secret was the fun."
That fun rubbed off on the other cast members, with Patinkin revealing that he especially cherishes the days that he was filming with co-star Billy Crystal.  He confesses, "Those were the three greatest days of my life.  For three days, I stood off camera while Billy Crystal had cataract contact lenses in so he couldn't see. I was camera left, the camera was between Rob Reiner and myself and we were facing Billy. My job was to keep feeding Billy his off-camera — my off-camera lines so he could keep doing it. He improvised 13th century period jokes, three days straight, 10 hours a day, never the same thing, never the same line twice. Rob got so hysterical on almost every take, he'd have to leave the room because he couldn't keep quiet from laughing and it would end up on the soundtrack."  However, that fun also came with a price, with Patinkin revealing, "I bruised the muscles on the side of my rib because I was so tight trying not to laugh."
And there are two things that are for certain: The Princess Bride will continue to be a beloved classic and Patinkin will continue to hear that line from new fans who are discovering the movie for the first time.
http://www.dailyactor.com/wp-content/uploads/2016/08/John-Krasinski-The-Hollars.jpg
John Krasinski on his "Lottery-Ticket Life": "What I try to do instead is try to deserve to stay here"
"It's so unbelievably rare to get the opportunity that I did to be on The Office, so what I try to do instead is try to deserve to stay here" - John Krasinski
http://www.dailyactor.com/film/john-krasinski-ottery-ticket-life/
http://www.dailyactor.com/wp-content/uploads/2016/08/john-turturro-the-night-of.jpg
John Turturro on 'The Night Of', Almost Quitting Acting and Why He Doesn't Chase Awards
"Why do I have to pay a publicist? I'd rather save my money so I can go do an Off Broadway play.'" - John Turturro
http://www.dailyactor.com/tv/john-turturro-the-night-of-quitting-actingawards/
http://www.dailyactor.com/wp-content/uploads/2016/08/imperium_daniele_radcliffe.jpg
Daniel Radcliffe on Playing a Neo-Nazi in 'Imperium': "It's still just horrible to say some of this stuff"
Radcliffe reveals how he played such a layered character and what it felt like to say his character's hate-filled dialogue.
http://www.dailyactor.com/film/daniel-radcliffe-playing-a-neo-nazi-imperium/
http://www.dailyactor.com/wp-content/uploads/2016/08/John-Cho-Star-Trek-Beyond.jpg
How John Cho Took A Stand for Diversity Early in His Career
"When one does speak one's mind, one might be surprised at how receptive people are." - Actor John Cho
http://www.dailyactor.com/film/john-cho-took-a-stand-for-diversity/
http://www.dailyactor.com/wp-content/uploads/2016/08/simon-helberg-florence-foster-jenkins.jpg
Simon Helberg on His 'Florence Foster Jenkins' Role: "I'm an actor and I want to stretch different muscles"
Helberg spoke about portraying his character in the film and whether or not he feels typecast by his Big Bang Theory role.
http://www.dailyactor.com/film/simon-helberg-florence-foster-jenkins-role/