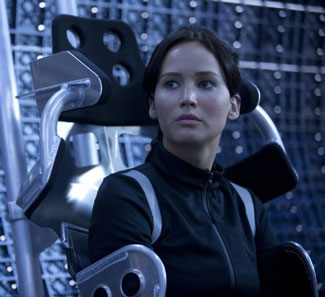 2012 was a big year for Jennifer Lawrence. Not only did she have box office success with The Hunger Games, but she won her first Academy Award for Best Actress in Silver Linings Playbook. While many moviegoing audiences were already big fans, she won the hearts of Academy Awards show viewers when she handled her graceful fall up to the stage to accept her Oscar with aplomb.
Now Hunger Games producer Nina Jacobson is singing the 23-year-old's praises, too. She harkens back to Lawrence's audition for the role. She had to act out the scene where her character Katniss says goodbye to her sister Primrose Everdeen as she heads off to the 74th Hunger Games.
Jacobson told Variety, "I teared up. We had a lot of wonderful actresses at the audition, but it was game over at that point."
Director Gary Ross shared similar thoughts of that audition.
He said, "I got choked up. You only see that kind of talent once in a generation — that kind of intensity and emotional power. If you don't find the right performer, you don't have the movie. So I felt like, 'Now I can make the movie.'"
That's pretty heady compliments coming from Hollywood veterans, but Lawrence has handled all of the attention with humility.
Jacobson revealed, "She's not a diva — she's the anti-diva. One of my favorite moments is where she has the wedding dress on for the interview (scene) in Catching Fire. It's a big cumbersome dress, and she fell down, so we played that over and over on the monitors. There's such a lack of pretense with Jen; she's more than happy to laugh at herself."
Even though the Oscar winner is considered A-list in 2013, when they were casting in 2011, Lawrence was still a new face in the entertainment industry.
"We knew that we had to cast someone who wasn't already strongly identified with another role," Jacobson recalled, "Winter's Bone was an incredible audition. We wanted someone who was nurturing, with a sort of feminine ferocity."
Fans can expect a new Hunger Games installment in November over the next three years. The Hunger Games: Catching Fire opens nationwide on Nov. 22.