Jude Law: Filming 'Anna Karenina' was "intense, but in all the best ways'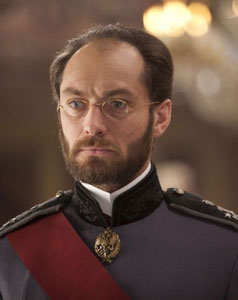 Jude Law was ready to take on a challenging part in the new adaptation of Tolstoy's Anna Karenina, in which he plays Karenina's husband, Karenin.
"[It was] intense, but in all the best ways.  It was territory I haven't really played in before, and characteristics I haven't really investigated, and these were really strong character traits," Law said in an interview with Moviefone.  "The stillness of him, the seriousness of him, the weight of his thoughts."
Law was also interested in the role because of the director, Joe Wright, who intertwines aspects of theater into the film.  This allowed Law to see the project as more than just another retread of the novel. 
"Ultimately, when you're reinterpreting classics…say you're redoing Hamlet…you eventually get to the juncture where you ask, 'What's the point?  What am I bringing to this?'  And I think Joe answers that, undeniably," Law said.  "He embraces the medium, and we, the cast, are the willing band around him.  I enjoy working in the theater anyway, so to be given a very constructed universe in which to portray a character…I found it liberating, in a funny way."
Anna Karenina is in theaters now.
http://www.dailyactor.com/wp-content/uploads/2015/10/Bridge-of-Spies-Tom-Hanks-Mark-Rylance.jpg
Tom Hanks on Working with Steven Spielberg and Mark Rylance in 'Bridge of Spies'
"Steven does this incredible thing when he casts you: He empowers you with the scene." - Tom Hanks on Steven Spielberg
http://www.dailyactor.com/actors-on-acting/tom-hanks-working-steven-spielberg-mark-rylance-bridge-of-spies/
http://www.dailyactor.com/wp-content/uploads/2015/09/Tom-Hardy-Legend.jpg
Tom Hardy on Playing Twins in 'Legend,' Being Seen as a Tough Guy, and Working with Philip Seymour Hoffman
Hardy speaks about why he challenged himself to play twins, what he thinks of his tough guy image, and working with the late Philip Seymour Hoffman, who directed him on stage.
http://www.dailyactor.com/actors-on-acting/tom-hardy-playing-twins-legend/
http://www.dailyactor.com/wp-content/uploads/2015/09/Emily-Blunt-Sicario.jpg
Emily Blunt on Action Movie Roles: "I think it's important to show different layers. Nobody is just tough, nobody is just vulnerable"
Emily Blunt touches upon why she has gotten into roles with an action bent and why she thinks there aren't more action movies with female leads
http://www.dailyactor.com/actors-on-acting/emily-blunt-sicario-acting-layers/
http://www.dailyactor.com/wp-content/uploads/2015/09/Jorja-Fox-CSI.jpg
Jorja Fox on Life After 'CSI': "I've always enjoyed not knowing exactly where the road leads"
"I think you kind of have to embrace the unknown if you're an actor." - Jorja Fox
http://www.dailyactor.com/actors-on-acting/jorja-fox-life-after-csi/
http://www.dailyactor.com/wp-content/uploads/2015/09/John-Turturro-Mia-Madre.jpg
John Turturro on the Life of an Actor: "It's a rough business. I wouldn't want my kids to do it"
"I am usually very well prepared. If you're a surgeon, you've got to know what you're going to take out today." - John Turturro
http://www.dailyactor.com/actors-on-acting/john-turturro-life-of-an-actor/