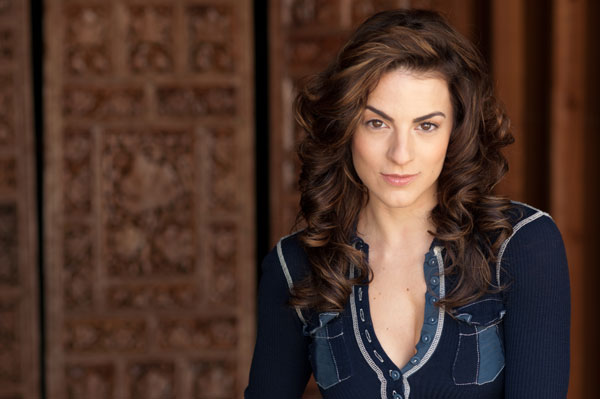 Renée Marino makes her film debut in the long-awaited adaption of the hit Broadway musical, Jersey Boys. In the film, she plays Mary Delgado, a role she first played on the National tour and on Broadway and it definitely shows because she really is great in the part.
Directed by Clint Eastwood, Jersey Boys is the story of four young men from the wrong side of the tracks in New Jersey and how they came together to form The Four Seasons. It's been a smash on Broadway for 10 years and if you haven't seen it, well, you may be the only one.
Along with Marino, the film stars John Lloyd Young as Franki Valli (a role which won him the Tony Award), Erich Bergen (Bob Gaudio), Michael Lomenda (Nick Massi)  and Vincent Piazza (Tommy DeVito) and Christopher Walken as mobster Gyp DeCarlo.
Marino was super fun to talk with and I recommend you listed to the audio version of the interview. She's got some great stories about working with Clint Eastwood, how she was cast in both the Broadway and film versions of Jersey Boys and she also talks about her Broadway debut in West Side Story with only 3 days of rehearsal. She also talked about the acting advice Eastwood gave her on set and more!
Follow Renée on Twitter: @ReneeMarino
For the full interview, click the audio link above or download it from iTunes.
Congrats on Jersey Boys!
Renée Marino: Thank you so much.
Have you seen it yet?
Renée Marino: I have. Yeah. Oh my God, it's so good. It's like so crazy for me to see. I can't wait to see it again because the first time you see it, especially as an actor, it's like… first of all, you have to understand, it's the first time I'm seeing myself on screen. I've never done a film. So I can just imagine how all these A-list celebrities feel. Oh my God, every time they see themselves up there. You know, because we're all, I feel like in our own way, such perfectionists and we have a tendency as performers to nitpick at ourselves. So it was so crazy to see. I definitely got teary eyed. I was like, "I'm on a movie screen." It's really great though.
What's so cool about it is that it's not a movie musical, in my opinion. It's literally a film with music. And that's what's so great about Jersey Boys, even the stage show, if you took the music away, the story is still so great. Of course the music just adds to it tenfold, but the storyline is still so strong. And I feel like that's what you get to see in the movie. It's a film. It's not like the typical musical that you put on screen. I always say I would compare it more to a film like Goodfellas than anything else.
You were also in the Broadway production. I want to ask you two questions. First, the first one is, how did you originally get your… the role in the Broadway production? What was your audition like?
Renée Marino: I originally became part of the Jersey Boys family in 2008. I auditioned and I booked the role of the universal swing, which I'm sure you know what that is, but it's where you cover several different companies of a show. That was incredible because I literally was like… I had been a swing before, but this was different because you're on your own. It's not like I'm travelling with a cast. So I'd be sitting at my table and get a call and be like, "So we need you in Vegas tomorrow." They'd fly me out to Vegas, put me up. It was amazing. It was the life. I'd get my car, you know, and then they'd be like, "Oh, we need you in Chicago this day. Then we need you in Connecticut."
So it was amazing because they had told me originally that they really want me as the role of Mary, but at that time the role wasn't opened up. So they were like, "In the meantime, we'd love for you to do universal swing." And I was like, "Hell yeah."
So I did that for 6 months and that was just incredible. Because I played all the girl roles, which there's something so special about each one of them. So that was so much fun. And then after 6 months I moved up to the role of Mary Delgado on the first national tour. So I did that for a year and then last February I joined the Broadway company because I got word that the girl who usually plays the role was having a baby. So she was going on maternity leave so they asked me to come be a part of the Broadway company and I was like, "Yes!"
How did the film role come about?
Renée Marino: Well, it was a Sunday afternoon and Clint Eastwood was in the audience and we're back stage, it's the middle of the show. And one of the cast members is like, "Uh, Clint Eastwood is here," and I was like, "What? Oh, awesome." I don't know, I didn't think too much of it. And then I got on stage and I saw his face, because he was like 10 rows back, and I was like, "Oh, hey Clint."
So I did the show and it was great. And it was really great because he got to see John Lloyd Young and I play the role together, which was so, so special. And John Lloyd Young plays the role in the film as well.
So that happened and then a couple of weeks later I had an audition for the film. But my original audition I just had an audition for one of the angels, who sings "My Boyfriend's Back." So I go in the room and the casting director [Geoffrey Miclat], sweetest guy. Nicest man. He and I were chatting about the show and he was saying how Clint loved us and wanted us to come in and audition and I was saying how I'm from New Jersey and blah, blah, blah. And then I said, "You know, I have to be honest with you. I was really hoping to come in and read for Mary Delgado." Because at this point I'm thinking there was something in me, Lance, that instinctually it just felt too right. It would've killed me if they'd had auditions for this film and I was playing the role on Broadway and I didn't go in to audition for Mary. Do you know what I'm saying?
Of course. Yeah.
Renée Marino: To me, that was the biggest thing. It wasn't about actually booking anything. I didn't even think of that. I was like, I just wanna know I auditioned. I wanna know that I had that chance.
So I said it. I was like, "I really was hoping to come in and read for Mary Delgado." And he looked at me, Lance, like… as if he was thinking the same thing. And he was like, "Yeah. I was just thinking the same thing." So, again, how important it is to just kind of take the initiative sometime. And I was like, "Oh my God. Ok. Awesome." So he's like, "Alright, well, you could do the angel stuff," I sang [inaudible], he's like, "And then if you want you could either take your time, go in the hallway, and look over scenes. Or if you wanna come back another day," and I was like, "No. I'm doing it today."
So I went in the hallway and I went through the scenes and stuff and then I came back in and I did the scenes with him and it felt so great. And I left there, I'll never forget, I left there that day and I just felt so happy because I was like, "I'm so grateful I got to do it." I did the audition. That was my biggest thing that would've killed me. If this movie came out and I was like, "I didn't even get to audition for the role that I'm playing."
I left there that day, everything was great, and a couple of weeks later I happened to be at home in my house that I grew up in in New Jersey with my mom and dad and my grandparents and I got the call. And my agent was like, "You're Mary Delgado in the movie. Clint loved you!" And I was like, "Woo!" I start screaming. I run out of my little bedroom that I grew up in, my mom and dad were like, "What's going on?" "I'm gonna be in a movie!" Crying. And then my grandmother who's 92 and thinks she's 20, she's in her wheelchair she's like, "I've been praying for this for you for years." It was just so special. It was such an amazing moment. Yeah.
How long were you in the show before Clint Eastwood came and you were cast?
Renée Marino: It was about 6 months. So I ended up having to leave, obviously, the Broadway show a little bit early because I was supposed to be in 8 or 9 months. But, you know, things happen.
So then I went out and I went out to California. My schedule was I was out there 6 days at the end of August, came back to New Jersey for 2 weeks, and then I was out there for a month.
How was Clint Eastwood to work with?
Renée Marino: Oh my God. Lance. He's such a dream to work with. I'm not kidding, if I could go the rest of my career just working with Clint Eastwood and his team, I would be so happy.
Because, let me tell you something, above everything else I value genuine people more than anything. You know? I could meet someone and they're so talented or so beautiful or so handsome and I'm so impressed. And then I meet them and they're kind of a jerk or cocky or I'm immediately turned off. You know? I come from a place where… being down to earth is so key to me. I don't know, it's just something that I value above everything else. And when I got to set that first day of filming, I had to hold back the tears because it was so surreal because I walk in and his team of people are so welcoming and wonderful and then I meet him and I was talking to him and the whole day we had lunch together, we would have lunch every time I filmed. We would just have the best conversations about life and our families and music. I had to remind myself, "You're talking to a legend." Do you know what I mean? Because there's nothing about him that screams I'm a celebrity at all.
And I can't tell you how inspiring that was to me because not only was I filming… I mean, I'm filming a movie. Right? My first film. I'm playing the lead woman in this film. That's incredible in itself. But then to be doing it with a group of amazing people just adds 500%. So it was amazing.
He gives so much freedom to his actors, Lance. We improved so much. I'd ask to try something? And he'd be like, "Go ahead." There's nothing about him that's like, "I'm the director. It's this way or no way." He's the complete opposite. We had the best time filming on set, I can't even tell you.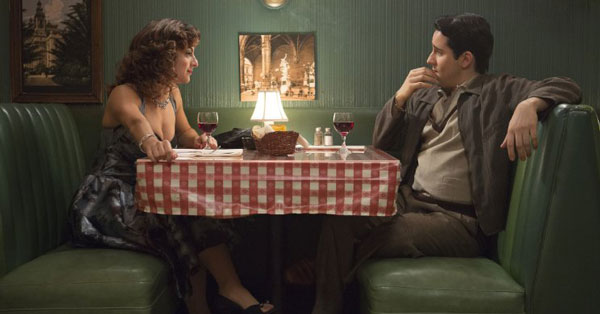 What was it like to do the same role in front of an audience and then have to kind of move it to film?
Renée Marino: Yeah, that's such a great question. It's so different. I remember, the first day I got on set and I just remember being like, "Oh my goodness. I'm at an actual bar." You know what I mean? I walked in, there was an actual bar, and the guys are on stage singing and there's all these extras with their beehive hairdos and cigarettes. And I was like, "This is amazing." Because on stage we're used to having our one chair and our drink in hand and one cigarette. It's all about using your imagination, creating the space for yourself. But to have it there? I was like, "This is amazing." I just walked on set and I'm like, "Oh my goodness."
And it's crazy because the scenes are so similar. Clint and I had a great conversation one day about training. I was like, "Clint, how did you start? How did you train?" And he goes, "Renée, I just… it's just about listening. You stand there and you listen." And I'm like, "Gosh darn it. You're so right." That's literally what it is. And, of course, we love to complicate things. But at the end of the day, that's what it is. You're just living in that character and you and I are talking and if you go to slap me, I'm gonna go to move. You know what I mean? That's what I love about him. It's like the most inspiring thing and it's like, wow, he's just… he's just… he's just awesome. I can't say enough great things about him and working with him and all that I learned. Oh my God.
I read a story about how you got cast in West Side Story and you only had 3 days of rehearsal before they put you on stage?
Renée Marino: Oh, yeah. This has been my career. I seriously think I should write a book.
Ok, so back when I was on tour with Jersey Boys I came to New York at one point to audition for West Side Story. They called me in, I made it to the end of this audition for a replacement for one of the Shark girls. They told me, "We want you in the show at one point, but right now we need someone right away. You're still on tour." Great.
Come home. I'm at an audition for some other regional theatre. Right? And it happened to be the same casting director as West Side Story. So I'm at callbacks, after the callback Paul, the casting director, calls me he's like, "Renée, do you sing soprano?" And I'm like, "Yeah." I'm totally thinking we're talking about Oklahoma, which is what I'm auditioning for. He's like, "Ok, because I think we're gonna need a replacement for one of the Shark girls on Broadway." And I was like, "I think I just peed my pants." I was like, "Oh my God." And he's like, "Ok, so go to the show tonight and you're gonna start rehearsal tomorrow."
This all happened so fast. I go to the show that night. Mind you, I have tons of friends in the show and they're all like, "Oh my God, what's going on?" And I'm like, "I don't know. I guess I'm gonna be in the show." It was so fast how this happened. So mind you I had never done West Side Story before.
So I go to rehearsal the next day, I just learned the dance at the gym choreography, next day I rehearsed for the ballet. Now this is, mind you, just bare rehearsal, just learning the steps. So I don't know where I'm going on stage, none of that. It's literally just choreography. I go in to rehearse the 3rd day and I learn half of 'America'. So I'm a very self-motivated person, I'm a very hard worker. So that was Saturday. Right? So Saturday night I go see the show. Sunday, you know, day off. Monday day off. Tuesday I have no rehearsal but I'm like, "You know what? Let me just go to the show. I'll hang backstage, warm up." Thank God I go. The stage manager comes out he goes, "So Renée, how about an early rehearsal tomorrow morning before the matinee? Because I think you're gonna be on for the matinee." I was like, "Ok." Next day I go for the morning, I learn the other half of 'America', and I was on stage for my Broadway debut that afternoon.
Wow.
Renée Marino: And talk about trusting, Lance. I hadn't stepped foot on that stage until… the only time I was on that stage was for the audition. So I hadn't even done a planned rehearsal. Nothing. So literally I was like, "Ok Steven. You're my partner. Raise your hand." I'd just met these people and I was the first one to turn out on stage for the dance at the gym and I remember looking up to the heavens and being like, "Here we go," and just going.
And it was great. It ended up everything went really well and it was so special.