Clark Gregg on Directing 'Trust Me', the Story of a Child Actor Turned Agent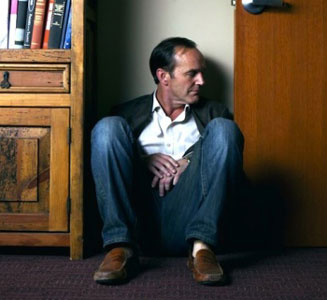 It's definitely an adjustment to go from shooting a huge blockbuster movie to an independent film.  Just ask Clark Gregg who has appeared in films like Iron Man and The Avengers, and is now starring in the dark comedy, Trust Me.
"If you're used to having a giant trailer from your trips to the Marvel Universe, [indie film] can be jarring," Gregg admitted in an interview with The Hollywood Reporter.  "But, so much of the most interesting work, some of the most interesting writing—[this is the] place where you can afford to take risks, because as things have gotten more expensive and blockbuster-oriented, those are carefully thought out by the marketing teams.
"The marketing teams are involved in the early script meetings.  For better or worse, however people receive this movie, this is the movie I wanted to make.  The limitations came from budget and logistics, they didn't come from people saying, 'You can't talk about that, you can't try to do a movie that takes these chances with tone.'"
Trust Me, which Gregg wrote, directed, and stars in, is the story of a failed child actor who has become an agent.  "I had done a couple of movies with young actors and seen that world a little bit and some of the people who kind of operated there and try to find a muscular ten year old thoroughbred to ride to the big time, and there was something kind of twisted about that, that I thought would be a great indie comedy," he said.
Gregg was interested in delving into the world of child stars because of the relevance it has in today's industry.
"There's this world that's often distorted, and weekly the headlines are filled with a young performer, at some discipline of the business, because the pressure is too great," Gregg said.  "From Michael Jackson to now, Justin Bieber seems to be having some issues.  And I was lucky I wasn't an actor then."
Trust Me made its debut last weekend at the Tribeca Film Festival.
http://www.dailyactor.com/wp-content/uploads/2016/06/jeff-bridges-hell-or-high-water.jpg
Jeff Bridges on Creating a Character, 'Hell or High Water' and Playing The Dude
"I use elements of myself—I see my parallels with a character—and find similar things in my own personality." - Jeff Bridges on Creating a Character
http://www.dailyactor.com/actors-on-acting/jeff-bridges-creating-a-character/
http://www.dailyactor.com/wp-content/uploads/2016/07/benjamin-bratt-actor.jpg
Benjamin Bratt: "For as limiting as the opportunities are for actors and actresses of color I've been very blessed"
"...it's dangerous to keep going down the same artistic path." - Benjamin Bratt
http://www.dailyactor.com/actors-on-acting/benjamin-bratt-ive-been-very-blessed/
http://www.dailyactor.com/wp-content/uploads/2016/07/watch-keegan-michael-key-explain.jpg
Watch: Keegan-Michael Key Explains Why "Improv actors are at war together"
Check out Key's points on why it's so important for improv actors to have each others' backs in the clip above.
http://www.dailyactor.com/actors-on-acting/keegan-michael-key-improv-actors-at-war-together/
http://www.dailyactor.com/wp-content/uploads/2016/07/norman-reedus-actor.jpg
Norman Reedus on Acting: "If it's something you really want, you have to roll with the rejection"
Norman Reedus is a fan-favorite star on The Walking Dead and was in the cult favorite film The Boondock Saints. However, in the dozen years between those two gigs Reedus had experienced ups and downs in his career and in many cases he was cast in very small roles in big movies or lead roles […]
http://www.dailyactor.com/actors-on-acting/norman-reedus-acting-rejection/
http://www.dailyactor.com/wp-content/uploads/2016/07/frank-grillo.jpg
Frank Grillo on Being Typecast: "I welcome it"
"I hear actors pooh-pooh the idea... people might see them as a certain thing. I welcome it" - Frank Grillo on Typecasting
http://www.dailyactor.com/actors-on-acting/frank-grillo-on-typecasting/