Chris Evans Taking an Acting Hitaus: "Right now, I just want to get behind the camera and make movies"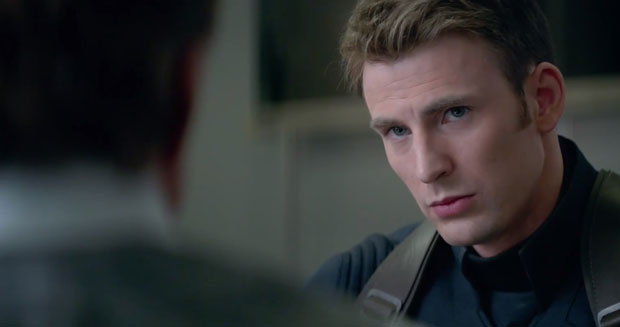 After Captain America: The Winter Soldier wrapped, star Chris Evans took the time he had off to make his directorial debut with 1:30 Train, which he shot in New York. The experience was so enjoyable that he has made a bold declaration to Variety: unless he's playing Captain America, don't expect to see him in a movie unless he's also directing it.
According to Evans, directing his first movie wasn't a spur-of-the-moment decision. He explains, "I've known for a while I wanted to direct. But (time) never really opens up. There's another movie to do, there's another acting job. It just got to a point where I was like, you know what — I have to do this."
In fact, Evans has been so taken with directing that outside of the movies he owes Marvel he doesn't plan to act outside of his own projects. He reveals, "If I'm acting at all, it's going to be under Marvel contract, or I'm going to be directing. I can't see myself pursuing acting strictly outside of what I'm contractually obligated to do."
However, Evans doesn't look at the Marvel movies (he'll be in at least three more) as simply "contractual obligations." He is well aware that if he had never been cast as Captain America, he would likely not have the opportunity to launch a career as a director. He points out, "Without these movies, I wouldn't be directing. They gave me enough overseas recognition to greenlight a movie. And if I'm speaking extremely candidly, it's going to continue to do that for as long as the Marvel contract runs."
Nonetheless, Evans is leaving the door open to changing his mind. He confesses, "For all I know, in five years, I might say, 'Shit, I miss acting.' Right now, I just want to get behind the camera and make movies."
http://www.dailyactor.com/wp-content/uploads/2015/10/Bridge-of-Spies-Tom-Hanks-Mark-Rylance.jpg
Tom Hanks on Working with Steven Spielberg and Mark Rylance in 'Bridge of Spies'
"Steven does this incredible thing when he casts you: He empowers you with the scene." - Tom Hanks on Steven Spielberg
http://www.dailyactor.com/actors-on-acting/tom-hanks-working-steven-spielberg-mark-rylance-bridge-of-spies/
http://www.dailyactor.com/wp-content/uploads/2015/09/Tom-Hardy-Legend.jpg
Tom Hardy on Playing Twins in 'Legend,' Being Seen as a Tough Guy, and Working with Philip Seymour Hoffman
Hardy speaks about why he challenged himself to play twins, what he thinks of his tough guy image, and working with the late Philip Seymour Hoffman, who directed him on stage.
http://www.dailyactor.com/actors-on-acting/tom-hardy-playing-twins-legend/
http://www.dailyactor.com/wp-content/uploads/2015/09/Emily-Blunt-Sicario.jpg
Emily Blunt on Action Movie Roles: "I think it's important to show different layers. Nobody is just tough, nobody is just vulnerable"
Emily Blunt touches upon why she has gotten into roles with an action bent and why she thinks there aren't more action movies with female leads
http://www.dailyactor.com/actors-on-acting/emily-blunt-sicario-acting-layers/
http://www.dailyactor.com/wp-content/uploads/2015/09/Jorja-Fox-CSI.jpg
Jorja Fox on Life After 'CSI': "I've always enjoyed not knowing exactly where the road leads"
"I think you kind of have to embrace the unknown if you're an actor." - Jorja Fox
http://www.dailyactor.com/actors-on-acting/jorja-fox-life-after-csi/
http://www.dailyactor.com/wp-content/uploads/2015/09/John-Turturro-Mia-Madre.jpg
John Turturro on the Life of an Actor: "It's a rough business. I wouldn't want my kids to do it"
"I am usually very well prepared. If you're a surgeon, you've got to know what you're going to take out today." - John Turturro
http://www.dailyactor.com/actors-on-acting/john-turturro-life-of-an-actor/