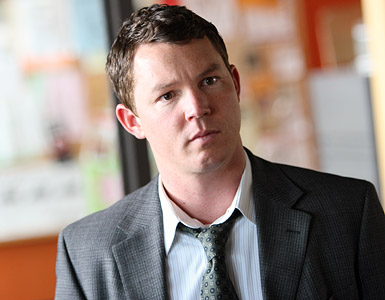 Fans of TNT's "Southland" expect violence and anticipate gritty, realistic stories inspired by true experiences of the Los Angeles Police Department. The fatal gang beating of Detective Nate Moretta (Kevin Alejandro) closed the Jan. 25 episode of the police drama, leaving Moretta's partner Sammy Bryant (Shawn Hatosy) bloodied, shaken and guilt-ridden. And now, Hatosy is ready to take on the completely different person his character is bound to become, and he couldn't be more excited. "Oh, believe me, this is gonna be good," he says about the rest of the third season.  "There's really no limit to where this character will go."
"We sort of own these characters," Hatosy says. "At the beginning, the directors told us, 'We intend on making the most realistic show possible. We're going to get these guys trained and understanding protocol and pretty much having us as experienced as actors can be with what the LAPD goes through. So in essence, the situation happened to others, but we wear it like it's our own personal experiences."
Hatosy, 35, who often is cast in the role of a police officer, also knows how to do crazy: He played a serial killer in "Dexter" last year and an inmate on death row in "Alpha Dog".
"It's kind of up to the actor to deconstruct the scene and deconstruct the character and figure out how to make it real. That's what I love about this job: It's sort of a puzzle each time, and figuring that out is sort the key, whether I'm playing a cop or a killer," he says.
Hatosy says that getting to the character's emotional core is the key to keeping scenes believable and realistic.
"You always have to find the character's center. For Sammy, it always has been troubled kids, the youth in general and his need to try to help. Even in this troubling time, it's all going to come back to that," he says.
And there are more people caught in the crossfire than just Sammy Bryant. While the remaining five episodes of the season will explore the repercussions of Nate's death on Sammy, it will also delve into the stories of others involved, including Nate's family and the rest of the department.
"One thing we're going to look into is the idea of justice. It's a very exciting season of Southland for Sammy Bryant."
To read more of this interview, go to: usatoday.com