Woody Harrelson Stops By CBS This Morning to Talk About His New Play, 'Bullets for Adolph' (video)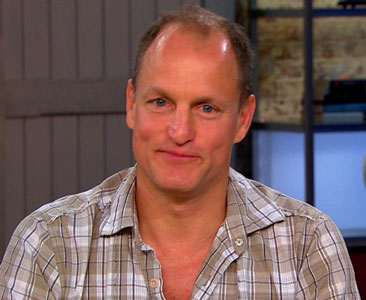 Woody Harrelson biked his way to the CBS this Morning the other day to talked about his new play, Bullet for Adolph. Harrelson co-wrote and directed the play that is currently running off-Broadway at the New World Stages.
They also chat a bit about Catching Fire and have a weird moment when Gayle King asks him what she is missing by not smoking weed. This is hard news guys, hard news.
Check it out below!
http://www.dailyactor.com/wp-content/uploads/2015/09/Tom-Hardy-Legend.jpg
Tom Hardy on Playing Twins in 'Legend,' Being Seen as a Tough Guy, and Working with Philip Seymour Hoffman
Hardy speaks about why he challenged himself to play twins, what he thinks of his tough guy image, and working with the late Philip Seymour Hoffman, who directed him on stage.
http://www.dailyactor.com/actors-on-acting/tom-hardy-playing-twins-legend/
http://www.dailyactor.com/wp-content/uploads/2015/09/Emily-Blunt-Sicario.jpg
Emily Blunt on Action Movie Roles: "I think it's important to show different layers. Nobody is just tough, nobody is just vulnerable"
Emily Blunt touches upon why she has gotten into roles with an action bent and why she thinks there aren't more action movies with female leads
http://www.dailyactor.com/actors-on-acting/emily-blunt-sicario-acting-layers/
http://www.dailyactor.com/wp-content/uploads/2015/09/Jorja-Fox-CSI.jpg
Jorja Fox on Life After 'CSI': "I've always enjoyed not knowing exactly where the road leads"
"I think you kind of have to embrace the unknown if you're an actor." - Jorja Fox
http://www.dailyactor.com/actors-on-acting/jorja-fox-life-after-csi/
http://www.dailyactor.com/wp-content/uploads/2015/09/John-Turturro-Mia-Madre.jpg
John Turturro on the Life of an Actor: "It's a rough business. I wouldn't want my kids to do it"
"I am usually very well prepared. If you're a surgeon, you've got to know what you're going to take out today." - John Turturro
http://www.dailyactor.com/actors-on-acting/john-turturro-life-of-an-actor/
http://www.dailyactor.com/wp-content/uploads/2015/09/Matt-Damon-The-Martian.jpg
Matt Damon's Controversial Comments on Actors Keeping Their Real Lives a Mystery
"I think you're a better actor the less people know about you period. And sexuality is a huge part of that." - Matt Damon
http://www.dailyactor.com/actors-on-acting/matt-damon-actors-keeping-their-real-lives-a-mystery/