Prop 8 Play Will Still Reach the Stage in LA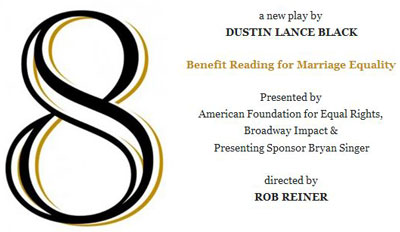 Hollywood is celebrating Tuesday's ruling that declares California's ban on same-sex marriage unconstitutional.  The US appeals court's decision led to an announcement that the play, 8, will still premiere on March 3 as planned, as reported by the Los Angeles Times.  The performance will be a one-night only reading at the Wilshire Ebell Theatre in Los Angeles.
The production is based on the 2010 court case Perry vs. Schwarzenegger, which focused on California Proposition 8—a law that would ban gay marriage in the state. 
The play uses court transcripts and interviews surrounding the case.  The night features an all-star lineup, including George Clooney, Matthew Morrison, Jesse Tyler Ferguson, Matt Boemer, Christine Lahti, Jamie Lee Curtis, and George Takei.  The show was written by Dustin Lance Black (who is best known for his Oscar-winning screenplay for the 2008 film Milk), and will be directed by Rob Reiner.  The play will function as a fundraiser for the charity, American Foundation for Equal Rights, which was founded by Black and Reiner to fight Prop. 8.
A spokesperson for the charity stated that the proceeds from the event will be used to fund the organization's work "in securing full federal marriage equality." 
For more information and tickets, click here
http://www.dailyactor.com/wp-content/uploads/2015/09/Tom-Hardy-Legend.jpg
Tom Hardy on Playing Twins in 'Legend,' Being Seen as a Tough Guy, and Working with Philip Seymour Hoffman
Hardy speaks about why he challenged himself to play twins, what he thinks of his tough guy image, and working with the late Philip Seymour Hoffman, who directed him on stage.
http://www.dailyactor.com/actors-on-acting/tom-hardy-playing-twins-legend/
http://www.dailyactor.com/wp-content/uploads/2015/09/Emily-Blunt-Sicario.jpg
Emily Blunt on Action Movie Roles: "I think it's important to show different layers. Nobody is just tough, nobody is just vulnerable"
Emily Blunt touches upon why she has gotten into roles with an action bent and why she thinks there aren't more action movies with female leads
http://www.dailyactor.com/actors-on-acting/emily-blunt-sicario-acting-layers/
http://www.dailyactor.com/wp-content/uploads/2015/09/Jorja-Fox-CSI.jpg
Jorja Fox on Life After 'CSI': "I've always enjoyed not knowing exactly where the road leads"
"I think you kind of have to embrace the unknown if you're an actor." - Jorja Fox
http://www.dailyactor.com/actors-on-acting/jorja-fox-life-after-csi/
http://www.dailyactor.com/wp-content/uploads/2015/09/John-Turturro-Mia-Madre.jpg
John Turturro on the Life of an Actor: "It's a rough business. I wouldn't want my kids to do it"
"I am usually very well prepared. If you're a surgeon, you've got to know what you're going to take out today." - John Turturro
http://www.dailyactor.com/actors-on-acting/john-turturro-life-of-an-actor/
http://www.dailyactor.com/wp-content/uploads/2015/09/Matt-Damon-The-Martian.jpg
Matt Damon's Controversial Comments on Actors Keeping Their Real Lives a Mystery
"I think you're a better actor the less people know about you period. And sexuality is a huge part of that." - Matt Damon
http://www.dailyactor.com/actors-on-acting/matt-damon-actors-keeping-their-real-lives-a-mystery/