Jonathan Groff talks 'Boss', 'Red' and working with actors "who are better than you"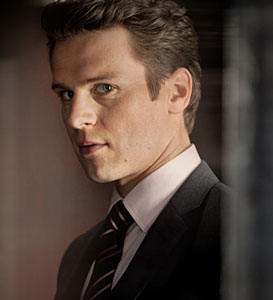 Can an actor be too gay?  Jonathan Groff courted a little controversy in the past regarding that question.
A Newsweek critic a few years ago deemed the actor too gay to be a convincing straight leading man.  "I feel the same away now as I did then," he said in an interview with The Los Angeles Times.  "Here's the deal—I go to my auditions and plug away and try and do my best.  People are going to say whatever they're going to say about your performance, and at the end of the day, you can't let that stuff affect you.  Everyone is entitled to his opinion, and it started a lot of good conversations probably.  All I can do is laugh and keep moving forward.  Sexuality is such an interesting thing.  Unless you're playing a very effeminate person, a stereotypical queen, it's hard to say what it means to play gay."
The Tony-nominated actor is getting to show off his acting chops in a Los Angeles production of Red and on Starz's series Boss.  Groff feels "that the best way to learn is to work with people who are better than you."
This is an adage he's taking to heart by appearing with actor Alfred Molina onstage and with Kelsey Grammar on Boss.  "It's learning by osmosis, by acting with them and soaking it in and seeing how they work," he said.  "Certainly in my experience with Fred [Molina], I get to do the same play with him every day in a two-character, so we spend 90 minutes onstage together going back and forth every night, which is different from being with Kelsey, being on set doing the scene once and then never again.  Kelsey's process is fascinating: Kelsey turns that character on and off in the blink of an eye.  It's insane.  And the way he knows how to work the camera, he would coach me even on camera angles and where to look and how to stand.  It's watching a master at work and taking mental notes.  Then with Fred, watching him night after night re-create these incredible moments and keep it fresh every night is a lesson.  It's the best way to learn.  I never went to college for acting.  I moved to New York pretty much right after high school, so all of my training has been on the job."
But the training has been pretty impressive.  "When I graduated from high school, I went on tour for a year with The Sound of Music, and then went from that to living in New York; after a year and a half in New York, I got Spring Awakening.  So there was a year and a half of auditioning and waiting tables and doing summer stock, and then I did an understudy role in a Broadway flop musical.  And right after that, I got Spring Awakening."
His role in that Broadway production was the one in which he received his Tony nomination, and met his lifelong friend and Glee costar Lea Michele.
Boss airs on Starz, Fridays at 9 p.m.
http://www.dailyactor.com/wp-content/uploads/2016/04/Christine-Baranski-The-Good-Wife.jpg
Christine Baranski on the End of 'The Good Wife' and Going Back to Theatre
The final episode of The Good Wife airs on May 8, and it's been several weeks since series star Christine Baranski shot the final episode with her co-stars. She spoke to The Hollywood Reporter about the end of the series she has spent the last seven years working on and what she plans to do […]
http://www.dailyactor.com/tv/christine-baranski-the-good-wife-theatre/
http://www.dailyactor.com/wp-content/uploads/2016/04/jake-gyllenhaal-demolition.jpg
Jake Gyllenhaal on 'Demolition', Working with Chris Cooper and Directors Who Want Nothing to Do With Him
"I think storytelling is the most important part of movie-making over performance." - Jake Gyllenhaal
http://www.dailyactor.com/actors-on-acting/jake-gyllenhaal-demolition-chris-cooper/
http://www.dailyactor.com/wp-content/uploads/2016/04/don-cheadle-miles-davis.jpg
Don Cheadle: "Be scared. Be on the edge of your creativity"
"Be willing to fall flat on your face and be in an unknown place. If you're doing that, you're probably growing" - Don Cheadle
http://www.dailyactor.com/actors-on-acting/don-cheadle-scared-creativity/
http://www.dailyactor.com/wp-content/uploads/2016/04/jessie-eisenberg-louder-than-bombs.jpg
What is Jesse Eisenberg's "Most Fulfilling Acting Experience"?
"My absolute favorite thing to do is to write a play and then, after I finish, do the first reading of it with my friends around the table"- Jesse Eisenberg
http://www.dailyactor.com/actors-on-acting/jesse-eisenberg-most-fulfilling-acting-experience/
http://www.dailyactor.com/wp-content/uploads/2016/03/Lupita-Nyong'o-eclipsed.jpg
Lupita Nyong'o on Her Broadway Debut: "When we get up on that stage, you do not know what will happen"
"I think theater offers a chance to flex muscles that then only help to sustain cinematic work." - Lupita Nyong'o
http://www.dailyactor.com/actors-on-acting/lupita-nyongo-eclipsed-broadway/