Helen Mirren Curses Out Drummers Who Disrupt Her Performance of 'The Audience'… In Full Makeup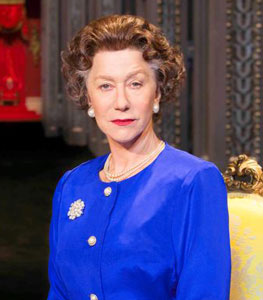 I never quite got why people use drumming to get attention during street protests and promotions.  Sure it's loud and makes bystanders turn their heads… but mostly because it's incredibly annoying.  So with that in mind, if you're absolutely set on promoting something with a company of drummers, could you at least refrain from doing it next to a theater? 
On Saturday night a group of marching drummers were playing their instruments to promote As One in the Park, a London gay music festival set to begin later this month.  Unfortunately, the marching drummers went right past the West End's Gielgud Theatre, where Dame Helen Mirren is currently starring as Queen Elizabeth II in The Audience.  Naturally, Mirren reprising her Oscar-winning role as Elizabeth is one of the hottest tickets in town, so the packed house and Mirren herself were subjected to loud drumming from outside the theater during the performance.
So, during intermission Mirren went out — in full makeup and costume — to ask the drummers to cut it out.  The New York Times notes that Mirren used "some strong language to halt the festivities."  She later copped to it, explaining, "I'm afraid there were a few 'thespian' words used. "They got a very stern royal ticking off, but I have to say they were very sweet, and they stopped immediately."
One of the organizers of the parade, Mark McKenzie, showed that he was a good sport about Mirren's "thespian" words, saying, "Not much shocks you on the gay scene, but seeing Helen Mirren dressed as the queen cussing and swearing and making you stop your parade — that's a new one."
http://www.dailyactor.com/wp-content/uploads/2016/04/julia-louis-dreyfus-veep.jpg
Julia Louis-Dreyfus: "Opportunity for women in television has increased. It's because the landscape has widened"
"I did not come out of SNL as any kind of name. I didn't do anything particularly great when I was there. I didn't. It's fine. But I learned a tremendous amount."
http://www.dailyactor.com/actors-on-acting/julia-louis-dreyfus/
http://www.dailyactor.com/wp-content/uploads/2016/04/Tituss-Burgess-Unbreakable-Kimmy-Schmidt.jpg
Tituss Burgess on How He Landed His 'Unbreakable Kimmy Schmidt' Role
Burgess reveals how his role on 30 Rock led to 'Kimmy Schmidt' and whether or not he'd consider returning to Broadway.
http://www.dailyactor.com/actors-on-acting/tituss-burgess-unbreakable-kimmy-schmidt-role/
http://www.dailyactor.com/wp-content/uploads/2016/04/Christine-Baranski-The-Good-Wife.jpg
Christine Baranski on the End of 'The Good Wife' and Going Back to Theatre
The final episode of The Good Wife airs on May 8, and it's been several weeks since series star Christine Baranski shot the final episode with her co-stars. She spoke to The Hollywood Reporter about the end of the series she has spent the last seven years working on and what she plans to do […]
http://www.dailyactor.com/actors-on-acting/christine-baranski-the-good-wife-theatre/
http://www.dailyactor.com/wp-content/uploads/2016/04/jake-gyllenhaal-demolition.jpg
Jake Gyllenhaal on 'Demolition', Working with Chris Cooper and Directors Who Want Nothing to Do With Him
"I think storytelling is the most important part of movie-making over performance." - Jake Gyllenhaal
http://www.dailyactor.com/actors-on-acting/jake-gyllenhaal-demolition-chris-cooper/
http://www.dailyactor.com/wp-content/uploads/2016/04/don-cheadle-miles-davis.jpg
Don Cheadle: "Be scared. Be on the edge of your creativity"
"Be willing to fall flat on your face and be in an unknown place. If you're doing that, you're probably growing" - Don Cheadle
http://www.dailyactor.com/actors-on-acting/don-cheadle-scared-creativity/