Helen Mirren Curses Out Drummers Who Disrupt Her Performance of 'The Audience'… In Full Makeup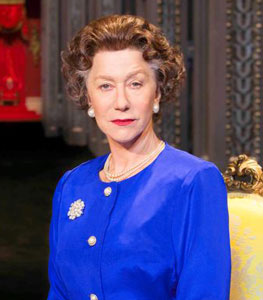 I never quite got why people use drumming to get attention during street protests and promotions.  Sure it's loud and makes bystanders turn their heads… but mostly because it's incredibly annoying.  So with that in mind, if you're absolutely set on promoting something with a company of drummers, could you at least refrain from doing it next to a theater? 
On Saturday night a group of marching drummers were playing their instruments to promote As One in the Park, a London gay music festival set to begin later this month.  Unfortunately, the marching drummers went right past the West End's Gielgud Theatre, where Dame Helen Mirren is currently starring as Queen Elizabeth II in The Audience.  Naturally, Mirren reprising her Oscar-winning role as Elizabeth is one of the hottest tickets in town, so the packed house and Mirren herself were subjected to loud drumming from outside the theater during the performance.
So, during intermission Mirren went out — in full makeup and costume — to ask the drummers to cut it out.  The New York Times notes that Mirren used "some strong language to halt the festivities."  She later copped to it, explaining, "I'm afraid there were a few 'thespian' words used. "They got a very stern royal ticking off, but I have to say they were very sweet, and they stopped immediately."
One of the organizers of the parade, Mark McKenzie, showed that he was a good sport about Mirren's "thespian" words, saying, "Not much shocks you on the gay scene, but seeing Helen Mirren dressed as the queen cussing and swearing and making you stop your parade — that's a new one."
http://www.dailyactor.com/wp-content/uploads/2015/09/Tom-Hardy-Legend.jpg
Tom Hardy on Playing Twins in 'Legend,' Being Seen as a Tough Guy, and Working with Philip Seymour Hoffman
Hardy speaks about why he challenged himself to play twins, what he thinks of his tough guy image, and working with the late Philip Seymour Hoffman, who directed him on stage.
http://www.dailyactor.com/actors-on-acting/tom-hardy-playing-twins-legend/
http://www.dailyactor.com/wp-content/uploads/2015/09/Emily-Blunt-Sicario.jpg
Emily Blunt on Action Movie Roles: "I think it's important to show different layers. Nobody is just tough, nobody is just vulnerable"
Emily Blunt touches upon why she has gotten into roles with an action bent and why she thinks there aren't more action movies with female leads
http://www.dailyactor.com/actors-on-acting/emily-blunt-sicario-acting-layers/
http://www.dailyactor.com/wp-content/uploads/2015/09/Jorja-Fox-CSI.jpg
Jorja Fox on Life After 'CSI': "I've always enjoyed not knowing exactly where the road leads"
"I think you kind of have to embrace the unknown if you're an actor." - Jorja Fox
http://www.dailyactor.com/actors-on-acting/jorja-fox-life-after-csi/
http://www.dailyactor.com/wp-content/uploads/2015/09/John-Turturro-Mia-Madre.jpg
John Turturro on the Life of an Actor: "It's a rough business. I wouldn't want my kids to do it"
"I am usually very well prepared. If you're a surgeon, you've got to know what you're going to take out today." - John Turturro
http://www.dailyactor.com/actors-on-acting/john-turturro-life-of-an-actor/
http://www.dailyactor.com/wp-content/uploads/2015/09/Matt-Damon-The-Martian.jpg
Matt Damon's Controversial Comments on Actors Keeping Their Real Lives a Mystery
"I think you're a better actor the less people know about you period. And sexuality is a huge part of that." - Matt Damon
http://www.dailyactor.com/actors-on-acting/matt-damon-actors-keeping-their-real-lives-a-mystery/