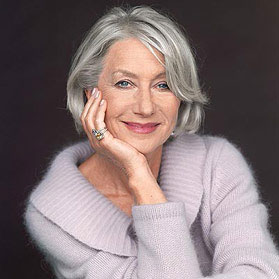 Helen Mirren still worries about being typecast.  But that hasn't stopped her from returning to once again depict Queen Elizabeth in a new play, The Audience.
"I didn't want to do it," the actress confessed in an interview with The Telegraph.  "The first thing I emailed [writer Peter Morgan] was 'You b——.'  [As an actress] you want to go forward and not be stuck with a character for the rest of your life.  I always think of the obituary, you know?  It was Prime Suspect for ages: 'Jane Tennison has been sadly knocked over by a bus.'"
So one can imagine Mirren's trepidation about playing Her Majesty again after she portrayed her in the 2006 film, The Queen.  Mirren even won an Oscar for her depiction.  The Audience also has the same successful team behind it—including Morgan and director Stephen Frears.
"I was absolutely tortured by it.  I went to the first read-through thinking, 'I am not going to do this.  I can't go back to that,'" the 67-year-old said.  "And then I walked into that room and there was Peter and there was Stephen and there was Robert Fox [the producer] and Bob Crowley [the designer.]  I looked at that lineup and I thought you're an idiot if you don't do this.  You need your head examined.  These are among the very best people in British theatre and they are offering you a role.  You should be so lucky."
In fact, the play takes place over a much longer span of time in the Queen's life, making the production feel like "a new game, really" to Mirren.  The portrayal of Elizabeth over a period of decades provided a new challenge for the actress.  "Her voice has changed so hugely that if I can somehow access that young voice, that does so much," Mirren admitted.  "It is easier to get older than younger, unfortunately."
But Mirren feels she has been able to overcome any difficulties with the help of the creative team, specifically Morgan.  The actress said she enjoys "the amazing, organic process of having the writer in the room, which Peter has been all day, every day."
Like every other role Mirren has tackled (including her other Oscar-nominated turns in The Last Station, Gosford Park and The Madness of King George), the actress is ready once again to take on the Queen.  "When I was doing the film, it was an incredible liberation for me the day that I thought, 'this is a portrait,'" she said.  "The Queen has been painted many, many times and it's the artist's interpretation of her.  I thought, that's it. I am not impersonating her.  Of course, I have got to look like her, move like her, sound like her, but it is my interpretation because we are artists and we are allowed to do that."
The Audience will be playing at the Gielgud Theatre in London through June 15.