'Grace' Cast Keeps the Show Going Despite Audience Member in the Balcony Throwing Up on Audience Members in the Orchestra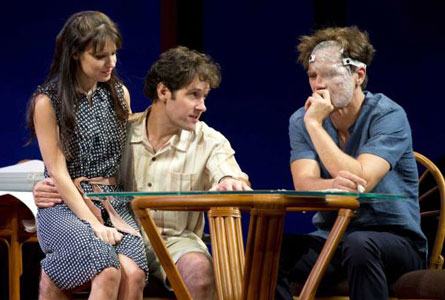 Perhaps Gallagher was on to something with that whole "hand ponchos out to the audience" thing for his comedy shows.
During the November 14 performance of Grace, the Broadway play starring Paul Rudd, Michael Shannon, Kate Arrington, and Ed Asner (which I reviewed here!), a person in the first row of the balcony who was "reportedly drunk and appeared to be elderly" threw up over the edge of the balcony onto audience members in the orchestra below.  The male audience member responsible then collapsed, though Gothamist says the man eventually returned to his seat (and also suggests that he wasn't drunk.  Hmm…)
According to Broadway.com, the cast was visibly distracted by the commotion in the balcony but continued with the show.  At the end of the performance, the cast came out and joked about the incident, with Rudd pointing out the incredulity of moving an audience member to vomit.  While Rudd is known for his raucous comedies, Grace certainly isn't that type of production — though it is very funny.  It's definitely not the type of play one would want to see drunk (are there any?), so I'm curious why the audience member was so drunk.
Anyone else — actor or audience member — experience something like this?  I was once seeing a Broadway show when an audience member about ten seats down my row threw up all over the floor.  It was disgusting, especially since it was pretty apparent that she was drunk (at an early matinee performance!), as this audience member reportedly was.  It's called class, people.  Doesn't anyone remember Wayne's World?  "If you're gonna spew, spew into this."
http://www.dailyactor.com/wp-content/uploads/2016/01/Jeff-Daniels.jpg
Jeff Daniels Remembers a Terrible Audition for a Diane Keaton Movie
One actor that knows the ups and downs of the audition process is Jeff Daniels.
http://www.dailyactor.com/actors-on-acting/jeff-daniels-terrible-audition-diane-keaton-movie/
http://www.dailyactor.com/wp-content/uploads/2016/02/Jennifer-Jason-Leigh-The-Hateful-Eight.jpg
Jennifer Jason Leigh on Her First-Ever Oscar Nomination: "It's kind of phenomenal"
"He knew that I could, in his words, 'act the … out of it' and I'm not afraid to take a risk in terms of acting" Jennifer Jason Leigh on Quentin Tarantino
http://www.dailyactor.com/actors-on-acting/jennifer-jason-leigh-oscar-nomination/
http://www.dailyactor.com/wp-content/uploads/2016/02/Forest-Whitaker-Hughie-Broadway.jpg
Forest Whitaker on Making His Broadway Debut in 'Hughie': "His rhythms are starting to invade inside of me"
"I want to get better as an actor, to keep trying to work harder, trying to discover something different" - Forest Whitaker
http://www.dailyactor.com/actors-on-acting/forest-whitaker-broadway-debut-hughie/
http://www.dailyactor.com/wp-content/uploads/2016/02/alicia-Vikander-Ex-machina.jpg
Alicia Vikander on the Her First Trip to L.A. and the Acting Tip 'Ex-Machina' Director Alex Garland Gave Her
"You [get immersed in] a film and of course you think that that is it. And then you go away and you read a new script and you have a new crush" - Alicia Vikander
http://www.dailyactor.com/actors-on-acting/alicia-vikanderacting-tip-ex-machina-director-alex-garland-gave-her/
http://www.dailyactor.com/wp-content/uploads/2016/02/Channing-Tatum-Hail-Caesar.jpg
Channing Tatum Talks 'Hail, Caesar!': "I've been beating on the Coens' door for years, man"
"It's the most I've ever prepped for a six-minute section in a movie." - Channing Tatum
http://www.dailyactor.com/actors-on-acting/channing-tatum-hail-caesar-tap-dancing/