'Grace' Cast Keeps the Show Going Despite Audience Member in the Balcony Throwing Up on Audience Members in the Orchestra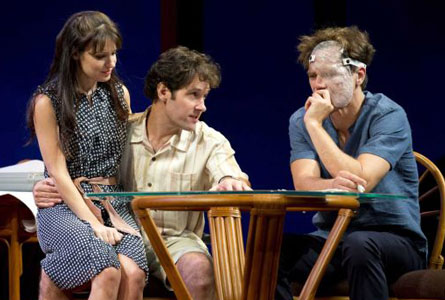 Perhaps Gallagher was on to something with that whole "hand ponchos out to the audience" thing for his comedy shows.
During the November 14 performance of Grace, the Broadway play starring Paul Rudd, Michael Shannon, Kate Arrington, and Ed Asner (which I reviewed here!), a person in the first row of the balcony who was "reportedly drunk and appeared to be elderly" threw up over the edge of the balcony onto audience members in the orchestra below.  The male audience member responsible then collapsed, though Gothamist says the man eventually returned to his seat (and also suggests that he wasn't drunk.  Hmm…)
According to Broadway.com, the cast was visibly distracted by the commotion in the balcony but continued with the show.  At the end of the performance, the cast came out and joked about the incident, with Rudd pointing out the incredulity of moving an audience member to vomit.  While Rudd is known for his raucous comedies, Grace certainly isn't that type of production — though it is very funny.  It's definitely not the type of play one would want to see drunk (are there any?), so I'm curious why the audience member was so drunk.
Anyone else — actor or audience member — experience something like this?  I was once seeing a Broadway show when an audience member about ten seats down my row threw up all over the floor.  It was disgusting, especially since it was pretty apparent that she was drunk (at an early matinee performance!), as this audience member reportedly was.  It's called class, people.  Doesn't anyone remember Wayne's World?  "If you're gonna spew, spew into this."
http://www.dailyactor.com/wp-content/uploads/2016/06/jeff-bridges-hell-or-high-water.jpg
Jeff Bridges on Creating a Character, 'Hell or High Water' and Playing The Dude
"I use elements of myself—I see my parallels with a character—and find similar things in my own personality." - Jeff Bridges on Creating a Character
http://www.dailyactor.com/actors-on-acting/jeff-bridges-creating-a-character/
http://www.dailyactor.com/wp-content/uploads/2016/07/benjamin-bratt-actor.jpg
Benjamin Bratt: "For as limiting as the opportunities are for actors and actresses of color I've been very blessed"
"...it's dangerous to keep going down the same artistic path." - Benjamin Bratt
http://www.dailyactor.com/actors-on-acting/benjamin-bratt-ive-been-very-blessed/
http://www.dailyactor.com/wp-content/uploads/2016/07/watch-keegan-michael-key-explain.jpg
Watch: Keegan-Michael Key Explains Why "Improv actors are at war together"
Check out Key's points on why it's so important for improv actors to have each others' backs in the clip above.
http://www.dailyactor.com/actors-on-acting/keegan-michael-key-improv-actors-at-war-together/
http://www.dailyactor.com/wp-content/uploads/2016/07/norman-reedus-actor.jpg
Norman Reedus on Acting: "If it's something you really want, you have to roll with the rejection"
Norman Reedus is a fan-favorite star on The Walking Dead and was in the cult favorite film The Boondock Saints. However, in the dozen years between those two gigs Reedus had experienced ups and downs in his career and in many cases he was cast in very small roles in big movies or lead roles […]
http://www.dailyactor.com/actors-on-acting/norman-reedus-acting-rejection/
http://www.dailyactor.com/wp-content/uploads/2016/07/frank-grillo.jpg
Frank Grillo on Being Typecast: "I welcome it"
"I hear actors pooh-pooh the idea... people might see them as a certain thing. I welcome it" - Frank Grillo on Typecasting
http://www.dailyactor.com/actors-on-acting/frank-grillo-on-typecasting/