Thomas Sadoski on His 'The Newsroom' Audition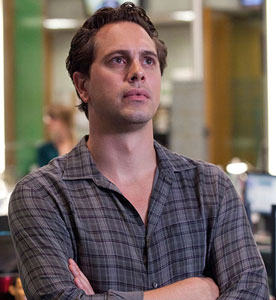 Thomas Sadoski's connections to the world of theater helped him land the role of Don Keefer on HBO's The Newsroom.
"The thing that was so exciting about working on The Newsroom is that we're all theater rats," Sadoski told Yahoo! News. "The first day of rehearsal in LA, Aaron [Sorkin, creator and writer of Newsroom] got up and said, 'You're going to look around this room and notice we are front-loaded with an extraordinary amount of Broadway theater talent.  That is not by accident.'"
Sadoski was working on Broadway when Sorkin decided to audition him for the show.  "Aaron Sorkin had seen reasons to be pretty, and at the time I was doing The House of the Blue Leaves on Broadway, which Scott Rudin was producing," the actor recalled.  "Actually, both Alison Pill [his Newsroom costar] and I were doing it. I got a call: 'Aaron would like you to read for this part.'  Pill came in and was like, 'Oh my God, I'm auditioning for the new Aaron Sorkin series!'  And I was like, 'Oh my God, I just got the same call!'"
"I went in and read; it went well.  A couple of weeks went by, and it was the opening night of House of Blue Leaves, and my agent and manager grabbed me, pulled me into a corner, and told me: 'We got the call, you're going to get the offer on Sorkin's new series."
But despite his television success, Sadoski is spending his break from the series by starring in a play in LA called Build.
"Theater is all I really know, and it's all I really trust as an artist at this point," he admitted.  "It's my artistic home, and it's where I'm comfortable.  I operated through the entirety of shooting the first season of The Newsroom in this daze and in this very sort of persistent nagging image that at any given moment somebody was going to come walking around the corner and be like, 'I'm sorry, we've realized we've made a terrible mistake, nobody knows who you are, and you need to get the hell out of here.'  So I feel very blessed to have made it through the season and to have been asked to come back for a second one."
"I had time, and I didn't want to do nothing with it—and I didn't trust that there was going to be any film or television work that would come my way.  So when this opportunity presented itself, I said, 'Yeah, absolutely.'  I want to be in the theater world out here because, frankly, I can't live without it.  I can't imagine my life without doing theater."
http://www.dailyactor.com/wp-content/uploads/2016/08/imperium_daniele_radcliffe.jpg
Daniel Radcliffe on Playing a Neo-Nazi in 'Imperium': "It's still just horrible to say some of this stuff"
Radcliffe reveals how he played such a layered character and what it felt like to say his character's hate-filled dialogue.
http://www.dailyactor.com/actors-on-acting/daniel-radcliffe-playing-a-neo-nazi-imperium/
http://www.dailyactor.com/wp-content/uploads/2016/08/John-Cho-Star-Trek-Beyond.jpg
How John Cho Took A Stand for Diversity Early in His Career
"When one does speak one's mind, one might be surprised at how receptive people are." - Actor John Cho
http://www.dailyactor.com/actors-on-acting/john-cho-took-a-stand-for-diversity/
http://www.dailyactor.com/wp-content/uploads/2016/08/simon-helberg-florence-foster-jenkins.jpg
Simon Helberg on His 'Florence Foster Jenkins' Role: "I'm an actor and I want to stretch different muscles"
Helberg spoke about portraying his character in the film and whether or not he feels typecast by his Big Bang Theory role.
http://www.dailyactor.com/actors-on-acting/simon-helberg-florence-foster-jenkins-role/
http://www.dailyactor.com/wp-content/uploads/2016/08/Will-Chase-Something-Rotten.jpg
The Role That Got Away: Will Chase on Returning to 'Something Rotten!'
"I know that I am a poor man's fill-in-the-blank. And I know that there are poor man's Will Chases out there. That's just the nature of the business" - Will Chase
http://www.dailyactor.com/actors-on-acting/will-chase-something-rotten-role-that-got-away/
http://www.dailyactor.com/wp-content/uploads/2016/08/Julia-Stiles-Jason-Bourne.jpg
Julia Stiles on the Jason Bourne Series and Growing as an Actress: "There's always room for improvement"
"I like a director that encourages me to be playful. I don't really like being restricted or controlled by a director." - Julia Stiles
http://www.dailyactor.com/actors-on-acting/julia-stiles-growing-as-an-actress/