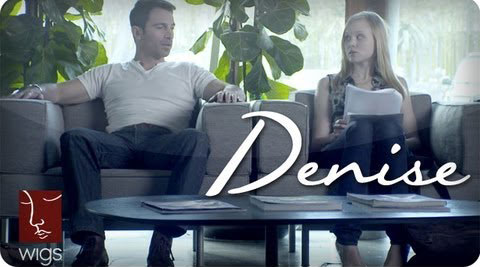 Newsroom stars Allison Pill and Chris Messina are the latest actors to appear in writer Neil LaBute's short story for the YouTube channel, WIGS. 
Joining the ranks of their acting peers such as Alfred Molina and Julia Stiles, the duo are featured in the clip Denise, a short about two actors who get a call back.  Seen in the clip is an irritated Pill in the title role who runs into Messina's character Brad, a guy who never called her back after a one night stand.   From there things veer off into some risque territory involving positions and a video!  "Positions I've never thought of. The promises we made to each other. that video," Pill whispers.
As confirmed by Yahoo, the Wigs channel comes from the efforts of partners Jon Avnet and Rodrigo Garcia, and features stories centered on women.  Avnet and Garcia's goal is to bring high-production value to the web with their short stories for HBO.  Watch the entertaining clip of Denise with both Pill and Messina below.