Bryan Cranston's Advice to Actors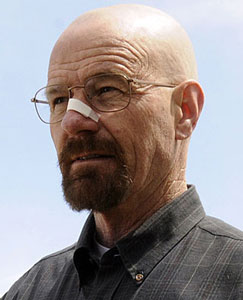 Bryan Cranston knows a thing or two about acting.  After all, he's won three Emmy's for his portrayal of chemistry teacher turned drug kingpin, Walter White, in Breaking Bad.  So his advice about his craft is probably worth listening to.
In an interview with The Winnipeg Free Press, Cranston said actors should place the utmost importance on the script.  "The best thing they can learn is to identify well-written material," he said.  "The writing in our industry, in a story, is the most important element, bar none.  It is always about the writing first.
"So what I've been able to do…the thing I'm good at, really, is to identify well-written material.  Now that doesn't mean the product is going to end up that way.  It's a recipe, and sometimes it doesn't work, and you're thinking, 'Wait a minute, I had all the ingredients, how did this happen?'  That's going to happen."
"But if you start with something that has good writing, you at least have a shot," he continued. "If you start with something that is not well written, you have no shot of making something good.  The best actor in the world can make C level material C-plus-level material.  Maybe B-minus.  That's it."
Cranston first got recognition for his role as father Hal on Malcolm in the Middle, but he knows about struggling to find your way in Hollywood.  He said, "The only thing that an actor really yearns for in a career is opportunity.  We don't ask to be given roles, just give me a chance to get in the room, or we have no shot."
Cranston admits that his success is not due just to his work ethic.  "What I try to teach young actors is: Please know that without a healthy dose of luck, you will not have a career," he said.  "How do you do that?  I don't know.  Just keep working, keep working hard, have faith.
"Don't give yourself some arbitrary number: 'I'm going to give it a year.'  Stop now.  Go back to Idaho.  Make some really nice potatoes.  People will appreciate that.  You're either in this or you're not in this.  So that's the first thing I say."
A little bit of luck and a lot of hard work aren't the only components to a successful career in Cranston's eyes.  "If you're on a hit show, you better save your money," he said.  "You better, because you need to say no to those tempting offers of dollar bills to do the same thing you just did.  To me it was no temptation.  I just said no.  But you don't know what's going to happen next.  I was very fortunate."
Viewers can catch Cranston on Breaking Bad on AMC, Sundays at 10 p.m and in Total Recall, which is in theaters now.
http://www.dailyactor.com/wp-content/uploads/2016/04/Christine-Baranski-The-Good-Wife.jpg
Christine Baranski on the End of 'The Good Wife' and Going Back to Theatre
The final episode of The Good Wife airs on May 8, and it's been several weeks since series star Christine Baranski shot the final episode with her co-stars. She spoke to The Hollywood Reporter about the end of the series she has spent the last seven years working on and what she plans to do […]
http://www.dailyactor.com/tv/christine-baranski-the-good-wife-theatre/
http://www.dailyactor.com/wp-content/uploads/2016/04/jake-gyllenhaal-demolition.jpg
Jake Gyllenhaal on 'Demolition', Working with Chris Cooper and Directors Who Want Nothing to Do With Him
"I think storytelling is the most important part of movie-making over performance." - Jake Gyllenhaal
http://www.dailyactor.com/actors-on-acting/jake-gyllenhaal-demolition-chris-cooper/
http://www.dailyactor.com/wp-content/uploads/2016/04/don-cheadle-miles-davis.jpg
Don Cheadle: "Be scared. Be on the edge of your creativity"
"Be willing to fall flat on your face and be in an unknown place. If you're doing that, you're probably growing" - Don Cheadle
http://www.dailyactor.com/actors-on-acting/don-cheadle-scared-creativity/
http://www.dailyactor.com/wp-content/uploads/2016/04/jessie-eisenberg-louder-than-bombs.jpg
What is Jesse Eisenberg's "Most Fulfilling Acting Experience"?
"My absolute favorite thing to do is to write a play and then, after I finish, do the first reading of it with my friends around the table"- Jesse Eisenberg
http://www.dailyactor.com/actors-on-acting/jesse-eisenberg-most-fulfilling-acting-experience/
http://www.dailyactor.com/wp-content/uploads/2016/03/Lupita-Nyong'o-eclipsed.jpg
Lupita Nyong'o on Her Broadway Debut: "When we get up on that stage, you do not know what will happen"
"I think theater offers a chance to flex muscles that then only help to sustain cinematic work." - Lupita Nyong'o
http://www.dailyactor.com/actors-on-acting/lupita-nyongo-eclipsed-broadway/