'Louie C.K.' Episode Tackles the Double Standards of Women and Weight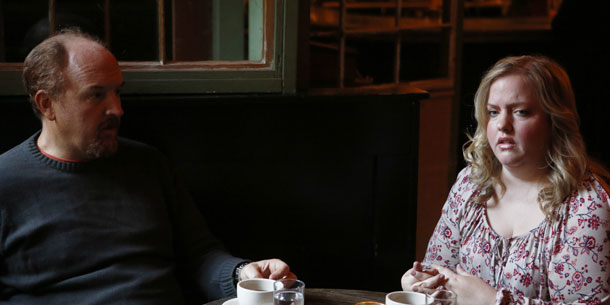 Everyone is talking about the latest Louis C.K. episode which dove deep into the hypocrisy behind overweight men versus overweight women and the stigma attached to females and their figures. Sarah Baker played the waitress, Vanessa, who schools Louie on the double standards in a six-minute long monologue that was shot in one take.
She spoke to The Wall Street Journal about this buzzy episode titled "So Does the Fat Lady." Baker explained how she got the role, "I think it was fairly typical. I just got notice of an appointment and I was really excited. He keeps scripts pretty private, so they actually didn't send one. They just said show up 15 minutes early and you can read the sides [pages], and then they called back and said, actually, show up half an hour early because it's nine pages."
Louie, who also writes the scripts for the show, didn't give the actress much insight about the scene, he let her interpret his words.
Baker shared, "I didn't meet him at the audition. He was in New York and I was out here in L.A. We talked once I came on shoot and he was very kind, but we didn't really talk about what was behind it. It's all right there on the page. It's kind of genius that he plays this sometimes bumbling character that doesn't totally get it, but he, the person who wrote the script, completely gets it and is making all these insights."
With such an emotionally charged scene and a single take, it was a big challenge for Baker who had to do the long monologue about "10″ times.
"People always ask actors how they remember lines, and we always say something actor-y, like, 'You have to connect with the spirit of the character.' But in this case, it was a lot of lines!" she said. "I just hoped I could get them out of my mouth in the right order. Once we did it once, it was okay. And Louie said, 'If the cops came right now and told us we had to leave, we've got it. Now we can just have fun with it.' Ultimately he just picked his one favorite take, but I have no idea what number take it was."
Will her character come back? Viewers are still questioning whether they will see Vanessa again in Louie's life, but she sure had a memorable moment with him.
Latest Videos
http://www.dailyactor.com/wp-content/uploads/2014/08/bryan-cranston-emmy-award-speech.jpg
Watch: Bryan Cranston's Emmy Award Speech: "I love to act. It is a passion of mine and I will do it until my last breath."
The Emmy Awards weren't the most exciting awards show this year but with Bryan Cranston winning for Outstanding Actor in a Drama for Breaking Bad, we at least got to hear one heck of a fantastic acceptance speech. "I was a kid who always looked for the shortcut," he said. "I did happen to stumble […]
http://www.dailyactor.com/2014/08/watch-bryan-cranston-and-aaron-pauls-emmy-award-speeches/
http://www.dailyactor.com/wp-content/uploads/2014/08/audition-tapes-gerard-butler-aud.jpg
Audition Tapes: Gerard Butler Auditions for 'Dracula 2000′
Check out Gerard Butler auditioning for the role of Dracula in the movie, Dracula 2000. The film, about a group of thieves who break into a chamber expecting to find paintings, but instead find Dracula himself, also starred Christopher Plummer, Jonny Lee Miller and Nathan Fillion. Bulter has some sweet rock star hair, huh?
http://www.dailyactor.com/2014/08/audition-tapes-gerard-butler-dracula-2000/
http://www.dailyactor.com/wp-content/uploads/2014/08/interview-matt-dillon-and-carla.jpg
Interview: Matt Dillon and Carla Gugino Talk 'Wayward Pines'
FOX has a new limited-series that's got a terrific cast and interesting premise. It's called Wayward Pines and stars Matt Dillon, Carla Gugino, Melissa Leo, Toby Jones, Terrance Howard, Juliette Lewis, Tim Griffin and Shannyn Sossamon. The show, whose pilot was directed by M. Night Shyamalan, is about a Secret Service agent (Dillon) goes to […]
http://www.dailyactor.com/2014/08/interview-matt-dillon-carla-gugino-wayward-pines-comic-con/
http://www.dailyactor.com/wp-content/uploads/2014/08/interview-wayward-pines-stars-ti.jpg
Interview: 'Wayward Pines' Stars Tim Griffin and Shannyn Sossamon on the Show, Their Characters and More!
Griffin and Sossamonwere at Comic-Con where they sat in on some roundtable interviews to talk about the show.
http://www.dailyactor.com/2014/08/interview-wayward-pines-stars-tim-griffin-shannyn-sossamon-comic-con/
http://www.dailyactor.com/wp-content/uploads/2014/08/interview-m-night-shyamalan-talk.jpg
Interview: M. Night Shyamalan Talks 'Wayward Pines' and Why He Expanded a Young Actors Role on the Show
I talked to Shyamalan at Comic-Con in a roundtable interview where he talked about the cast, what he learned from working in TV and how young actor Charlie Tahan started out with a small part but as the story grew, so did his role.
http://www.dailyactor.com/2014/08/interview-m-night-shyamalan-wayward-pines-comic-con/