'Louie C.K.' Episode Tackles the Double Standards of Women and Weight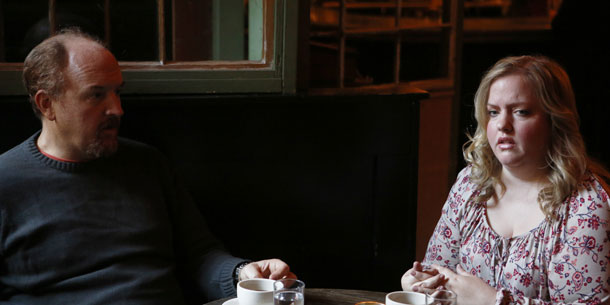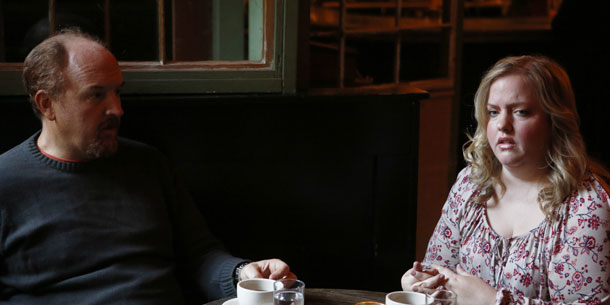 Everyone is talking about the latest Louis C.K. episode which dove deep into the hypocrisy behind overweight men versus overweight women and the stigma attached to females and their figures. Sarah Baker played the waitress, Vanessa, who schools Louie on the double standards in a six-minute long monologue that was shot in one take.
She spoke to The Wall Street Journal about this buzzy episode titled "So Does the Fat Lady." Baker explained how she got the role, "I think it was fairly typical. I just got notice of an appointment and I was really excited. He keeps scripts pretty private, so they actually didn't send one. They just said show up 15 minutes early and you can read the sides [pages], and then they called back and said, actually, show up half an hour early because it's nine pages."
Louie, who also writes the scripts for the show, didn't give the actress much insight about the scene, he let her interpret his words.
Baker shared, "I didn't meet him at the audition. He was in New York and I was out here in L.A. We talked once I came on shoot and he was very kind, but we didn't really talk about what was behind it. It's all right there on the page. It's kind of genius that he plays this sometimes bumbling character that doesn't totally get it, but he, the person who wrote the script, completely gets it and is making all these insights."
With such an emotionally charged scene and a single take, it was a big challenge for Baker who had to do the long monologue about "10" times.
"People always ask actors how they remember lines, and we always say something actor-y, like, 'You have to connect with the spirit of the character.' But in this case, it was a lot of lines!" she said. "I just hoped I could get them out of my mouth in the right order. Once we did it once, it was okay. And Louie said, 'If the cops came right now and told us we had to leave, we've got it. Now we can just have fun with it.' Ultimately he just picked his one favorite take, but I have no idea what number take it was."
Will her character come back? Viewers are still questioning whether they will see Vanessa again in Louie's life, but she sure had a memorable moment with him.
http://www.dailyactor.com/wp-content/uploads/2016/02/Owen-Wilson.jpg
Owen Wilson on How He Started Acting, Trying "To Be Real" On-Screen and Choosing His Roles
"It's not enough just to be real; you have to try to make it interesting or entertaining" - Owen Wilson on Acting
http://www.dailyactor.com/actors-on-acting/owen-wilson-started-acting-real-on-screen/
http://www.dailyactor.com/wp-content/uploads/2016/02/John-Krasinski.jpg
John Krasinski on His Directing Debut, 'The Hollars', and How He'll Always Be an "Actor at Heart"
"To me, it's not about comedy or drama or genre, it's about, where's the good story?" - John Krasinski
http://www.dailyactor.com/actors-on-acting/john-krasinski-directing-debut-the-hollars-actor-at-heart/
http://www.dailyactor.com/wp-content/uploads/2016/02/david-harewood-supergirl.jpg
David Harewood on 'Supergirl' and How He Was "Struggling to Get a Handle" on His Character
Harewood reveals how he relates to the character and how he eventually got comfortable playing him.
http://www.dailyactor.com/actors-on-acting/david-harewood-supergirlstruggling-to-get-a-handle-on-his-character/
http://www.dailyactor.com/wp-content/uploads/2016/01/Jeff-Daniels.jpg
Jeff Daniels Remembers a Terrible Audition for a Diane Keaton Movie
One actor that knows the ups and downs of the audition process is Jeff Daniels.
http://www.dailyactor.com/actors-on-acting/jeff-daniels-terrible-audition-diane-keaton-movie/
http://www.dailyactor.com/wp-content/uploads/2016/02/Jennifer-Jason-Leigh-The-Hateful-Eight.jpg
Jennifer Jason Leigh on Her First-Ever Oscar Nomination: "It's kind of phenomenal"
"He knew that I could, in his words, 'act the … out of it' and I'm not afraid to take a risk in terms of acting" Jennifer Jason Leigh on Quentin Tarantino
http://www.dailyactor.com/actors-on-acting/jennifer-jason-leigh-oscar-nomination/