'Rob the Mob' Star Nina Arianda on Letting Go of Auditions and Acting in New York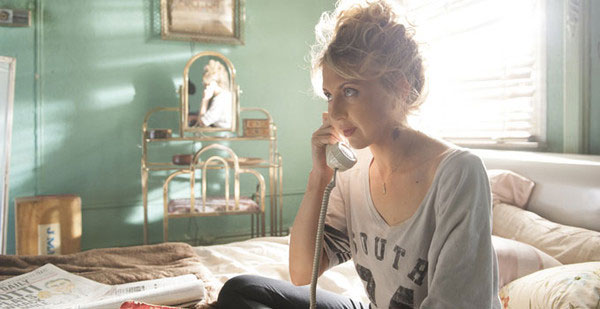 Nina Arianda isn't a name that might necessarily be familiar to most Daily Actor readers, but she is a Tony Award-winning actress for her role in David Ives' Venus in Fur, which was only her second Broadway role. She has also appeared in films including Midnight in Paris and Tower Heist, and on television in The Good Wife, 30 Rock, and Hostages. Her most prominent screen role is in the indie release Rob the Mob, a based on a true story tale of a couple who, as you can guess, ran into trouble after robbing the mafia. While Arianda is still an actress on the rise, when speaking with Interview Magazine she spoke about what advantages New York offers young actors and gives some healthy advice about dealing with bad auditions.
Arianda got on the topic of the New York theater scene when she was asked if she thinks a play is better at the end of a run rather than the beginning. Arianda replied, "No, because I believe in the process so much—especially when it comes to New York. I think that's what so exquisite and unique about New York, it's a city that allows you to hone your craft as much as possible. There is no good or bad, somehow, strangely, there is no beginning or end. You certainly qualify it with the opening or closing of a run, but what's extraordinary is that you are actually allowed to be an artist here. It's very 'belle époque,' but somehow continually. That's why I love New York so much, honestly."
In fact, that positive attitude carries over to Arianda's opinion that it is silly for actors to let bad auditions ruin their weeks. She said, "That would be ridiculous. If you love this job, then you have to know how to let it go. If you have a bad audition, I think you're allowed 30 minutes of pain, maybe a day if it's really that bad. But to allow a whole week? No. That would be contradictory to the process, I think."
Arianda actually pointed out that if actors find themselves beating themselves over bad auditions or not getting parts, perhaps they should seek better advice or another line of work! She explains, "I think having pointers and having guidance from mentors is very important, but it never actually embodies what you go through. And if something doesn't feel good, why do you repeat it? If you feel good bemoaning an audition for a week, go for it. But if you feel better bemoaning an audition that didn't go very well for 30 minutes because you believe in the craft and the process, then I suggest you do that. And that's what I suggest to myself. [laughs] The alternative is way too painful and destructive."
Latest Videos
http://www.dailyactor.com/wp-content/uploads/2014/10/alex-sharp-curious-incident-of-the-dog.jpg
Alex Sharp Talks About His Broadway Debut in 'The Curious Incident of the Dog in the Night-Time' (video)
Alex Sharp went from working in a call-center and renovating houses to going to Julliard. And now, he's starring in one of the most talked about shows of the season, The Curious Incident of the Dog in the Night-Time. Check out this great, inspiring video!
http://www.dailyactor.com/2014/10/alex-sharp-broadway-debut-the-curious-incident-of-the-dog-in-the-night-time-video/
http://www.dailyactor.com/wp-content/uploads/2014/10/Its-only-a-play.jpg
Watch a Scene From Terrance McNally's, 'It's Only a Play', Featuring Nathan Lane and Micah Stock
Here's a quick scene from Terrance McNally's It's Only a Play, currently on Broadway at the Schoenfeld Theater. In this scene, Nathan Lane and Micah Stock meet for the first time. The show, about the opening night of a new play, also stars Matthew Broderick, Stockard Channing, F. Murray Abraham, Rupert Grint and Megan Mullally.
http://www.dailyactor.com/2014/10/watch-a-scene-terrance-mcnally-its-only-a-play-nathan-lane-micah-stock/
http://www.dailyactor.com/wp-content/uploads/2014/10/birdman-director-alejandro-g-ina.jpg
'Birdman' Director Alejandro G. Iñárritu Narrates a Scene from the Film Featuring Michael Keaton and Edward Norton
Director Alejandro G. Iñárritu narrates a scene from Birdman or The Unexpected Virtue of Ignorance that features stars Michael Keaton and Edward Norton. The film is wonderful and if it's playing in your town, definitely check it out!
http://www.dailyactor.com/2014/10/birdman-director-alejandro-g-inarritu-michael-keaton-edward-norton/
http://www.dailyactor.com/wp-content/uploads/2014/10/the-cast-of-mad-men-on-the-final.jpg
The Cast of 'Mad Men' on the Final Season and More
Though the AMC television series Mad Men might not carry the same cultural weight that it did a few years ago (splitting your final season over two years might do that to you), the second half of the show's final season is expected to be full of powerful performances from its ensemble cast. With the […]
http://www.dailyactor.com/2014/10/cast-of-mad-men-final-season/
http://www.dailyactor.com/wp-content/uploads/2014/10/behind-the-scenes-of-a-sex-scene.jpg
Behind the Scenes of a Sex Scene with Patrick Wilson, Brooklyn Decker and Director Joe Carnahan
Director Joe Carnahan is giving viewers an inside look at what it is like to film a big screen Hollywood sex scene, as confirmed by Gawker. Carnahan released a brief video clip taken from the set of his latest film Stretch starring supermodel and actress Brooklyn Decker and Patrick Wilson. The video showcases the two […]
http://www.dailyactor.com/2014/10/behind-the-scenes-of-a-sex-scene-patrick-wilson-brooklyn-decker-director-joe-carnahan/