'Rob the Mob' Star Nina Arianda on Letting Go of Auditions and Acting in New York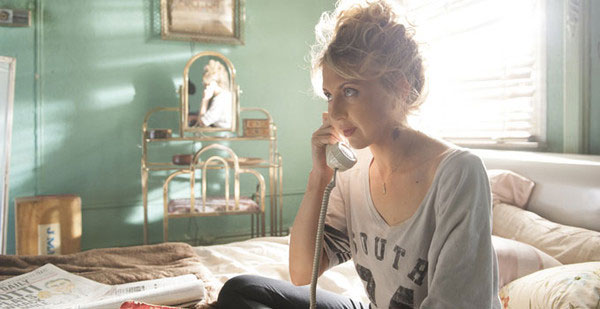 Nina Arianda isn't a name that might necessarily be familiar to most Daily Actor readers, but she is a Tony Award-winning actress for her role in David Ives' Venus in Fur, which was only her second Broadway role. She has also appeared in films including Midnight in Paris and Tower Heist, and on television in The Good Wife, 30 Rock, and Hostages. Her most prominent screen role is in the indie release Rob the Mob, a based on a true story tale of a couple who, as you can guess, ran into trouble after robbing the mafia. While Arianda is still an actress on the rise, when speaking with Interview Magazine she spoke about what advantages New York offers young actors and gives some healthy advice about dealing with bad auditions.
Arianda got on the topic of the New York theater scene when she was asked if she thinks a play is better at the end of a run rather than the beginning. Arianda replied, "No, because I believe in the process so much—especially when it comes to New York. I think that's what so exquisite and unique about New York, it's a city that allows you to hone your craft as much as possible. There is no good or bad, somehow, strangely, there is no beginning or end. You certainly qualify it with the opening or closing of a run, but what's extraordinary is that you are actually allowed to be an artist here. It's very 'belle époque,' but somehow continually. That's why I love New York so much, honestly."
In fact, that positive attitude carries over to Arianda's opinion that it is silly for actors to let bad auditions ruin their weeks. She said, "That would be ridiculous. If you love this job, then you have to know how to let it go. If you have a bad audition, I think you're allowed 30 minutes of pain, maybe a day if it's really that bad. But to allow a whole week? No. That would be contradictory to the process, I think."
Arianda actually pointed out that if actors find themselves beating themselves over bad auditions or not getting parts, perhaps they should seek better advice or another line of work! She explains, "I think having pointers and having guidance from mentors is very important, but it never actually embodies what you go through. And if something doesn't feel good, why do you repeat it? If you feel good bemoaning an audition for a week, go for it. But if you feel better bemoaning an audition that didn't go very well for 30 minutes because you believe in the craft and the process, then I suggest you do that. And that's what I suggest to myself. [laughs] The alternative is way too painful and destructive."
Latest Videos
http://www.dailyactor.com/wp-content/uploads/2014/09/audtion-tapes-robin-wright-and-h.jpg
Audition Tapes: Robin Wright and Haley Joel Osment Audition with Tom Hanks for 'Forrest Gump'
Check out Robin Wright auditioning for the role of Jenny from Forest Gump opposite Tom Hanks. Interestingly enough, Hanks doesn't quite have Gump's southern drawl down just yet while the other actors audition with him. In fact, Hanks would base Gump's voice on the voice of Michael Conner Humphreys, who played the young Forrest and […]
http://www.dailyactor.com/2014/09/audtion-tapes-robin-wright-haley-joel-osment-tom-hanks-forrest-gump/
http://www.dailyactor.com/wp-content/uploads/2014/08/bryan-cranston-emmy-award-speech.jpg
Watch: Bryan Cranston's Emmy Award Speech: "I love to act. It is a passion of mine and I will do it until my last breath."
The Emmy Awards weren't the most exciting awards show this year but with Bryan Cranston winning for Outstanding Actor in a Drama for Breaking Bad, we at least got to hear one heck of a fantastic acceptance speech. "I was a kid who always looked for the shortcut," he said. "I did happen to stumble […]
http://www.dailyactor.com/2014/08/watch-bryan-cranston-and-aaron-pauls-emmy-award-speeches/
http://www.dailyactor.com/wp-content/uploads/2014/08/audition-tapes-gerard-butler-aud.jpg
Audition Tapes: Gerard Butler Auditions for 'Dracula 2000′
Check out Gerard Butler auditioning for the role of Dracula in the movie, Dracula 2000. The film, about a group of thieves who break into a chamber expecting to find paintings, but instead find Dracula himself, also starred Christopher Plummer, Jonny Lee Miller and Nathan Fillion. Bulter has some sweet rock star hair, huh?
http://www.dailyactor.com/2014/08/audition-tapes-gerard-butler-dracula-2000/
http://www.dailyactor.com/wp-content/uploads/2014/08/interview-matt-dillon-and-carla.jpg
Interview: Matt Dillon and Carla Gugino Talk 'Wayward Pines'
FOX has a new limited-series that's got a terrific cast and interesting premise. It's called Wayward Pines and stars Matt Dillon, Carla Gugino, Melissa Leo, Toby Jones, Terrance Howard, Juliette Lewis, Tim Griffin and Shannyn Sossamon. The show, whose pilot was directed by M. Night Shyamalan, is about a Secret Service agent (Dillon) goes to […]
http://www.dailyactor.com/2014/08/interview-matt-dillon-carla-gugino-wayward-pines-comic-con/
http://www.dailyactor.com/wp-content/uploads/2014/08/interview-wayward-pines-stars-ti.jpg
Interview: 'Wayward Pines' Stars Tim Griffin and Shannyn Sossamon on the Show, Their Characters and More!
Griffin and Sossamonwere at Comic-Con where they sat in on some roundtable interviews to talk about the show.
http://www.dailyactor.com/2014/08/interview-wayward-pines-stars-tim-griffin-shannyn-sossamon-comic-con/