'Rob the Mob' Star Nina Arianda on Letting Go of Auditions and Acting in New York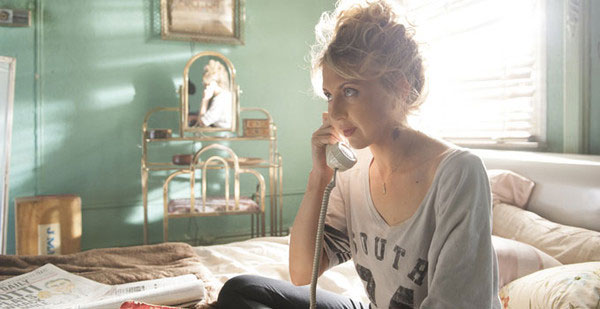 Nina Arianda isn't a name that might necessarily be familiar to most Daily Actor readers, but she is a Tony Award-winning actress for her role in David Ives' Venus in Fur, which was only her second Broadway role. She has also appeared in films including Midnight in Paris and Tower Heist, and on television in The Good Wife, 30 Rock, and Hostages. Her most prominent screen role is in the indie release Rob the Mob, a based on a true story tale of a couple who, as you can guess, ran into trouble after robbing the mafia. While Arianda is still an actress on the rise, when speaking with Interview Magazine she spoke about what advantages New York offers young actors and gives some healthy advice about dealing with bad auditions.
Arianda got on the topic of the New York theater scene when she was asked if she thinks a play is better at the end of a run rather than the beginning. Arianda replied, "No, because I believe in the process so much—especially when it comes to New York. I think that's what so exquisite and unique about New York, it's a city that allows you to hone your craft as much as possible. There is no good or bad, somehow, strangely, there is no beginning or end. You certainly qualify it with the opening or closing of a run, but what's extraordinary is that you are actually allowed to be an artist here. It's very 'belle époque,' but somehow continually. That's why I love New York so much, honestly."
In fact, that positive attitude carries over to Arianda's opinion that it is silly for actors to let bad auditions ruin their weeks. She said, "That would be ridiculous. If you love this job, then you have to know how to let it go. If you have a bad audition, I think you're allowed 30 minutes of pain, maybe a day if it's really that bad. But to allow a whole week? No. That would be contradictory to the process, I think."
Arianda actually pointed out that if actors find themselves beating themselves over bad auditions or not getting parts, perhaps they should seek better advice or another line of work! She explains, "I think having pointers and having guidance from mentors is very important, but it never actually embodies what you go through. And if something doesn't feel good, why do you repeat it? If you feel good bemoaning an audition for a week, go for it. But if you feel better bemoaning an audition that didn't go very well for 30 minutes because you believe in the craft and the process, then I suggest you do that. And that's what I suggest to myself. [laughs] The alternative is way too painful and destructive."
http://www.dailyactor.com/wp-content/uploads/2016/08/John-Krasinski-The-Hollars.jpg
John Krasinski on his "Lottery-Ticket Life": "What I try to do instead is try to deserve to stay here"
"It's so unbelievably rare to get the opportunity that I did to be on The Office, so what I try to do instead is try to deserve to stay here" - John Krasinski
http://www.dailyactor.com/film/john-krasinski-ottery-ticket-life/
http://www.dailyactor.com/wp-content/uploads/2016/08/john-turturro-the-night-of.jpg
John Turturro on 'The Night Of', Almost Quitting Acting and Why He Doesn't Chase Awards
"Why do I have to pay a publicist? I'd rather save my money so I can go do an Off Broadway play.'" - John Turturro
http://www.dailyactor.com/tv/john-turturro-the-night-of-quitting-actingawards/
http://www.dailyactor.com/wp-content/uploads/2016/08/imperium_daniele_radcliffe.jpg
Daniel Radcliffe on Playing a Neo-Nazi in 'Imperium': "It's still just horrible to say some of this stuff"
Radcliffe reveals how he played such a layered character and what it felt like to say his character's hate-filled dialogue.
http://www.dailyactor.com/film/daniel-radcliffe-playing-a-neo-nazi-imperium/
http://www.dailyactor.com/wp-content/uploads/2016/08/John-Cho-Star-Trek-Beyond.jpg
How John Cho Took A Stand for Diversity Early in His Career
"When one does speak one's mind, one might be surprised at how receptive people are." - Actor John Cho
http://www.dailyactor.com/film/john-cho-took-a-stand-for-diversity/
http://www.dailyactor.com/wp-content/uploads/2016/08/simon-helberg-florence-foster-jenkins.jpg
Simon Helberg on His 'Florence Foster Jenkins' Role: "I'm an actor and I want to stretch different muscles"
Helberg spoke about portraying his character in the film and whether or not he feels typecast by his Big Bang Theory role.
http://www.dailyactor.com/film/simon-helberg-florence-foster-jenkins-role/