Deaf High School Student Wins South Carolina Acting Competition (video)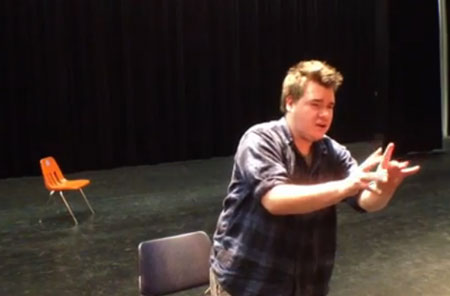 Joey Kadera is a senior and aspiring actor at J.L. Mann High School in Greenville, South Carolina.  He has already won several awards, including first place in a South Carolina International Thespian Society competition.  He will also represent South Carolina at June's National Thespian Society Festival in Nebraska.  It is an impressive list of an accomplishments for any nineteen year-old actor, especially one who only began acting two years ago with a small part in a performance of The Nutcracker.
But what makes his accomplishments even more impressive is that Kadera had to learn acting in a much different way than most actors.  That's because Kadera is deaf, which also renders him unable to speak on stage.
Incredibly, Kadera has not only acted on stage but has also learned choreographed dances for the school's production of The Tale of the Stars last fall — a seemingly impossible task since Kadera couldn't hear the music or feel the beat.  He also has faced a number of challenges in his young life — the school for the deaf he previously attended in Florida closed after he moved there to attend its drama program, and his father recently passed away after a battle with cancer.  But Kadera has thrived in his acting, playing a number of non-speaking roles on stage.
His success convinced him to enter a monologue in the statewide competition to represent South Carolina at the National Thespian Society Festival, in which he has to tell a story through pantomime.  Kadera, who speaks through his classroom interpreter Cindy Carroll, remarks, "Since I'm deaf, I know my voice can't communicate. People can't understand me. I use my body language, my gestures, and it just lets me be me."
Carroll recalls that after his performance at the competition, "When he got done, the entire auditorium just stood up. They were stomping their feet. They were clapping their hands. And it was just so wonderful and I could hear it and he couldn't. They just kept on and on, and it was just wonderful. And he deserved every second of that."
Latest Videos
http://www.dailyactor.com/wp-content/uploads/2014/07/bill-hader.jpg
Bill Hader: "I kind of fell into acting" (video)
Bill Hader, starring in the soon to be released The Skeleton Twins, talks about the film and how he fell into acting and then got "crazy lucky" in this quick video from USA Today. Share on Tumblr
http://www.dailyactor.com/2014/07/bill-hader-fell-into-acting-video/
http://www.dailyactor.com/wp-content/uploads/2014/07/director-john-carney-narrates-a.jpg
Director John Carney Narrates a Scene from 'Begin Again' Starring Kiera Knightley and Mark Ruffalo
Director John Carney (Once) narrates a scene from his new film, Begin Again. Starring Keira Knightley and Mark Ruffalo, the scene shows the first time the two characters meet. I haven't seen it yet but I've heard it's great.
http://www.dailyactor.com/2014/07/begin-again-scene-director-john-carney-keira-knightley-mark-ruffalo/
http://www.dailyactor.com/wp-content/uploads/2014/07/holler-if-you-hear-me-gma.jpg
Watch the Cast of Broadway's 'Holler If You Hear Me' Perform 'California Love' on GMA
The cast of Broadway's newest musical, Holler If You Hear Me with music from Tupac Shakur, performed on Good Morning America this morning. Singing 'California Love', the cast (including the teriffic Christopher Jackson – read our interview here), show why they're the most energetic and inspiring group of actors on Broadway. Holler If Ya Hear [...]
http://www.dailyactor.com/2014/07/watch-cast-broadways-holler-hear-perform-california-love-gma/
http://www.dailyactor.com/wp-content/uploads/2014/07/behind-the-scenes-of-dawn-of-the.jpg
Behind the Scenes of 'Dawn of the Planet of the Apes' with Performance Capture Actor Terry Notary
Actor Terry Notary is 1 of 5 actors playing the apes in the new Dawn of the Planet of the Apes. "When you see armies of apes," he says, that's "five of us." Check out the video where you can watch his performance capture work.
http://www.dailyactor.com/2014/07/dawn-planet-apes-performance-capture-actor-terry-notary/
http://www.dailyactor.com/wp-content/uploads/2014/07/melissa-mccarthy-daily-show.jpg
Melissa McCarthy and John Stewart Talk About Terrible Commercial Auditions on 'The Daily Show'
Melissa McCarthy stopped by The Daily Show last week to plug about her new movie, Tammy. She talked about how she loved working with her husband, Ben Falcone (director of Tammy) and then segued into talking about some horrible working situations. The always hilarious McCarthy then started to tell host John Stewart about a particular [...]
http://www.dailyactor.com/2014/07/melissa-mccarthy-john-stewart-commercial-auditions-the-daily-show/