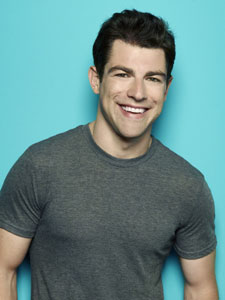 Now that actor Max Greenfield is in his fourth season of New Girl on FOX, he knows how to bring his character, Schmidt, to life. He talked with The Daily Orange about his character, life on set and how rowdy their improv sessions get.
Greenfield said, "The first season is great: you're exploring, you're finding things. Everything's a discovery. You're like "we're going for it." And then at times you're like, 'Oh man, they're gonna want me to do this again,' and you kind of have to do things because now it's a part of the show."
That one thing he has to do over and over again? It's a little more subtle than viewers would think.
"I would say it's more like mannerisms and certain lines, like when they want me to get very upset about something. You're like, 'Ugh, do I have to? I feel like he wouldn't get that way!' But you do it because that's part of the character and that's what they want," revealed the 33-year-old actor.
To create the loose feel for the FOX show, the cast starts with the script and then breathes even more life into it as they get into later takes.
The Veronica Mars star explained, "A lot of it is improv. We'll start with the scripted scene and we'll get that and have an idea of what we're doing, and then on the third or fourth take once we feel like we've got it, they'll let us open it up a little bit. And it either ends up being great stuff that we use in the show, or it's monumentally unusable. And borderline terrible."
Even if it's terrible, that doesn't stop Greenfield and the cast from pulling a prank or two while they are improving.
"At this point, a lot of the times we just try to egg each other on and get each other to do things that will surprise each other during scenes. And we know that it's fully unusable and will never make it into the show, but for the time being we get some sort of enjoyment out of it," he said. "You're like, 'I'm gonna say some stuff that is probably never going to make it into the show, but it'll make Damon (Wayans Jr.) laugh, so it'll be worth it.'"
New Girl airs on Tuesdays on FOX.