Deaf High School Student Wins South Carolina Acting Competition (video)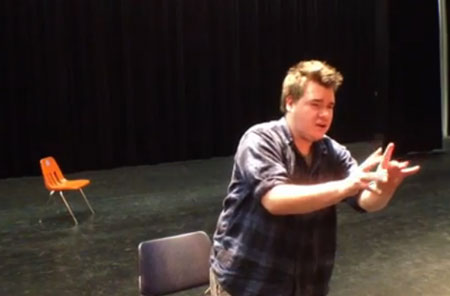 Joey Kadera is a senior and aspiring actor at J.L. Mann High School in Greenville, South Carolina.  He has already won several awards, including first place in a South Carolina International Thespian Society competition.  He will also represent South Carolina at June's National Thespian Society Festival in Nebraska.  It is an impressive list of an accomplishments for any nineteen year-old actor, especially one who only began acting two years ago with a small part in a performance of The Nutcracker.
But what makes his accomplishments even more impressive is that Kadera had to learn acting in a much different way than most actors.  That's because Kadera is deaf, which also renders him unable to speak on stage.
Incredibly, Kadera has not only acted on stage but has also learned choreographed dances for the school's production of The Tale of the Stars last fall — a seemingly impossible task since Kadera couldn't hear the music or feel the beat.  He also has faced a number of challenges in his young life — the school for the deaf he previously attended in Florida closed after he moved there to attend its drama program, and his father recently passed away after a battle with cancer.  But Kadera has thrived in his acting, playing a number of non-speaking roles on stage.
His success convinced him to enter a monologue in the statewide competition to represent South Carolina at the National Thespian Society Festival, in which he has to tell a story through pantomime.  Kadera, who speaks through his classroom interpreter Cindy Carroll, remarks, "Since I'm deaf, I know my voice can't communicate. People can't understand me. I use my body language, my gestures, and it just lets me be me."
Carroll recalls that after his performance at the competition, "When he got done, the entire auditorium just stood up. They were stomping their feet. They were clapping their hands. And it was just so wonderful and I could hear it and he couldn't. They just kept on and on, and it was just wonderful. And he deserved every second of that."
via GreenvilleOnline.com
http://www.dailyactor.com/wp-content/uploads/2016/06/jeff-bridges-hell-or-high-water.jpg
Jeff Bridges on Creating a Character, 'Hell or High Water' and Playing The Dude
"I use elements of myself—I see my parallels with a character—and find similar things in my own personality." - Jeff Bridges on Creating a Character
http://www.dailyactor.com/film/jeff-bridges-creating-a-character/
http://www.dailyactor.com/wp-content/uploads/2016/07/benjamin-bratt-actor.jpg
Benjamin Bratt: "For as limiting as the opportunities are for actors and actresses of color I've been very blessed"
"...it's dangerous to keep going down the same artistic path." - Benjamin Bratt
http://www.dailyactor.com/film/benjamin-bratt-ive-been-very-blessed/
http://www.dailyactor.com/wp-content/uploads/2016/07/watch-keegan-michael-key-explain.jpg
Watch: Keegan-Michael Key Explains Why "Improv actors are at war together"
Check out Key's points on why it's so important for improv actors to have each others' backs in the clip above.
http://www.dailyactor.com/videos/keegan-michael-key-improv-actors-at-war-together/
http://www.dailyactor.com/wp-content/uploads/2016/07/norman-reedus-actor.jpg
Norman Reedus on Acting: "If it's something you really want, you have to roll with the rejection"
Norman Reedus is a fan-favorite star on The Walking Dead and was in the cult favorite film The Boondock Saints. However, in the dozen years between those two gigs Reedus had experienced ups and downs in his career and in many cases he was cast in very small roles in big movies or lead roles […]
http://www.dailyactor.com/actors-on-acting/norman-reedus-acting-rejection/
http://www.dailyactor.com/wp-content/uploads/2016/07/frank-grillo.jpg
Frank Grillo on Being Typecast: "I welcome it"
"I hear actors pooh-pooh the idea... people might see them as a certain thing. I welcome it" - Frank Grillo on Typecasting
http://www.dailyactor.com/film/frank-grillo-on-typecasting/