Protesters Claim 'Zero Dark Thirty' Advocates Torture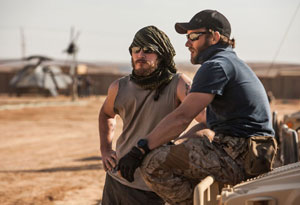 Exactly how much influence the media has on the public has always been a significant question, and in particular the connection between real-life gun violence and violent movies has been on a lot of people's minds lately.  Similarly, there is growing criticism of Kathryn Bigelow's Zero Dark Thirty, which is about the hunt for Osama bin Laden, especially with how the film depicts the role advanced interrogation or torture (depending on your definition) played in uncovering bin Laden's secret whereabouts.  Some believe that the film glorifies torture and advocates for its effectiveness.
Organized protests against the film have happened at theaters where it has been playing, and U.S. Senators Dianne Feinstein, John McCain and Carl Levin have spoken out against the film, calling it "grossly inaccurate."  However, intelligence experts — including former CIA deputy director Phil Mudd, called such techniques "invaluable" and "crucial" to eventually finding bin Laden's whereabouts.
Jessica Chastain, who stars in the film, confesses that she herself had reservations about the scenes.  She says, "I had trouble sleeping to be honest. I had a lot of anxiety about whether we were telling the right story … there are some very difficult scenes in this movie. We show very intense interrogations."
On the other hand, Bigelow says that as a filmmaker she would be uncomfortable with leaving out some of the uglier aspects of history.  She says, "I thought it was important we told a true story. And it's part of the history. It's controversial but it's part of the history."
However, the controversy has seemed to have affected the film's Oscar chances.  Though the movie was nominated for five Oscars, including Best Picture and Best Original Screenplay, Bigelow was not nominated for Best Director.  In the past few days, actor David Clennon announced that he would not vote to award any Oscars to "a film that makes  heroes of Americans who commit the crime of torture."  Actors Martin Sheen and Ed Asner have also both spoken out to urge voters to consider their "conscience" when deciding whether or not to vote for the film.  In response, Sony co-chairman Amy Pascal released the following statement:
Zero Dark Thirty does not advocate torture. To not include that part of history would have been irresponsible and inaccurate.  We fully support Kathryn Bigelow and Mark Boal and stand behind this extraordinary movie. We are outraged that any responsible member of the Academy would use their voting status in AMPAS as a platform to advance their own political agenda. This film should be judged  free of partisanship. To punish an Artist's right of expression is abhorrent.  This community, more than any other, should know how reprehensible that is. While we fully respect everyone's right to express their opinion, this activity is really an affront to the Academy and artistic creative freedom. This attempt to censure one of the great films of our time should be opposed. As Kathryn Bigelow so appropriately said earlier this week, 'depiction is not endorsement, and if it was, no artist could ever portray inhumane practices; no author could ever write about them; and no filmmaker could ever delve into the knotty subjects of our time.'  We believe members of the Academy will judge the film on its true merits and will tune out the wrongful and misdirected rhetoric.
Whether the controversy will end up leaving the film Oscar-less will be up to the rest of the Academy voters.
via CBS Los Angeles
Latest Videos
http://www.dailyactor.com/wp-content/uploads/2014/09/watch-david-mamet-in-the-1976-sh.jpg
Watch: David Mamet in the 1976 Short Documentary 'The Playwright Directs'
Though David Mamet is best known for his distinctive writing style in his scripts for the stage and screen, he has also directed theater and film. The 1976 short documentary titled The Playwright Directs depicts Mamet directing actors through several scenes at an almost frantic pace, dispensing pearls of wisdom throughout, like his thoughts on […]
http://www.dailyactor.com/2014/09/watch-david-mamet-1976-documentary-the-playwright-directs/
http://www.dailyactor.com/wp-content/uploads/2014/09/watch-marvels-agents-of-s-h-i-e.jpg
Watch: Marvel's Agents of S.H.I.E.L.D. Season 1 Bloopers
Forgetting lines? Corpsing? Delivering lines in Spanish? Unruly props? All in a day's work on the set of Marvel's Agents of S.H.I.E.L.D, apparently. Clark Gregg, Ming-Na Wen, and the rest of the cast find plenty of humor while playing super-serious secret agents in the Marvel Universe. While you're waiting for season 2 of the series […]
http://www.dailyactor.com/2014/09/watch-marvels-agents-of-s-h-i-e-l-d-season-1-bloopers/
http://www.dailyactor.com/wp-content/uploads/2014/09/audtion-tapes-robin-wright-and-h.jpg
Audition Tapes: Robin Wright and Haley Joel Osment Audition with Tom Hanks for 'Forrest Gump'
Check out Robin Wright auditioning for the role of Jenny from Forest Gump opposite Tom Hanks. Interestingly enough, Hanks doesn't quite have Gump's southern drawl down just yet while the other actors audition with him. In fact, Hanks would base Gump's voice on the voice of Michael Conner Humphreys, who played the young Forrest and […]
http://www.dailyactor.com/2014/09/audtion-tapes-robin-wright-haley-joel-osment-tom-hanks-forrest-gump/
http://www.dailyactor.com/wp-content/uploads/2014/08/bryan-cranston-emmy-award-speech.jpg
Watch: Bryan Cranston's Emmy Award Speech: "I love to act. It is a passion of mine and I will do it until my last breath."
The Emmy Awards weren't the most exciting awards show this year but with Bryan Cranston winning for Outstanding Actor in a Drama for Breaking Bad, we at least got to hear one heck of a fantastic acceptance speech. "I was a kid who always looked for the shortcut," he said. "I did happen to stumble […]
http://www.dailyactor.com/2014/08/watch-bryan-cranston-and-aaron-pauls-emmy-award-speeches/
http://www.dailyactor.com/wp-content/uploads/2014/08/audition-tapes-gerard-butler-aud.jpg
Audition Tapes: Gerard Butler Auditions for 'Dracula 2000′
Check out Gerard Butler auditioning for the role of Dracula in the movie, Dracula 2000. The film, about a group of thieves who break into a chamber expecting to find paintings, but instead find Dracula himself, also starred Christopher Plummer, Jonny Lee Miller and Nathan Fillion. Bulter has some sweet rock star hair, huh?
http://www.dailyactor.com/2014/08/audition-tapes-gerard-butler-dracula-2000/