Protesters Claim 'Zero Dark Thirty' Advocates Torture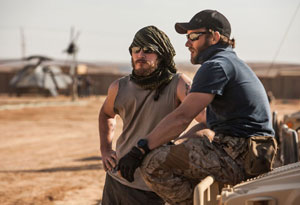 Exactly how much influence the media has on the public has always been a significant question, and in particular the connection between real-life gun violence and violent movies has been on a lot of people's minds lately.  Similarly, there is growing criticism of Kathryn Bigelow's Zero Dark Thirty, which is about the hunt for Osama bin Laden, especially with how the film depicts the role advanced interrogation or torture (depending on your definition) played in uncovering bin Laden's secret whereabouts.  Some believe that the film glorifies torture and advocates for its effectiveness.
Organized protests against the film have happened at theaters where it has been playing, and U.S. Senators Dianne Feinstein, John McCain and Carl Levin have spoken out against the film, calling it "grossly inaccurate."  However, intelligence experts — including former CIA deputy director Phil Mudd, called such techniques "invaluable" and "crucial" to eventually finding bin Laden's whereabouts.
Jessica Chastain, who stars in the film, confesses that she herself had reservations about the scenes.  She says, "I had trouble sleeping to be honest. I had a lot of anxiety about whether we were telling the right story … there are some very difficult scenes in this movie. We show very intense interrogations."
On the other hand, Bigelow says that as a filmmaker she would be uncomfortable with leaving out some of the uglier aspects of history.  She says, "I thought it was important we told a true story. And it's part of the history. It's controversial but it's part of the history."
However, the controversy has seemed to have affected the film's Oscar chances.  Though the movie was nominated for five Oscars, including Best Picture and Best Original Screenplay, Bigelow was not nominated for Best Director.  In the past few days, actor David Clennon announced that he would not vote to award any Oscars to "a film that makes  heroes of Americans who commit the crime of torture."  Actors Martin Sheen and Ed Asner have also both spoken out to urge voters to consider their "conscience" when deciding whether or not to vote for the film.  In response, Sony co-chairman Amy Pascal released the following statement:
Zero Dark Thirty does not advocate torture. To not include that part of history would have been irresponsible and inaccurate.  We fully support Kathryn Bigelow and Mark Boal and stand behind this extraordinary movie. We are outraged that any responsible member of the Academy would use their voting status in AMPAS as a platform to advance their own political agenda. This film should be judged  free of partisanship. To punish an Artist's right of expression is abhorrent.  This community, more than any other, should know how reprehensible that is. While we fully respect everyone's right to express their opinion, this activity is really an affront to the Academy and artistic creative freedom. This attempt to censure one of the great films of our time should be opposed. As Kathryn Bigelow so appropriately said earlier this week, 'depiction is not endorsement, and if it was, no artist could ever portray inhumane practices; no author could ever write about them; and no filmmaker could ever delve into the knotty subjects of our time.'  We believe members of the Academy will judge the film on its true merits and will tune out the wrongful and misdirected rhetoric.
Whether the controversy will end up leaving the film Oscar-less will be up to the rest of the Academy voters.
via CBS Los Angeles
Latest Videos
http://www.dailyactor.com/wp-content/uploads/2014/04/director-david-gordon-greene-nar.jpg
Director David Gordon Green Narrates a Scene From 'Joe'
Director David Gordon Green narrates a sequence from his new film, Joe, featuring Nicolas Cage and Tye Sheridan. In the video, he mentions his reasons why he likes to hire non-traditional actors. He likes people who have real skill-sets and not actors who have the skills on their resume. He also talked about this in […]
http://www.dailyactor.com/2014/04/director-david-gordon-green-narrates-a-scene-from-joe/
http://www.dailyactor.com/wp-content/uploads/2014/04/david-gordon-green-joe.jpg
Director David Gordon Green: "I find actors in unusual places"
I keep missing screenings of director David Gordon Greene's new film, Joe. I hear it's really good so I'm looking forward to catching it at some point. Joe stars Nicholas Cage as ex-con Joe Ransom, who isn't the greatest of role models until he meets a 15-year-old boy (Mud's Tye Sheridan). In this featurette, Green […]
http://www.dailyactor.com/2014/04/director-david-gordon-green-i-find-actors-in-unusual-places/
http://www.dailyactor.com/wp-content/uploads/2014/04/judy-greer-i-dont-know-why-you-know-me-from.jpg
Please Don't Say These Things To Judy Greer (video)
Judy Greer - who we love here at Daily Actor – has a new book called, I Don't Know What You Know Me From (Confessions of a Co-Star), a series of essays about her life as an actress, friend and someone who everyone thinks they might know. Here's a blurb about the book: "Want to […]
http://www.dailyactor.com/2014/04/please-dont-say-these-things-to-judy-greer-video/
http://www.dailyactor.com/wp-content/uploads/2014/04/Captain-America-SamuelNick-Fury.jpg
How Samuel L. Jackson Learns His Lines for the Marvel Movies (video)
Samuel L. Jackson stopped by Good Morning America earlier this week to talk about Captain America: The Winter Soldier – which is terrific, by the way – and he told Robin Roberts that for the first Cap film, he had trouble learning his lines. "I sat at home and I did all my studying, and […]
http://www.dailyactor.com/2014/04/how-samuel-l-jackson-learns-his-lines-for-the-marvel-movies-video/
http://www.dailyactor.com/wp-content/uploads/2014/04/andy-karl-margot-seibert-rocky.jpg
Andy Karl and Margo Seibert Talk 'Rocky: The Musical' on 'Today'
Andy Karl and Margo Seibert, the stars of Rocky: The Musical, talked to Today's Matt Lauer about the new Broadway musical. Karl talks about the final fight and taking on the iconic role. This is Seibert's Broadway debut and she's asked about her callbacks (9 in all!) and more. Check it out!
http://www.dailyactor.com/2014/04/andy-karl-and-margo-seibert-talk-rocky-the-musical-on-today/