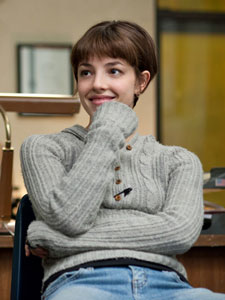 Being Flynn, the adaptation of Nick Flynn's memoir Another Bullshit Night in Suck City, tells the incredible story of Flynn reuniting with his con artist father while working at a homeless shelter in Boston. 
Playing Denise, a nurse who works at the shelter, is Juno star Olivia Thirlby, who talks about how she prepared for the role and praises both her co-star, Paul Dano, and the film's director, Paul Weitz.
In order to prepare for the role Thirlby did research by volunteering at a shelter, which was an eye-opening experience for her.  She reveals, "After being in the shelter all day, I'd walk out into the night with a very different perspective. My eyes were opened to people on the street.  The experience influenced my portrayal of Denise; to be at work full-time in a shelter speaks volumes about a person's character, their tendency to help others — and themselves."
In addition, Thirlby speaks highly of the guidance she received from director Paul Weitz, especially since her character had been invented for the film.  She explains, "I would ask for direction on every single take, because he works so viscerally. Denise  doesn't  exist  in  the  book;  unlike  the  other characters, she's a mostly fictitious one created for the screenplay, so I was able to color things in on my own and work with Paul Weitz to figure her  out.  She  has  an  unchecked  directness  that  can  result  in  some awkwardly funny exchanges with people; she has been through past trauma and is now on the healing path."
Thirlby also has praise for her co-star Paul Dano, who plays Nick Flynn.  Thirlby says that Dano is "never false," and adds "there's always truth in what he does. There are so many avenues that you can take at any given moment in any given scene, and it seems like he's always choosing a different one. I was thrilled to have the opportunity to work with him."
Being Flynn will be released in theaters on March 2.