Mandy Patinkin on Shooting 'The Princess Bride' and His Character's Immortal Catchphrase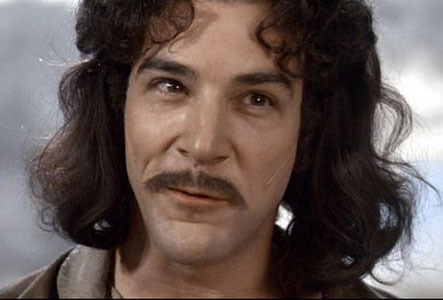 The cast of the classic fairytale film The Princess Bride reunited at the New York Film Festival earlier this month for the film's twenty-fifth anniversary, and though one of the film's stars, Mandy Patinkin, has other projects to promote — he currently stars on Showtime's Homeland — Patinkin spoke to NPR about his experience staring in the film as Spanish swordsman Inigo Montoya and whether or not that line of dialogue — you're probably saying it now — ever gets tiresome to him.
Patinkin, despite a wealth of credits in film, television, and theater, is one of those actors whose entire career is essentially defined by a single line of dialogue: "Hello. My name is Inigo Montoya. You killed my father. Prepare to die."  However, despite fans endlessly quoting that line to him, he reveals that he never tires of it, saying that when a fan does it "I have a smile as big as, as big as can be from one end of the room to the other." 
On why he thinks the line has achieved that rare status of memorable film dialogue, Patinkin says, "First of all, it's the brilliance of William Goldman's genius and the gift he gave all of us with this extraordinary book and then movie, and I just got to be the mailman who delivered it. So I take really no credit for it. It was Rob [Reiner]'s gorgeous direction. And I'll never forget, Rob said to me, 'What I really want the actors to do in this movie is, as though they're holding their card, their poker cards in their hand, but they're just hiding one card.' And the one card was the twinkle in their eye. The one card was the fun they knew was underneath everything they were saying. And I never forgot that image — that there was always a little secret, and that secret was the fun."
That fun rubbed off on the other cast members, with Patinkin revealing that he especially cherishes the days that he was filming with co-star Billy Crystal.  He confesses, "Those were the three greatest days of my life.  For three days, I stood off camera while Billy Crystal had cataract contact lenses in so he couldn't see. I was camera left, the camera was between Rob Reiner and myself and we were facing Billy. My job was to keep feeding Billy his off-camera — my off-camera lines so he could keep doing it. He improvised 13th century period jokes, three days straight, 10 hours a day, never the same thing, never the same line twice. Rob got so hysterical on almost every take, he'd have to leave the room because he couldn't keep quiet from laughing and it would end up on the soundtrack."  However, that fun also came with a price, with Patinkin revealing, "I bruised the muscles on the side of my rib because I was so tight trying not to laugh."
And there are two things that are for certain: The Princess Bride will continue to be a beloved classic and Patinkin will continue to hear that line from new fans who are discovering the movie for the first time.
Latest Videos
http://www.dailyactor.com/wp-content/uploads/2014/04/director-david-gordon-greene-nar.jpg
Director David Gordon Green Narrates a Scene From 'Joe'
Director David Gordon Green narrates a sequence from his new film, Joe, featuring Nicolas Cage and Tye Sheridan. In the video, he mentions his reasons why he likes to hire non-traditional actors. He likes people who have real skill-sets and not actors who have the skills on their resume. He also talked about this in […]
http://www.dailyactor.com/2014/04/director-david-gordon-green-narrates-a-scene-from-joe/
http://www.dailyactor.com/wp-content/uploads/2014/04/david-gordon-green-joe.jpg
Director David Gordon Green: "I find actors in unusual places"
I keep missing screenings of director David Gordon Greene's new film, Joe. I hear it's really good so I'm looking forward to catching it at some point. Joe stars Nicholas Cage as ex-con Joe Ransom, who isn't the greatest of role models until he meets a 15-year-old boy (Mud's Tye Sheridan). In this featurette, Green […]
http://www.dailyactor.com/2014/04/director-david-gordon-green-i-find-actors-in-unusual-places/
http://www.dailyactor.com/wp-content/uploads/2014/04/judy-greer-i-dont-know-why-you-know-me-from.jpg
Please Don't Say These Things To Judy Greer (video)
Judy Greer - who we love here at Daily Actor – has a new book called, I Don't Know What You Know Me From (Confessions of a Co-Star), a series of essays about her life as an actress, friend and someone who everyone thinks they might know. Here's a blurb about the book: "Want to […]
http://www.dailyactor.com/2014/04/please-dont-say-these-things-to-judy-greer-video/
http://www.dailyactor.com/wp-content/uploads/2014/04/Captain-America-SamuelNick-Fury.jpg
How Samuel L. Jackson Learns His Lines for the Marvel Movies (video)
Samuel L. Jackson stopped by Good Morning America earlier this week to talk about Captain America: The Winter Soldier – which is terrific, by the way – and he told Robin Roberts that for the first Cap film, he had trouble learning his lines. "I sat at home and I did all my studying, and […]
http://www.dailyactor.com/2014/04/how-samuel-l-jackson-learns-his-lines-for-the-marvel-movies-video/
http://www.dailyactor.com/wp-content/uploads/2014/04/andy-karl-margot-seibert-rocky.jpg
Andy Karl and Margo Seibert Talk 'Rocky: The Musical' on 'Today'
Andy Karl and Margo Seibert, the stars of Rocky: The Musical, talked to Today's Matt Lauer about the new Broadway musical. Karl talks about the final fight and taking on the iconic role. This is Seibert's Broadway debut and she's asked about her callbacks (9 in all!) and more. Check it out!
http://www.dailyactor.com/2014/04/andy-karl-and-margo-seibert-talk-rocky-the-musical-on-today/