Mandy Patinkin on Shooting 'The Princess Bride' and His Character's Immortal Catchphrase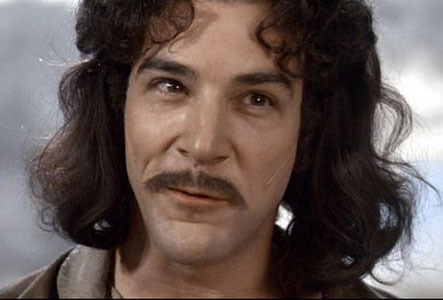 The cast of the classic fairytale film The Princess Bride reunited at the New York Film Festival earlier this month for the film's twenty-fifth anniversary, and though one of the film's stars, Mandy Patinkin, has other projects to promote — he currently stars on Showtime's Homeland — Patinkin spoke to NPR about his experience staring in the film as Spanish swordsman Inigo Montoya and whether or not that line of dialogue — you're probably saying it now — ever gets tiresome to him.
Patinkin, despite a wealth of credits in film, television, and theater, is one of those actors whose entire career is essentially defined by a single line of dialogue: "Hello. My name is Inigo Montoya. You killed my father. Prepare to die."  However, despite fans endlessly quoting that line to him, he reveals that he never tires of it, saying that when a fan does it "I have a smile as big as, as big as can be from one end of the room to the other." 
On why he thinks the line has achieved that rare status of memorable film dialogue, Patinkin says, "First of all, it's the brilliance of William Goldman's genius and the gift he gave all of us with this extraordinary book and then movie, and I just got to be the mailman who delivered it. So I take really no credit for it. It was Rob [Reiner]'s gorgeous direction. And I'll never forget, Rob said to me, 'What I really want the actors to do in this movie is, as though they're holding their card, their poker cards in their hand, but they're just hiding one card.' And the one card was the twinkle in their eye. The one card was the fun they knew was underneath everything they were saying. And I never forgot that image — that there was always a little secret, and that secret was the fun."
That fun rubbed off on the other cast members, with Patinkin revealing that he especially cherishes the days that he was filming with co-star Billy Crystal.  He confesses, "Those were the three greatest days of my life.  For three days, I stood off camera while Billy Crystal had cataract contact lenses in so he couldn't see. I was camera left, the camera was between Rob Reiner and myself and we were facing Billy. My job was to keep feeding Billy his off-camera — my off-camera lines so he could keep doing it. He improvised 13th century period jokes, three days straight, 10 hours a day, never the same thing, never the same line twice. Rob got so hysterical on almost every take, he'd have to leave the room because he couldn't keep quiet from laughing and it would end up on the soundtrack."  However, that fun also came with a price, with Patinkin revealing, "I bruised the muscles on the side of my rib because I was so tight trying not to laugh."
And there are two things that are for certain: The Princess Bride will continue to be a beloved classic and Patinkin will continue to hear that line from new fans who are discovering the movie for the first time.
http://www.dailyactor.com/wp-content/uploads/2015/03/steve-buscemi-boardwalk-empire.jpg
Steve Buscemi's "Ask Me Anything" Chat on Reddit: "I don't think you can point to any one character and say that that's 'me'"
"With any role I play, I only have myself" - Steve Buscemi
http://www.dailyactor.com/2015/03/steve-buscemi-ask-me-anything-chat-on-reddit/
http://www.dailyactor.com/wp-content/uploads/2015/03/sally-field-hello-my-name-is-doris.jpg
Sally Field On Improvisation, How She Chooses Her Roles and 'Hello, My Name is Doris'
"There's a dearth of roles for women. I turn down a lot of stuff because there's just nothing in it for me to do." – Sally Field Actress Sally Field put in an appearance at SXSW last week to promote her new film, Hello My Name is Doris. Michael Showalter has directed the movie […]
http://www.dailyactor.com/2015/03/sally-field-improvisation-roles-hello-my-name-is-doris/
http://www.dailyactor.com/wp-content/uploads/2015/03/Will-Ferrell-Get-Hard.jpg
Will Ferrell on His Comedy Roots, 'Get Hard' and His Favorite Roles to Play
Ferrell was on hand to take part in a Q&A and spoke more about how working with Hart came about. When asked if he chooses his projects based on who he wants to work with, or the script itself, Ferrell explained that each project was different.
http://www.dailyactor.com/2015/03/will-ferrell-on-his-comedy-roots-get-hard-and-his-favorite-roles-to-play/
http://www.dailyactor.com/wp-content/uploads/2015/03/daniel-dae-kim.jpg
Hawaii Five-0's Daniel Dae Kim Talks Directorial Debut: "The first day I had to yell action, it was kind of odd"
Hawaii Five-0's Daniel Dae Kim, who fans know best as Chin Ho Kelly, recently made his directorial debut on the CBS series. Kim shared his experience with The Hollywood Reporter, saying that his experience was "weird at first," as he had to direct his co-stars. "The first day I had to yell action, it was […]
http://www.dailyactor.com/2015/03/hawaii-five-0-daniel-dae-kim-directorial-debut/
http://www.dailyactor.com/wp-content/uploads/2015/03/Ellie-Kemper-Unbreakable-Kimmy-Schmidt.jpg
Ellie Kemper on 'Unbreakable Kimmy Schmidt', Doomsday Cults and Tina Fey
When Ellie Kemper joined The Office in season 5, her character Erin Hannon wasn't intended to be one of the show's primary characters. However, Kemper won producers over with her portrayal of the cheerful, naive receptionist and Erin was heavily featured in the series' final seasons. Her portrayal also impressed 30 Rock producers Tina Fey […]
http://www.dailyactor.com/2015/03/ellie-kemper-unbreakable-kimmy-schmidt-tina-fey/