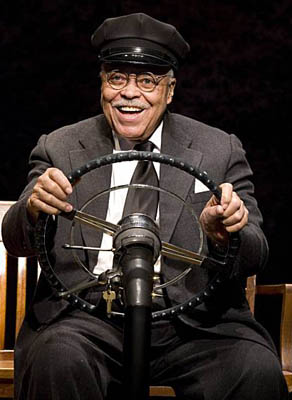 James Earl Jones is 79 (79!) and playing 'Hoke' in the revival of Driving Miss Daisy with Vanessa Redgrave.
I can't imagine being almost 80 and still having the energy to walk to the kitchen but Jones is reportedly tearing it up night after night in the role.
He sat down and talked with Broadway.com about the show, his voice and Star Wars.
Let's start with the character of Hoke in Driving Miss Daisy. What do you like best about him?
I like that he knows exactly who he is. I have a very simple love for Hoke because he's a simple character. The whole play is simple. I don't say that to put it down in any way—simplicity can trick you if you're not careful. We'll be discovering things about these characters until the day the play closes.
This role seems a lot more demanding than Big Daddy [in Cat on a Hot Tin Roof], in which you got to come in, steal the show, and then leave.
On the contrary, Big Daddy is a very demanding character because he's an evil son-of-a-bitch. Hoke has his negatives, but in no way does he mean ill. Big Daddy burnt me out. I'd seen Burl Ives do it; his Big Daddy had a lyricism because he was a lyrical singer. I'm not a singer, so I just got into his gut, and it's a very bad gut, besides the cancer in there.
At this point, many actors of your stature would just sit on their laurels.
Laurels don't count. They're somebody else's opinion. I don't read reviews, but I respect critics who are good writers, like Kenneth Tynan. Some get off on the wrong track, like John Simon. He didn't have to write that way, but he got trapped in it, and that became what John was known for. There are other people, since John, who sort of get trapped in their own negativity, their own nastiness.
Your energy onstage is so inspiring. It's clear you still love what you do.
I love the theater, I love movies and I love TV. But I've not gotten wealthy from show business. I did better doing commercials for Verizon, quite frankly. I've only once earned close to a million dollars for a movie, and you'd be surprised which it was. I won't say. When I hear of the $20 million that young actors get, I'm happy for them but I'm also sad that somebody else down the line got less because they had to be paid for their star appeal.
Your success has been a big inspiration to people who stutter.
I'm glad. But I can't be a role model, because I'm still a stutterer. I don't know the cure. I started talking again in high school, through the help of a very good English teacher. And at that point, I talked not with a child's voice but with a bass male voice. My teacher said, "It's interesting to hear, but you should be the last one to listen to it because you might fall in love with it and then no one else will listen to what you have to say." That's best of advice I've ever been given about the "voice of God."
Speaking of your voice, do you mind being known for Star Wars [as Darth Vader]?
I love that association. That's an example of where the perceived wealth I might have gotten is a myth. I got $7,000 for that first job. Seven. Not seventy. I only got special effects money. I didn't sign up as an actor because I wasn't seen. Those who did became millionaires, which is wonderful for them.
Which stage role has fit you the best? Which one has given you the most pleasure?
Frankly, a man like Hoke. As a stutterer, my love in life is to play men who don't have language. It started with John Steinbeck's Of Mice and Men, the role of Lennie. Talk about inarticulate! I love playing people who don't have a facility with words, because I don't have it.
For the full interview, click here